Mobile app development
DineTouch – Mobile App and Back-end System
Singapore
Food and Beverage, Retail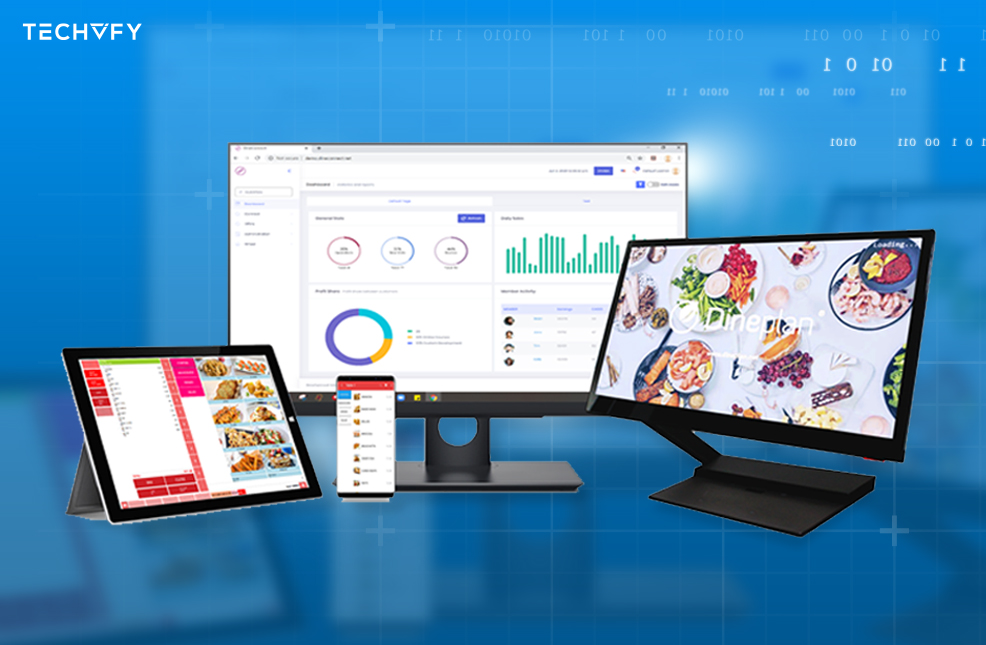 About Client
Our client provides Software Solution Suites specifically for businesses in the Food & Beverage and Retail sectors.
Client's vision
They desire to create an effective Restaurant Management Suite Solution through comprehensive control of restaurant operations. They intend to build a platform that works with multiple tenants from an end-to-end flow.
The platform that our client includes multiple apps:
DinePlan (An Intuitive POS)
DineFly (Waiter Ordering App)
DineMenu (Customer eMenu)
DineGo (Kiosk Ordering System)
eDine (Online Ordering System)
QuickDine (QR Code Ordering System)
DineChef (Kitchen Display System)
DineQueue (Queue Management System)
DineLive (Sales Analytics App)
DineTouch (Quick POS App)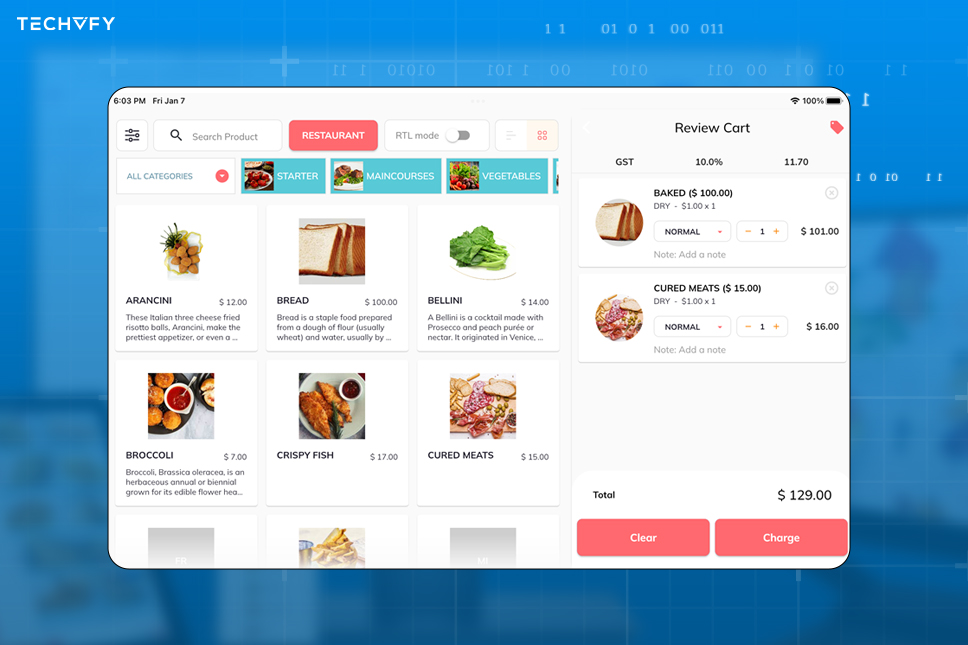 Challenges
They wanted to innovate Food & Beverage and Retail businesses by using a unified platform to manage end users' daily operations, from customer orders to inventory management.
The architect team of our client had created this massive environment using many high-tech trends, such as microservices and multi-tenancy. The specific characteristics of the project posed many challenges for our team:
Big Project
This was a complex project with a full flow from pre-ordering, preparation, and payment to delivery, and the clients split it into small tasks to give to different teams to take care of. And when it was completed, the client wanted to duplicate and implement it in many restaurants. Besides, they needed an administration system to manage various merchants on the same platform after building the system. This was a real challenge for TECHVIFY, including estimation, planning, tracking, pushing, and delivery.
Communication
The big project included small apps in charge of different outsourcing vendors, and TECHVIFY was one of them. So, apart from working with the client's in-house team, we also needed to collaborate closely with other teams while implementing the DineTouch app. Since software development teams came from many countries, communication difficulties were inevitable.
Time zone
The time-zone difference was another important factor that we had to deal with. We were always ready to distribute team members to work around the clock to ensure the project's progress.
Cultural barrier
Each team had its own working style and culture, and those factors could affect interactions, productivity, interpretation, commitment, understanding, and so on.
Duration
The client required that our team implement and launch the app and Admin Panel quickly and effectively.
Request change
The unique characteristics of the food & beverage industry are that many trends need to be updated. It was easy to understand why software requirements change regularly. We had to follow up and update new requests from the client promptly.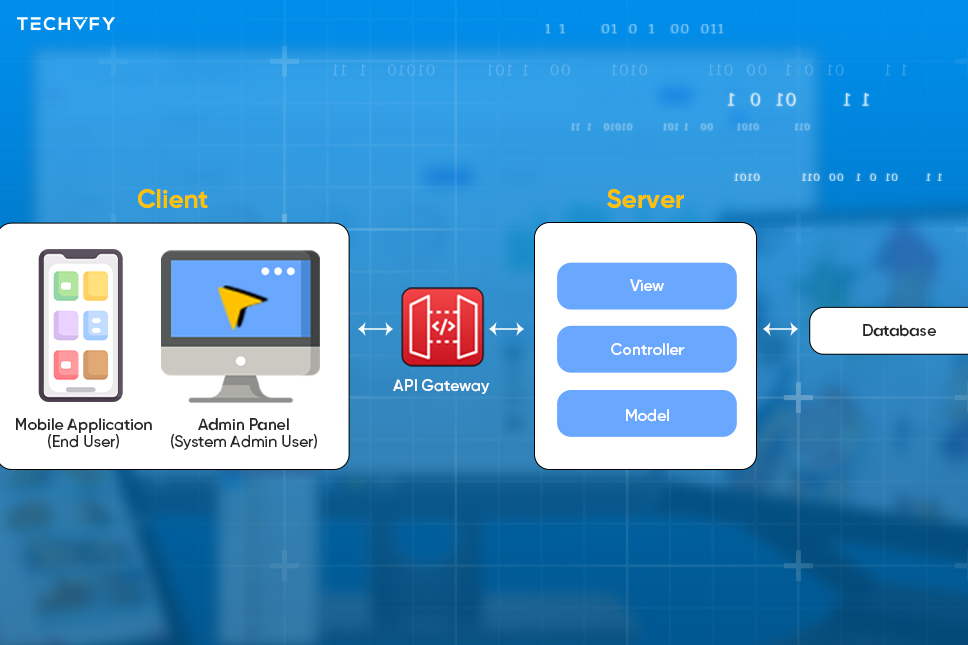 Solutions
After understanding the challenge and providing the solutions, we decided to propose to our client that we work with the Time & Materials (T&M) model because we want to stay connected closely with changes from the client side and adapt to those changes.
Our team
Based on the workload, the client and TECHVIFY have discussed and distributed the number of personnel for the project:
PM: 1
Business Analyst: 1
Senior Frontend Developer: 3
Senior Backend Developer: 3
Tester: 2
Our development engagement
The way we chose to engage with the project:
Audit the client's requirements
Determine the scope and get deliverable approval
Assemble a team
Reach and sign an agreement on the rates
Start the software development process
Deliver interactions
Release the product
Our development methodology
We combined Waterfall and Agile as the project management methodologies, with the process including:
Requirement gathering
Analysis
Design
Coding
Testing
Sprint Demo
Release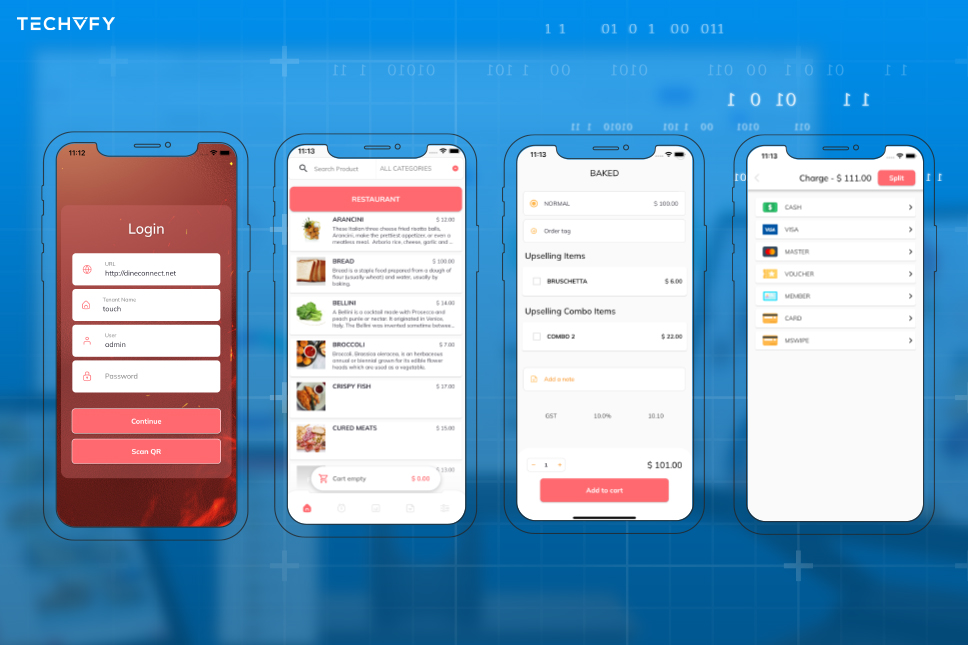 Outcome
The 10-month project was completed fully and launched the DineTouch application and DineConnect System on time, and we regularly updated the product with new capabilities.
The main features that we released:
Manage Countries, Locations, Based Groups, Organizations
Manage User, Payment, Transaction.
Manage categories, items, and combo
Mobile App to explore, order, and make online payment
E-Wallet
The application efficiently dealt with the growing customer base while ensuring a seamless modern experience in service management. Besides, the product adapted and worked well when combined with other apps in the same system.
Technologies and Tools
Client-side:
Mobile Application: Flutter
POS: Flutter
Admin Panel: Angular
Server-side:
Database:
More Case Studies