There's no doubt that most mobile users in the world are using the Android operating system. According to StatCounter, in 2020, Android owned 71.93% of the worldwide mobile operating system market share while iOS took 27.47%. This has led to significant growth in the need for Android mobile app development…
A standard Android mobile app development process usually contains 7 steps.
Step #1: Plan your idea carefully down to every detail
Planning usually is the first step of most development processes. The more specific the plan is, the more secure the project. Therefore, to conduct a smooth, error-free mobile app development process, detailed planning is a must.
Start planning your idea by sketching out your ideas. To develop a coherent development idea, it is crucial to have an unbiased overview of your project. Think about the concept of this app, the potential solutions that the app is answering, and the problems that you might face when building the app. By answering these questions, you can sort of visualizing your Android mobile app.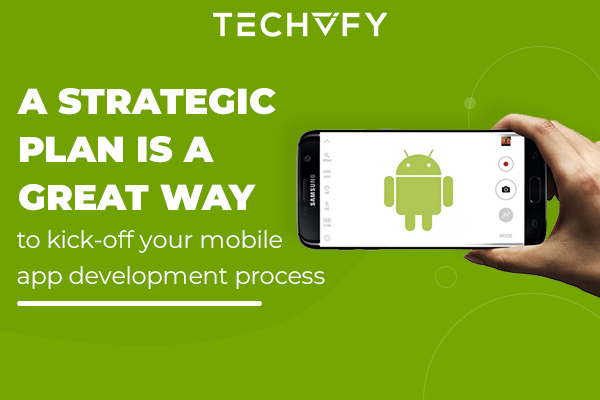 It has been proven that by determining your app's features and benefits, you can balance your overall app development budget and your in-house capabilities.
Therefore, make sure that you note down every small detail in your plans to prepare yourself for what might come up during the developing process.
Step #2: Choose the perfect strategy
You should have a pretty good idea about what your app will look like and what features you want to include clearly planned out in the previous step. So now is the perfect time to start sketching out your app and creating a storyboard to give your idea some structure. But your storyboard must be strategic enough to improve the competitiveness of your app.
Look at your competitors' performance, and look at the reviews in the Google App Store to know where you will need to plug those holes. Their imperfection will make the perfect USP (unique selling point) of your Android mobile app.
Thus, you can take a look at their mobile app development history for more reference in choosing the correct strategy. See if you can find insights into the challenges they faced and figure out how they overcame them. Keep a close look, watch and learn.
Step #3: Wireframing your app
A wireframe is a blueprint of your Android mobile app. By wireframing your app, you will structure the app from end-to-end, including app features, tools options that may be needed for integration into the app, specifications, and feasibility of the app. To start wireframing, you should create a storyboard or roadmap to demonstrate the connections between each screen and how users will navigate the app.
Your goal at this point is to develop a clear picture of how your ideas and proposed features will fuse into a functional app. Wireframing also allows you to make sure that the idea of your Android app development is in sync with your business strategy.
There are many online tools for wireframing your app. However, remember to keep these pointers in mind as you sketch:
Look for opportunities to incorporate your brand.
Focus on the user experience.
Consider the differences in the way people use a mobile app versus a mobile website.
Step #4: Designing and Developing
This is the stage where the Android interface design team will work on the front-end of your Android mobile app development process. Your wireframes and storyboard will serve as a guide for the backend structures you'll need to support your app.
Thus, at this stage, our Android app developers will concentrate on designing the app's user interface (UI). UI plays an important role in determining the usability of the app. Android mobile app developers will include navigation, SQLite, use of intent, list view, navigation, and collating all data silos to perform as one single unit.
Step #5: Test the app performance
The ultimate goal of this stage is to ensure that there are zero chances of bugs in the Android mobile app. So it's a good idea to bring in people, preferably people who are not from your mobile app team, to test and evaluate your prototype. Their unbiased feedback on the app's overall functionality and ease of use can give developers helpful recommendations to improve the app's UX and UI.
When you're happy with the appearance and usability of the interface, and your app is working smoothly after fixing all the issues, it's time to launch your Android mobile app.
Step #6: Prepare to launch
The Android app development company will submit the app to Google Play Store for approval. Remember to create an account with Google to submit your app. This will give you full rights to the app, which includes rights to the software.
The evaluating process usually takes less than two days. Make sure that your development is fully aware and strictly follows the guidelines provided by Google to avoid getting rejected in this step.
Step #7: Take care of post-deployment services
Your job is still not done when the Android mobile app is approved by Google Store.
To keep your new users engaged, you need to conduct further post-deployment services such as using
push notifications to announce a special offer or promotion, so users will open your app, offering incentives such as a discount or free service for customers who download your app, etc.
And don't forget to have a clear channel for feedbacks from your customers. Keep on updating and adjusting based on those feedbacks to enhance customers' experience.
Discover more in our new articles about mobile apps development:

How do mobile apps benefit your business?
In conclusion, Android mobile app development is a quite complicated technical process that requires developers with experience in this field. So if you have an idea for an Android mobile app in your mind, TECHVIFY Vietnam is more than ready to help you with that. We can make sure that your app will run smoothly and give users pleasant experiences.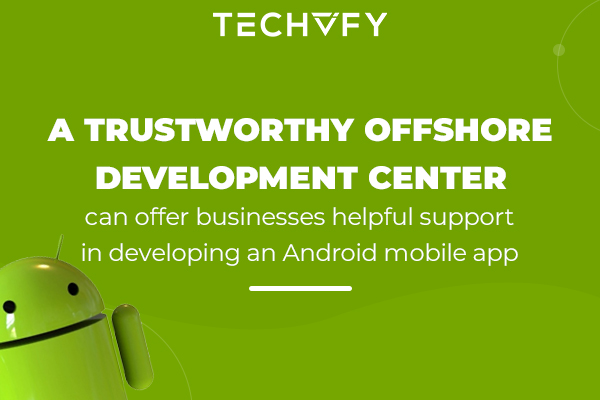 References:
https://www.hokuapps.com/blogs/guide-android-application-development-process/
https://buildfire.com/understanding-mobile-app-development-lifecycle/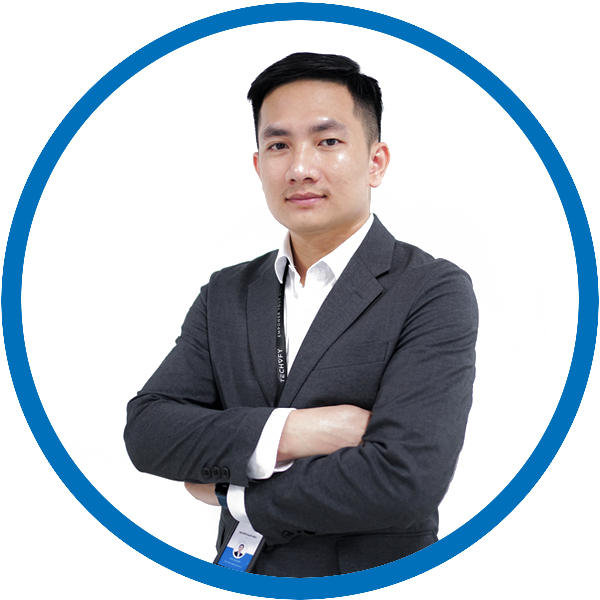 As CEO of Techvify, The top leading Vietnam Software Development company, I focus on pursuing my passion for digital innovation. Understanding the customer's pain points to consolidate, manage and harvest with the most satisfactory results is what brings the project to success.