In this article, TECHVIFY Software will explain What is end-to-end software development? And The reason is ODC is known as an effective end-to-end software development solution.
A decade ago, software outsourcing was seen as an ideal option for businesses that wanted to lower operational costs. Today, with the significant increase in demand for IT outsourcing, Offshore software development has become trending for global brands.
Consequently, offshore development center, or ODC in short, is no longer an unfamiliar term for companies in the information technology and software development industries.
What is end-to-end software development?
The term is used to describe a system that addresses all of your business needs and processes in one centralized hub.
In detail, the provider will supply all the software as well as hardware requirements of the customer, and no other vendor is required to meet the needs. In simple terms, an end-to-end process should take you through a process from beginning to end.
The service also provides solutions for a variety of service functions. This process includes installation, integration, and setup. Therefore, an end-to-end solution can eliminate any unnecessary steps in the workflow and enhance the efficiency of businesses.
Generally, end-to-end software development solutions are used by vendors offering comprehensive systems, including software, hardware, and a skilled tech team.
When dealing with such complex systems or services, it is often easier and more cost-effective for the customer to have only one supplier and one point of contact.
It helps keep pace with a business's constantly changing infrastructure requirements and the demands of the IT sector.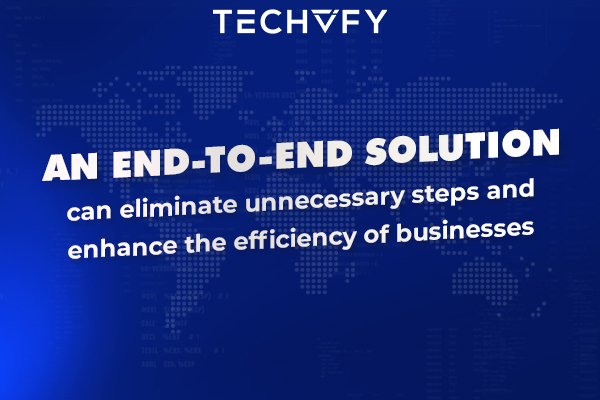 Thus, IT outsourcing that involves multiple providers for different parts of the workflow only increases the cost of managing. Therefore, a reliable software outsourcing partner can effectively handle the system's hardware, software, and development team.
Why choose end-to-end software development?
As an end-to-end solution improves workflows for each area, you will have access to an overview of your business as a whole. From investigating how to optimize data entry to streamlining the payment process, this can offer you real-time updates on every part of your business.
Having one provider means you only have to pay for only one to have access to multiple software systems, support packages, ongoing licenses, etc.
Thus, you can avoid miscommunication because data is seamlessly shared between departments. Therefore, investing in an end-to-end solution will not only help minimize software costs but also operational costs too.
How fast the issues can be resolved is one of the top reasons for the end-to-end solutions' popularity. Working with multiple disconnected systems can make it difficult to determine the cause of an issue.
But with an end-to-end solution, businesses can know exactly who to call when an issue arises and get it quickly resolved.
The Right Solution to Profitable Support Growth
Disconnected systems can cause a range of issues when it comes to costs, processes, and productivity. Therefore, by choosing an end-to-end software solution, businesses can become more cost-effective, keep their operations streamlined, and drive growth.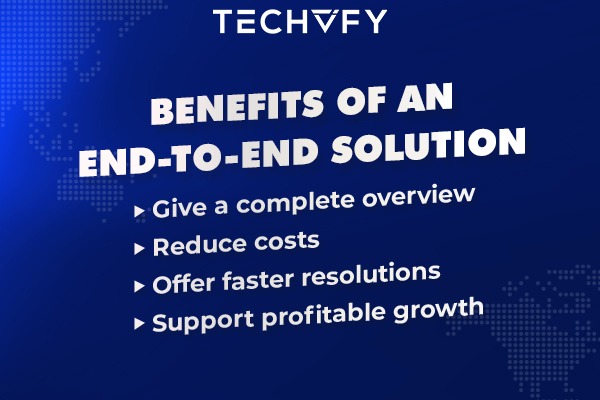 Offshore development center (ODC) solution for your project
ODCs offer clients end-to-end solutions so that businesses can take advantage of all that benefits. An ODC will offer businesses a complete workflow, including installation, implementation, and maintenance.
Therefore, it can help to optimize a business's performance and efficiency in developing software.
Although most benefits you get from working with an offshore software development would certainly impact the reduction of costs.
Thus, software outsourcing also removes the recruiting and staffing problems. It provides you with talented and experienced developers to help you complete your project perfectly.
You can get highly qualified professionals following the highest standards in software development.
In short, choosing an ODC for your software project is a modern and smart way to invest your time and money.
With TECHVIFY Software, you can work with the most dedicated offshore development team to develop your software. Therefore, to receive the best result, make sure to put TECHVIFY on top of your ODC partner if you have a project.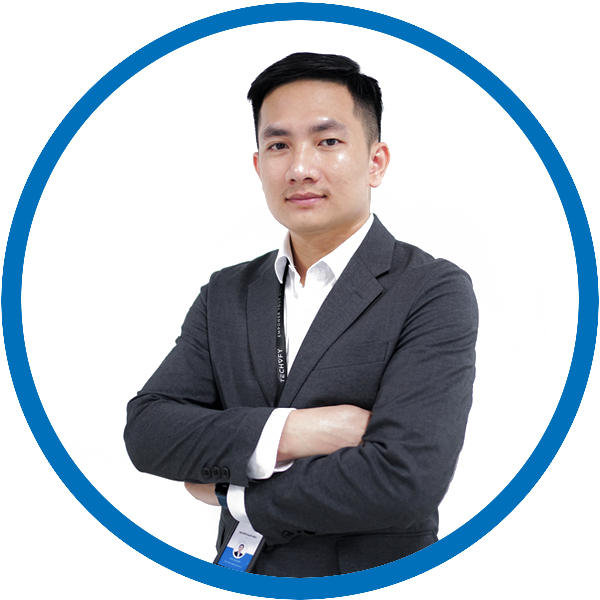 As CEO of Techvify, a top-class software outsourcing company based in Vietnam, I focus on pursuing my passion for digital innovation. Understanding the customer's pain points to consolidate, manage and harvest with the most satisfactory results is what brings the project to success.