JavaScript Development Services
Leading JavaScript Development Company
TECHVIFY Software is a leading JavaScript development company that offers cutting-edge solutions to clients across all industries. With a team of experienced and skilled developers, We specialize in developing robust and scalable web applications using the latest technologies and frameworks such as Node.js, React, Angular, Vue.js, and more.
Why We Use JavaScript?
TECHVIFY Software provides end-to-end JavaScript development services, including custom application development, web development, e-commerce solutions, and mobile app development.
Contact Us Today
JavaScript can be used for a variety of projects and purposes, including web development, mobile app development, game development, and more.
JavaScript is one of the most widely-used programming languages. It can be used for both client-side and server-side development.
JavaScript can be used to develop applications for various platforms, including desktop, mobile, and web apps. This makes it an ideal language for creating cross-platform applications.
JavaScript is ideal for creating interactive and dynamic web pages. It allows developers to add interactivity to websites, such as animations, forms, and buttons, making the user experience more engaging.
JavaScript has a vast collection of libraries and frameworks like Node.Js, React.Js, Vue.Js, and Angular that make development faster and more efficient.
Our JavaScript Development Services
Start to build your project with our skilled JavaScript developers. We deliver end-to-end JavaScript development services customized to satisfy all business objectives. TECHVIFY is famous for creating sophisticated servers, web apps, multi-platform mobile apps, and responsive websites. Below are the primary JavaScript development services that we offer:
JavaScript development consulting
Our consulting professionals always listen to all your needs and can handle the challenges your businesses face. We are pleased to assist you in selecting the technology stack and making recommendations to help you complete your project quickly.
JavaScript web application development
We are committed to creating amazing web application solutions ranging from simple to complex, using the best frameworks chosen after extensive consultations with skilled and highly experienced JavaScript developers.
JavaScript web development
TECHVIFY has a team of skilled JavaScript developers who can assist you with every aspect of your web development project through an optimal development process. From front-end design and development to back-end programming and database integration, we've got you covered.
JavaScript mobile app development
If you are searching for a JavaScript development vendor to assist you with your mobile app projects, then you have landed in the right place. Our mobile team has extensive experience developing robust native and hybrid apps, as well as cross-platform apps, to bring your product to market on all devices and platforms.
Custom JS development
With years of tech expertise, we deliver high-quality custom JS development services that meet your specific business requirements. We rely on the most talented engineers with in-depth knowledge in creating customized solutions with JavaScript frameworks and libraries, including Angular.js, Node.js, React.js, and more.
Maintenance and support
Ensure the quality of your software by putting in place specialized teams of knowledgeable developers and support engineers to monitor and manage the software so it is continually operating at optimal efficiency.
Book A Call
TECHVIFY – Leading JavaScript Development Company
TECHVIFY is top-quality JavaScript development and consulting company in Vietnam. We provide a wide range of JavaScript web development services.
As a leading software development vendor in the market, we can build a JavaScript project on a budget while ensuring quality outcomes that meet all project requirements.
Our team consists of highly-skilled JavaScript developers ready to help you with your project. They have experience in application development and a track record of completing high-complexity projects supported by the latest technologies and frameworks.
Effective JavaScript test development processes, a transparent work process, and tight quality control procedures have made TECHVIFY one of the most reliable Vietnamese software development companies.
Our technology expertise with JavaScript
We are known as a top-notch JavaScript development company with all the most widely used JavaScript frameworks.
01
Node.Js
Node.js professionals at TECHVIFY have years of experience providing top-class server-side JS app development. Our Node.js development services will help your business build scalable JavaScript applications.
02
Vue.Js
Vue.js is one of the most popular Javascript frameworks for developing scalable and secure applications in a short time. Build mobile and web apps that enable easier and faster development with Vue.js development services from TECHVIFY.
03
Angular.Js
We have built simple and sophisticated Angular.js web applications for a variety of business needs. Count on our experienced team to create innovative solutions to assist your businesses in staying ahead of the competition.
04
React.Js
React.js is ideal for businesses that want to create fast, functional, user-friendly, and dynamic user interfaces for both web and mobile apps. Hire our React development team to scale your needs.
Our industry expertise
No matter what industry your business is in, we provide high-quality and cost-effective JavaScript development solutions with leading consulting services.
Healthcare
Retail & e-Commerce
Transportation & Logistics
Manufacturing
Hospitality
E-Learning & Education
Finance & Fintech
Agriculture
Telecoms
JUMP START YOUR PROJECT
Our JavaScript development process
Based on the general process, our JavaScript developers and strategy consultants will give you the best advice and recommend the optimal solution for the specific requirements of your project. Here are the main stages of the JavaScript development process that we offer:
01
Discovery and make a plan
Our team will collect your project requirements and define the scope of your project. Then we plan the project and create a clear workflow, layouts, and a detailed assessment.
02
Design and development phase
In this step, we create a prototype or mockup of your project to help you get insight into the overall structure and flow. Then, TECHVIFY's JavaScript experts will assist you in developing the product.
03
Testing and deployment
After the coding is complete, we will move to the rigorous QA phase. The project manager and team members will evaluate the product's aspects to ensure it works as intended. Our testers use their expertise and tools to identify and remove any bugs, gaps, or issues.
04
Maintenance and support
We adhere to highly effective maintenance practices to ensure that mobile and web applications run smoothly and load quickly. TECHVIFY's JavaScript team continuously supports your project during and after the project.
Models of cooperation
TECHVIFY offers flexible cooperation models that are suitable for the different demands of clients.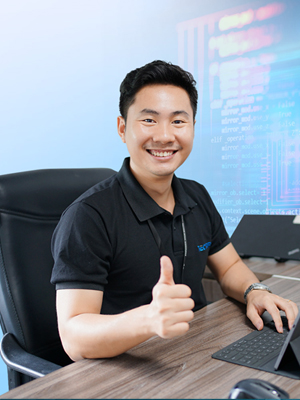 01
JavaScript outsourcing services
Partner with our reliable outsourcing developers to create fantastic software, websites, or apps utilizing Javascript. This model is flexible and works well for projects requiring multiple team members at the same time, each with their own set of specialized skills and knowledge.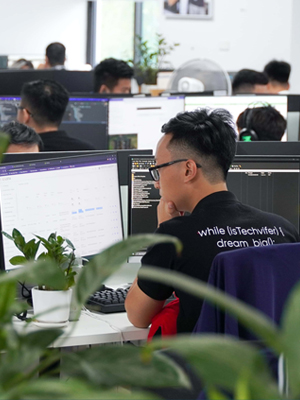 02
Hire Top JavaScript Developers
Staff augmentation allows you to supplement your team's capacity and speed up delivery. The augmented JavaScript engineers provide expertise during critical stages of the software development cycle, allowing your project to run on time and save money.
FAQs
What is Javascript used for?
JavaScript is used for front-end and back-end development to develop dynamic web solutions and interactive web pages with client-side script implementation. This programming language can power features such as interactive images, forms, and carousels. JavaScript aids in the development of interactive elements engaging users for web pages. It can be used in conjunction with back-end frameworks such as Node.js to power the mechanics of websites.
Are Java and JavaScript similar?
Both languages use C-style syntax, but they differ in some ways. Java is a programming language that uses Object-Oriented Programming (OOP), whereas JavaScript is an OOP scripting language. Java develops applications that run in a virtual machine or browser, whereas JavaScript code runs only in a browser. Java code must be compiled, whereas JavaScript code is all in text.
What companies use JavaScript?
Javascript developers deliver products to customers quickly, allowing for incredible speed when developing anything. JavaScript plays an important role in website and application development. It can be seen that large enterprises use this language, including: Uber, eBay, Microsoft, PayPal, Google, Netflix, Groupon, Facebook
How much do JavaScript development services cost?
The cost of creating a JavaScript website will vary depending on the platform used for development, the difficulty of the project, the number of features, the developer's country, and more. Please connect with us and let us know your requirements to obtain a cost estimate for project software development.