How To Use Agile in Offshore Software Development
05 July, 2021
Several times, you may have heard about the term "Agile methodology" in software development. So what does Agile methodology mean? And how to use agile in offshore software development?
In the following article, let's find out about the agile offshore development model.
What is Agile methodology?
Agile software development refers to a group of methodologies based on iterative development. It is an approach that helps teams deliver value to their customers faster and with fewer headaches. Requirements and solutions in an Agile development process evolve through collaboration between self-organizing cross-functional teams.
Instead of working on a big, complicated project, an Agile team delivers work in small but consumable increments. An effective Agile process flow requires many criteria: frequent inspection and adaptation, a leadership philosophy that encourages teamwork, self-organization, and accountability, a set of engineering best practices, and a business approach that aligns development with customer needs and company goals.
It is based on the Agile Manifesto for software development, developed by a group of fourteen leading figures in the software industry, and reflects their experience of what approaches do and do not work.
Roles in an Agile process flow:
A recommended Agile software development process usually contains three main roles:
User: Defining customer or user is the very first step of an Agile Using personas to illustrate different roles in a workflow the software is supporting or other types of customer needs and behaviors, an Agile team will have a better view of the customer's requirements and visions.
Product owner: Agile product owner is required to be the voice of the customer, including any internal stakeholders, with the main responsibility to define the customer's vision and then work with a development team to execute it. He/she will distill all the insights, ideas, and feedback to create a product vision to paint a picture of who the customer is, what values are being addressed, and a strategy on how to manage them.
Software development team: In Agile, the team is multidisciplinary and composed of diverse people with the skills to get the job done. Because the focus is on delivering working software, the team has to collaborate to complete end-to-end functioning applications. Team members will frequently meet to ensure everyone is aligned on what they are building, who is doing what, and exactly how the software is being developed.
In addition to developers, software development teams can include quality assurance (QA) engineers, other engineers (such as for databases and back-end systems), designers, and analysts, depending on the type of software project.
The Agile Manifesto & Principles
The Agile manifesto is a document that identifies four key values and 12 principles that its authors believe software developers should use to guide their work.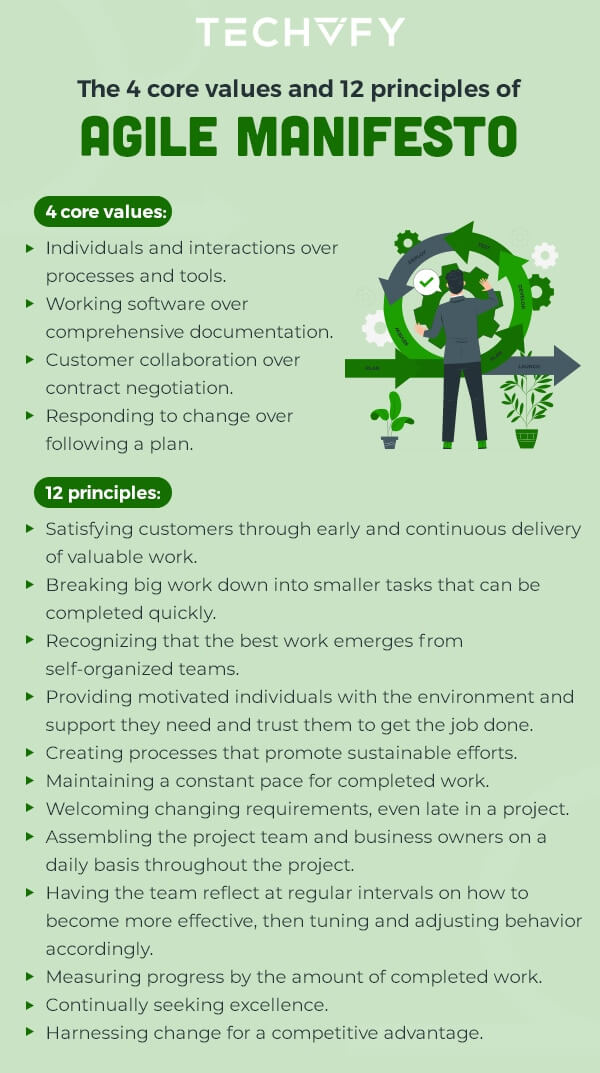 4 core values of the Agile Manifesto
Individuals and interactions over processes and tools: The first value emphasizes teamwork and communication. Software development is a human activity that requires many interactions between people to conduct a qualified final result. Making great use of tools depends very much on teamwork, regardless of the tools the team may use.
Working software over comprehensive documentation: Documentation is a great resource and reference for users and coworkers regarding software development. However, the main goal is to develop software that offers business benefits rather than extensive documentation.
Customer collaboration over contract negotiation: Development teams must work closely and communicate with their customers frequently to understand stakeholders' requirements and feedback.
Responding to change over following a plan: A project plan must be flexible enough to change when it is demanded.
12 Principles of the Agile Manifesto
Satisfying customers through early and continuous delivery of valuable work.
Breaking big work down into smaller tasks that can be completed quickly.
Recognizing that the best work emerges from self-organized teams.
Providing motivated individuals with the environment and support they need and trust them to get the job done.
Creating processes that promote sustainable efforts.
Maintaining a constant pace for completed work.
Welcoming changing requirements, even late in a project.
Assembling the project team and business owners daily throughout the project.
Having the team regularly reflect on how to become more effective, then tuning and adjusting behavior accordingly.
Measuring progress by the amount of completed work.
Continually seeking excellence.
Harnessing change for a competitive advantage.
The 4 core values in the Agile Manifesto have outlined a software development process that mainly focuses on quality by creating products satisfied consumers' needs and expectations. On the other hand, with the 12 principles, the Agile Manifesto has created and supported a work environment focused on the customer.
By following the Agile Manifesto, offshore software developers can align to business objectives, respond and pivot on changes in user needs and market forces.
Conclusion
In short, Agile methodology is a modern and upgraded way to conduct an offshore software development process. This method has offered massive benefits for both customers and developers.
If you are looking for an offshore software developer who has mastered the Agile methodology, TECHVIFY Software is your perfect choice. Leave your contact information below, and we will get in touch shortly with suitable technology solutions for your business.
No tags for this post.
Related Topics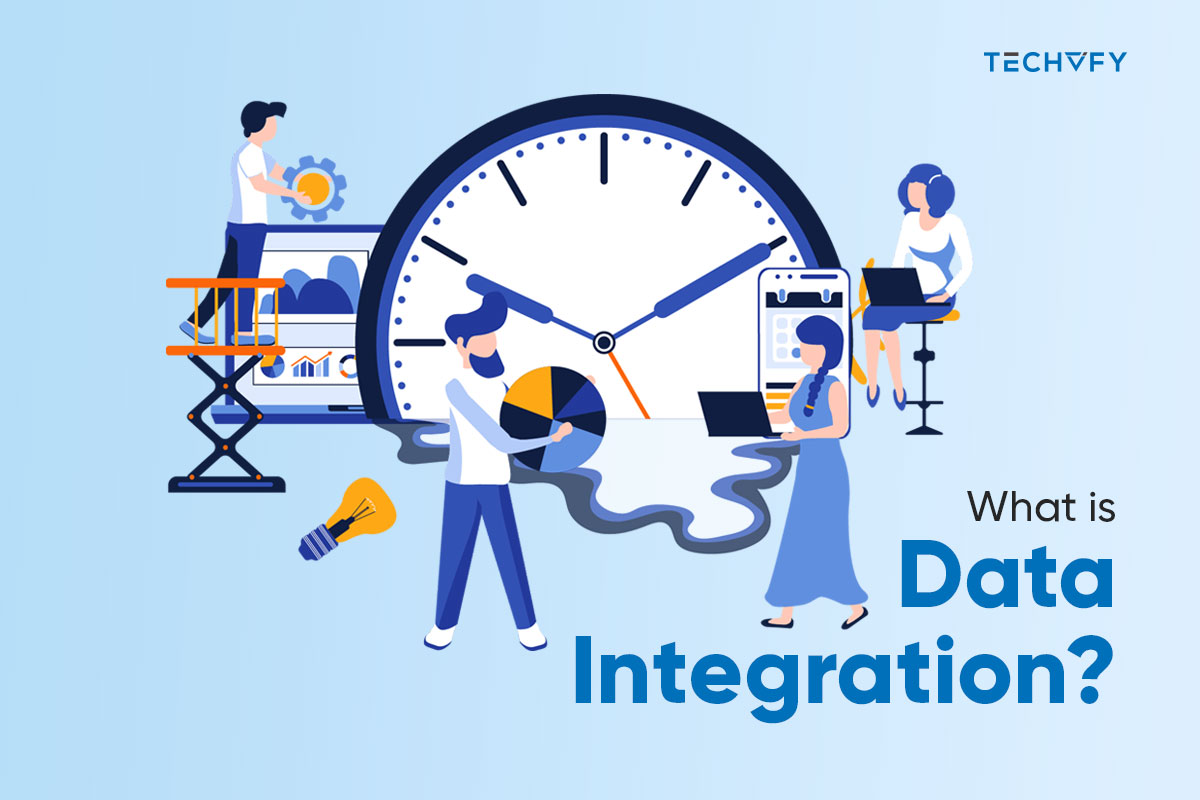 What is Data Integration? A Complete Guide
In today's ever-changing business world, understanding data integration is essential. Important information is scattered everywhere, from your company's databases to customer activities on your website. You need to be well-versed in different integration techniques. Having all your data merged and available at one point can help your organization make quick, informed decisions. Make sure you're on top of it. In this article, we will explore "What is Data Integration?" and the types of data Integration that will help your company. I. What is Data integration? 1. Data integration definition Data integration is combining information from various places into one clear…
03 October, 2023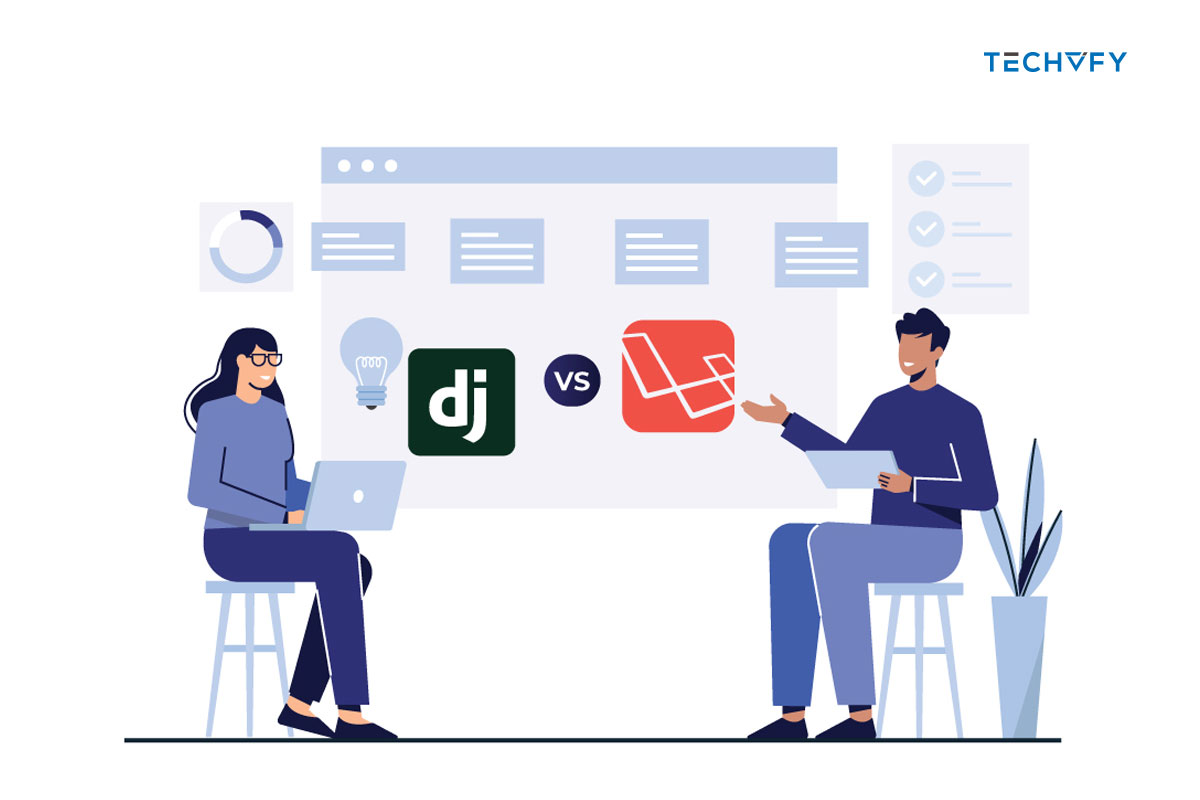 Django vs Laravel – A Detailed Performance Breakdown
In development, frameworks act like helpful tools, making tasks simpler and more consistent. Every coding language usually has such a tool to make things smoother. Both Django and Laravel are top recommendations for their respective languages. Now, let's explore Django vs Laravel, which is your perfect choice. I. Understanding Django and Laravel 1. Django Crafted in Python, Django is a framework that helps create digital projects quickly and efficiently. With built-in tools for the SQLite database, it's adaptable, scalable, and secure. Consider setting up a digital library, a social hub, or an information site. Django has got you covered. It…
02 October, 2023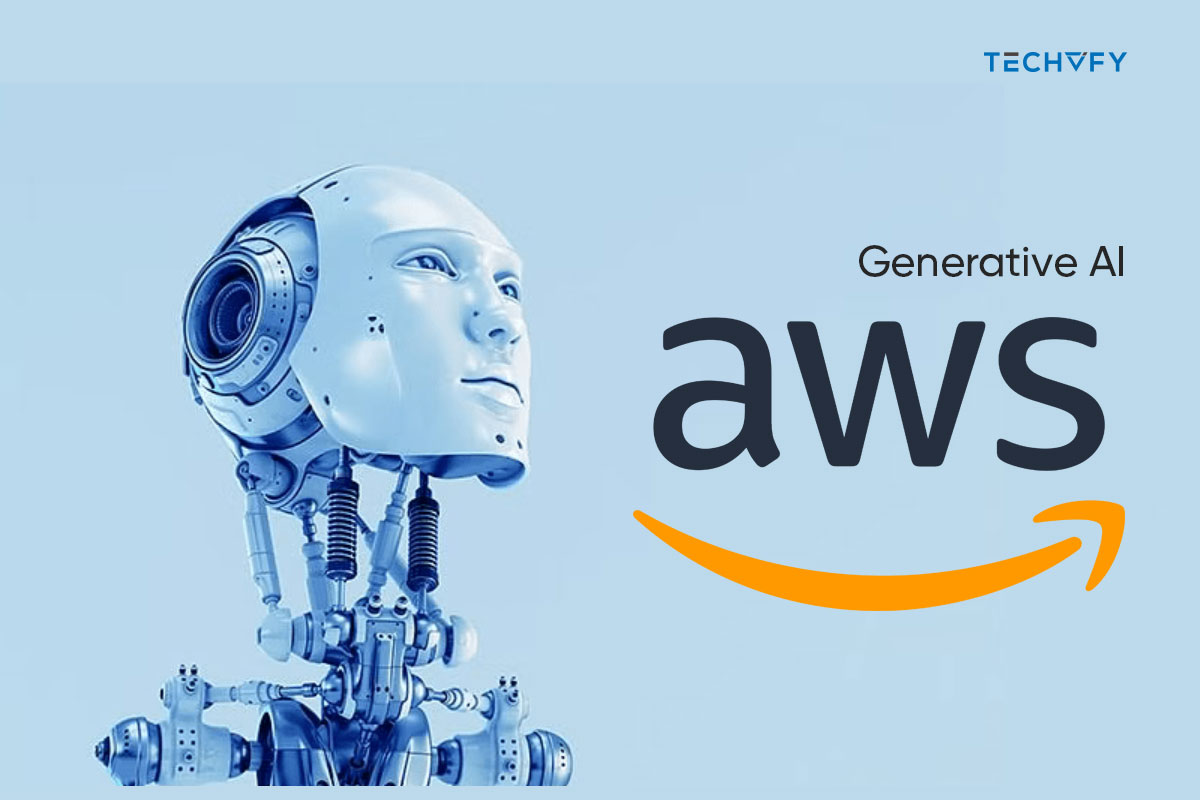 Unraveling the Power of Generative AI on AWS
Curious about generative AI on Amazon Web Services (AWS)? Our latest article breaks it down, showcasing the tools AWS offers and how they're shaping the future of AI-driven projects. Dive in to get a clear, tech-savvy perspective on making the most of AWS's capabilities for your generative AI endeavors. I. Generative AI on AWS in Brief If you've been keeping tabs on the latest technological advancements, you've likely come across the term "generative AI." At its core, generative AI refers to advanced algorithms that allow machines to create, design, and simulate entirely new content. That means they're not just processing…
02 October, 2023