Redefining Global AI & Software Solutions — Harry (HIEU) Nguyen
03 August, 2023
TECHVIFY Software is a leading Global AI & Software Solutions Company headquartered in Hanoi, Vietnam. It aims to be the premier technical partner in its clients' business transformation journey, streamlining software development to reduce time and cost.
The company boasts a creative, young, and dedicated team with proven experience in various fields of software development, including Finance, Insurance, E-commerce, Manufacturing, Hospitality, and Internet Services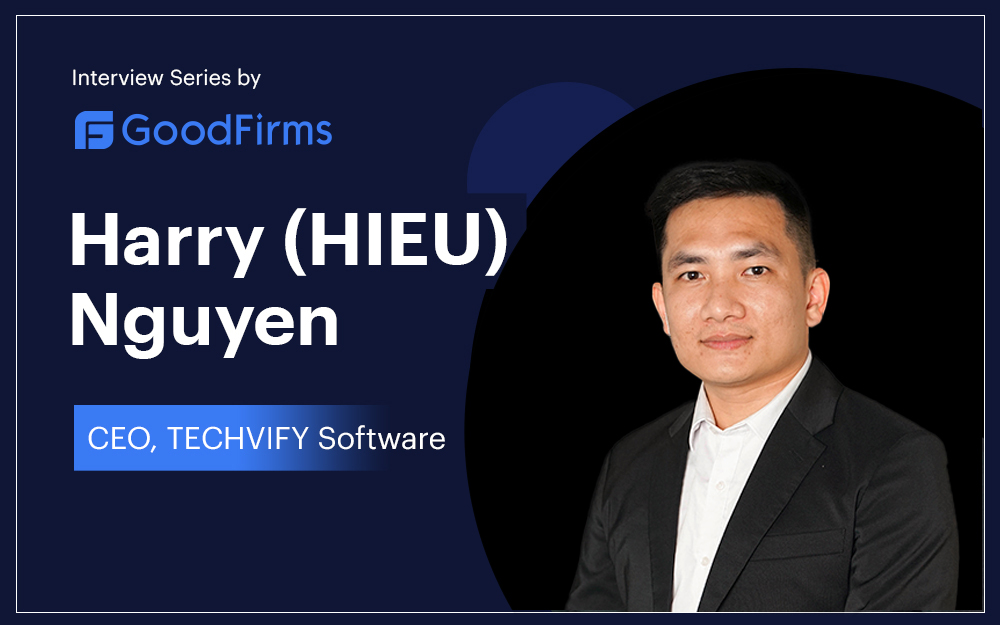 I. The Inception Story
Harry (HIEU) Nguyen is the CEO of TECHVIFY Software, a global AI & software development company based in Hanoi, Vietnam. TECHVIFY was created by four seasoned individuals who have made significant contributions to well-known worldwide corporations and have returned to Vietnam after working in Singapore, Japan, and the United States.
The company delivers cost-efficient digital transformation solutions focusing on custom software development, web and application development, AI/ML consulting and development, cloud services, blockchain & web3, and IoT services.
As a CEO, "I dedicate myself to pursuing my enthusiasm for digital innovation. Understanding the customer's pain points to consolidate, manage, and harvest the best results drives the project forward," said Harry.
"I supervised the growth and management of a company with over 300 highly qualified personnel in Vietnam and Japan," he added.
TECHVIFY has top-tier IT software engineers and solution architects with years of expertise executing successful custom software development initiatives in Singapore, Japan, Australia, the United States, Europe, and other locations.
II. In-House Business Model
As a third-party outsourcing company, TECHVIFY boasts a substantial in-house workforce encompassing all roles, ranging from consulting to proficiently executing software projects.
Customers receive end-to-end service from initial consultation through the completion of the final product. It strives to provide effective solutions tailored to each customer's unique needs by providing comprehensive services and expertise.
III. How TECHVIFY Stands Out?
TECHVIFY stands out from its competitors by incorporating several essential factors that distinguish its services: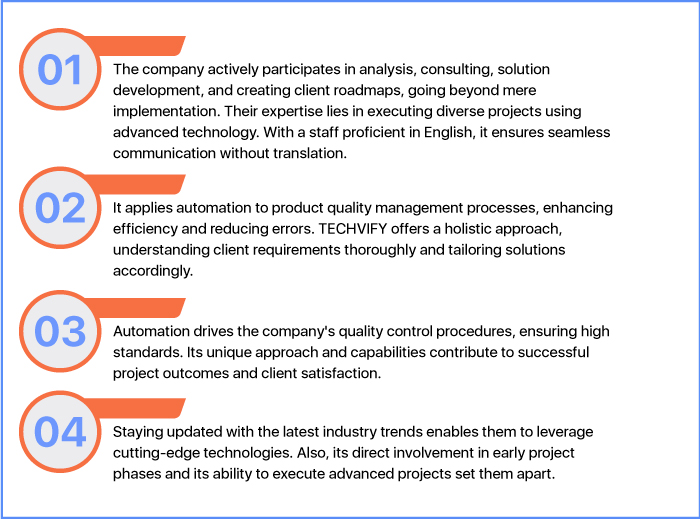 IV. Services Offered By TECHVIFY Software
TECHVIFY offers its services to various industries, such as banking and finance, healthcare, e-commerce and retail, travel and hospitality, manufacturing and logistics, and education. It also provides technology solutions and software development that are suited to the needs of the customers.
The CEO said, "Our clients' repeatability is roughly 25%, and it varies depending on factors such as project requirements and the type of business ties with clients."
He added, "People can also access the official TECHVIFY website for the most correct and up-to-date information, read the customer reviews, or check the case studies and services we have offered to see the prestige, reliability, and quality, as well as our capacity to satisfy our clients."
V. Client Satisfaction Rate
TECHVIFY goes the extra mile and exceeds expectations by doing more than what we are asked to do. It takes great pride in delivering exceptional service, which is reflected in its impressive 4.8-star reviews. These positive testimonials confidently affirm our commitment to providing high transparency and accountability to ensure client satisfaction.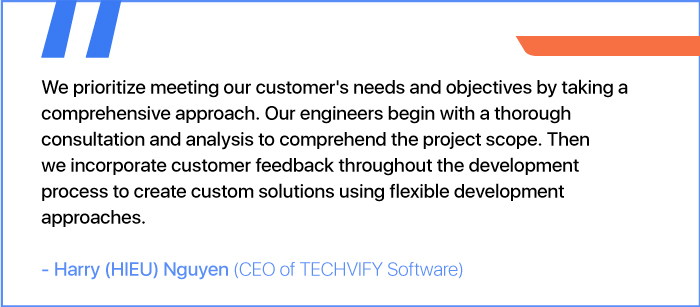 The company has established effective communication channels and rigorous quality assurance systems to ensure customer satisfaction. As a highly proficient and empathetic customer support assistant, delivering outstanding service and creating a positive customer experience is crucial.
The company's consistent track record of client satisfaction speaks volumes about why TECHVIFY Software has earned a prominent position among the Top Mobile App Development Companies in Vietnam by GoodFirms, the leading research and review platform in the industry.
VI. Support Offered
The CEO said, "We provide a comprehensive support system to deal with customer queries and problems. It includes a dedicated account manager, multiple communication channels, technical support, documentation and knowledge base, and a commitment to continuous improvement."
"Our engineers provide technical expertise and self-help resources and actively seek customer feedback for continuous improvement," he added.
VII. Flexible Payment Structure
TECHVIFY provides three fundamental pricing models to their valued customers: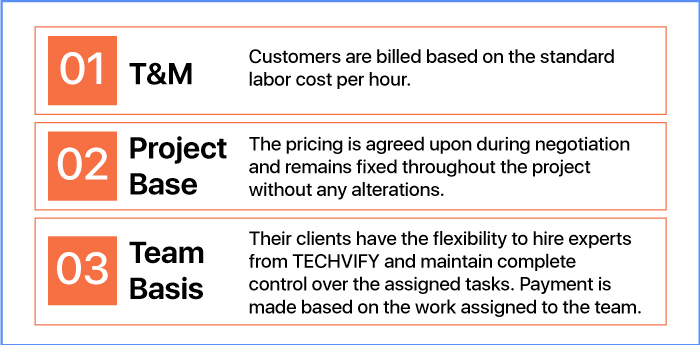 Furthermore, in some cases, the company offers a hybrid model to its client to adjust the monthly project budget based on the scope of work in the next iteration.
When asked about the minimum budget requirements for the company to undertake a new project or initiative, the CEO said, "We don't have a minimum budget requirement. We always think ahead and consider the potential that a project's scope isn't our measure."
"My company is ready to cooperate and discuss a potential partnership's details privately. Customers can contact us at any time, and we will respond promptly," he added.
In 2022, TECHVIFY handled projects ranging from $30,000 to several million dollars.
IX. The Future of TECHVIFY Software
The CEO acknowledges that we are in a fast-paced environment where predicting things ten years ahead is challenging. Nevertheless, at present, our focus lies in articulating our ambitions:

The detailed interview is available on GoodFirms.
About GoodFirms
Washington, D.C.-based GoodFirms is an innovative B2B Research and Reviews Company that extensively combs the market to find business services agencies amongst many other technology firms that offer the best services to their customers. GoodFirms' extensive research process ranks the companies, boosts their online reputation, and helps service seekers pick the right technology partner that meets their business needs.
Author Bio: Ryan Allen is a content writer at GoodFirms – a full-fledged research and review platform that empowers software and mobile app development professionals to excel. Ryan has a Master's degree in Journalism and is an avid non-fiction reader.
No tags for this post.
Related Topics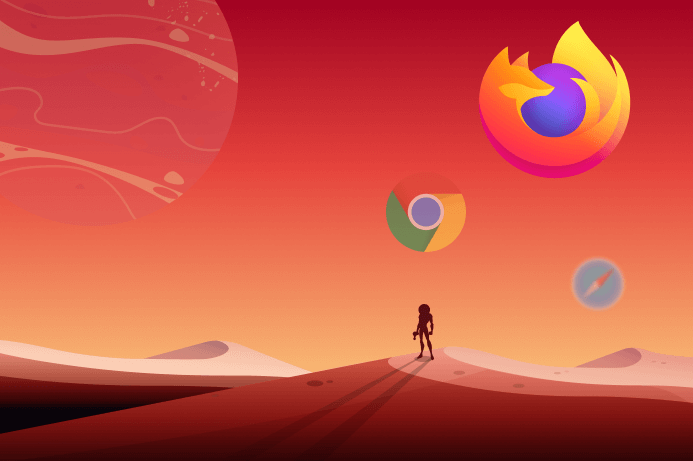 Essential JavaScript Debugging Tools for Every Developer 
Debugging JavaScript is an essential skill for every JavaScript developer, as it can help you write more reliable and efficient code. This article explores the importance of JavaScript debugging and common challenges faced during development. You also know the tools to make the debugging process more efficient, equipping you with the skills needed for cleaner, faster, and more reliable code. The Overview What is a Debugging JavaScript Tool? A debugging JavaScript tool is a software application or feature that helps developers find and fix errors, bugs, and issues in their JavaScript code, making it easier to ensure that the code…
03 October, 2023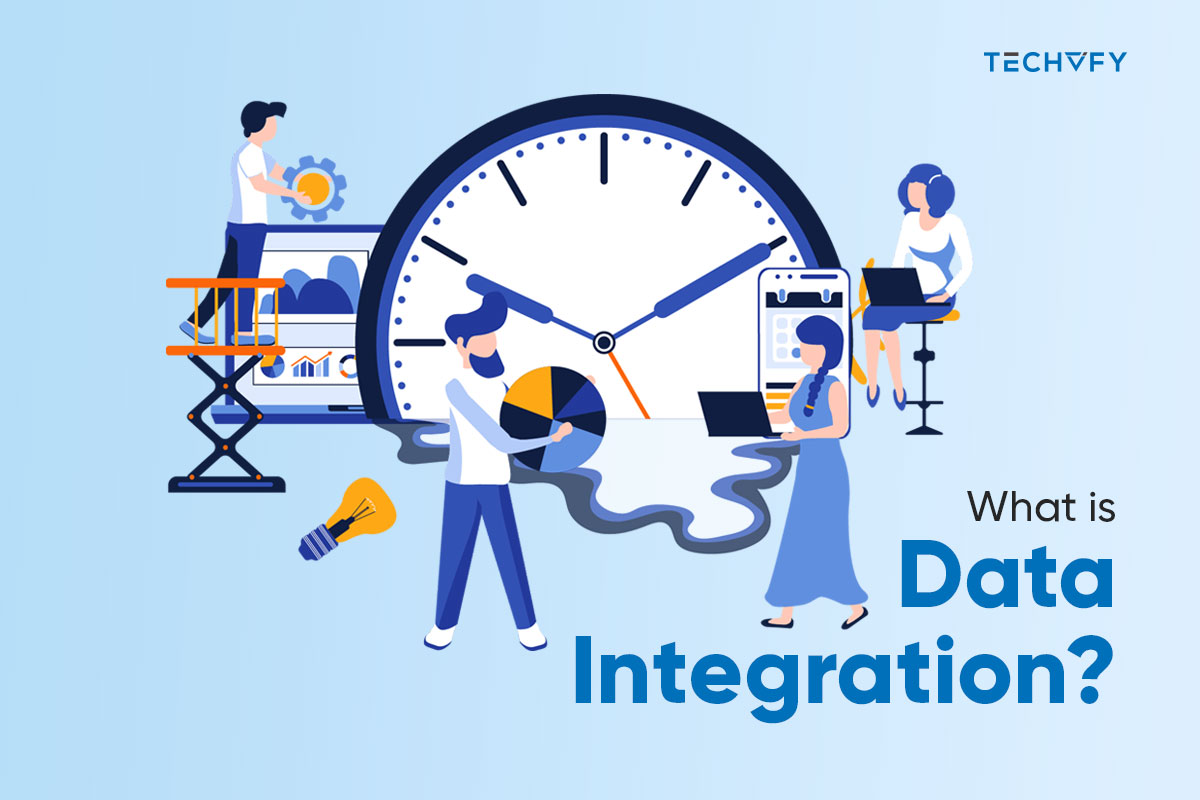 What is Data Integration? A Complete Guide
In today's ever-changing business world, understanding data integration is essential. Important information is scattered everywhere, from your company's databases to customer activities on your website. You need to be well-versed in different integration techniques. Having all your data merged and available at one point can help your organization make quick, informed decisions. Make sure you're on top of it. In this article, we will explore "What is Data Integration?" and the types of data Integration that will help your company. I. What is Data integration? 1. Data integration definition Data integration is combining information from various places into one clear…
03 October, 2023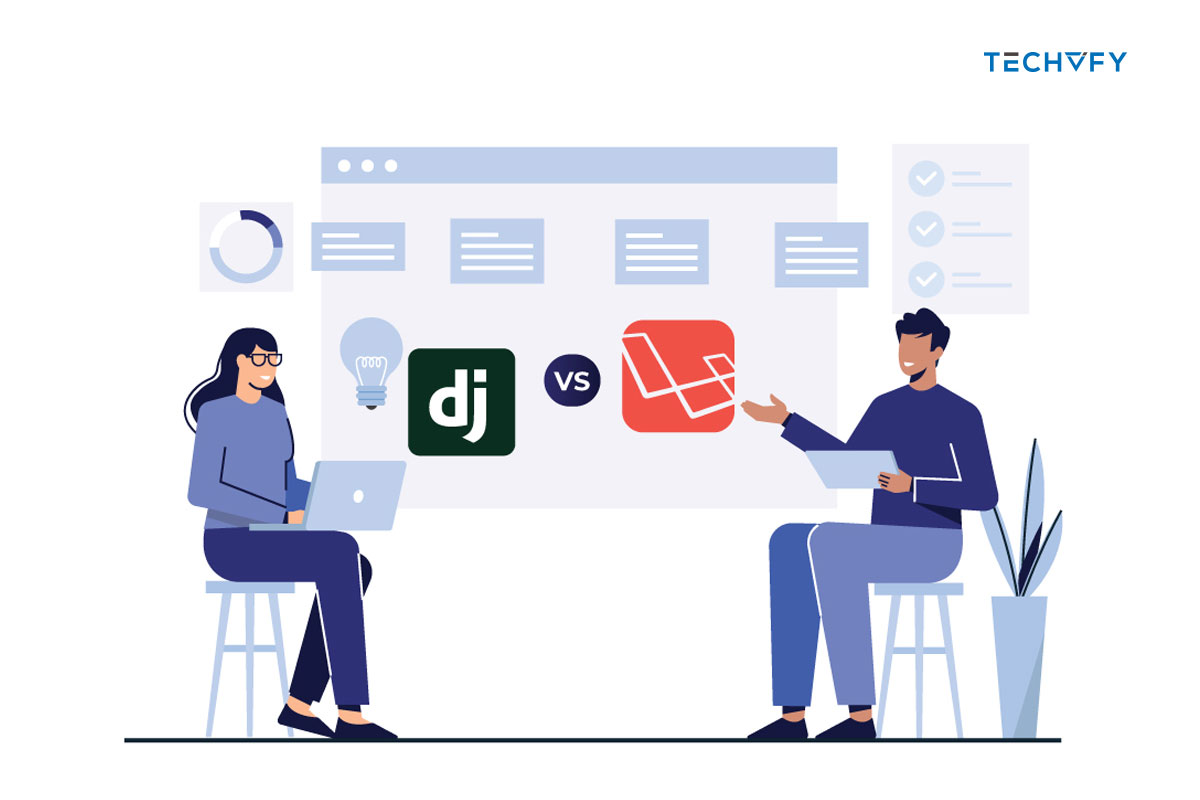 Django vs Laravel – A Detailed Performance Breakdown
In development, frameworks act like helpful tools, making tasks simpler and more consistent. Every coding language usually has such a tool to make things smoother. Both Django and Laravel are top recommendations for their respective languages. Now, let's explore Django vs Laravel, which is your perfect choice. I. Understanding Django and Laravel 1. Django Crafted in Python, Django is a framework that helps create digital projects quickly and efficiently. With built-in tools for the SQLite database, it's adaptable, scalable, and secure. Consider setting up a digital library, a social hub, or an information site. Django has got you covered. It…
02 October, 2023