TECHVIFY Software is honored to win SAO KHUE AWARD 2023
09 May, 2023
On April 28, 2023, at the Army Theatre, 130 Ho Tung Mau, Cau Giay, Hanoi, TECHVIFY Software Joint Stock Company was honored to win Sao Khue 2023 Award in the IT outsourcing category. The award is presented by the organization VINASA (Vietnam Software Association).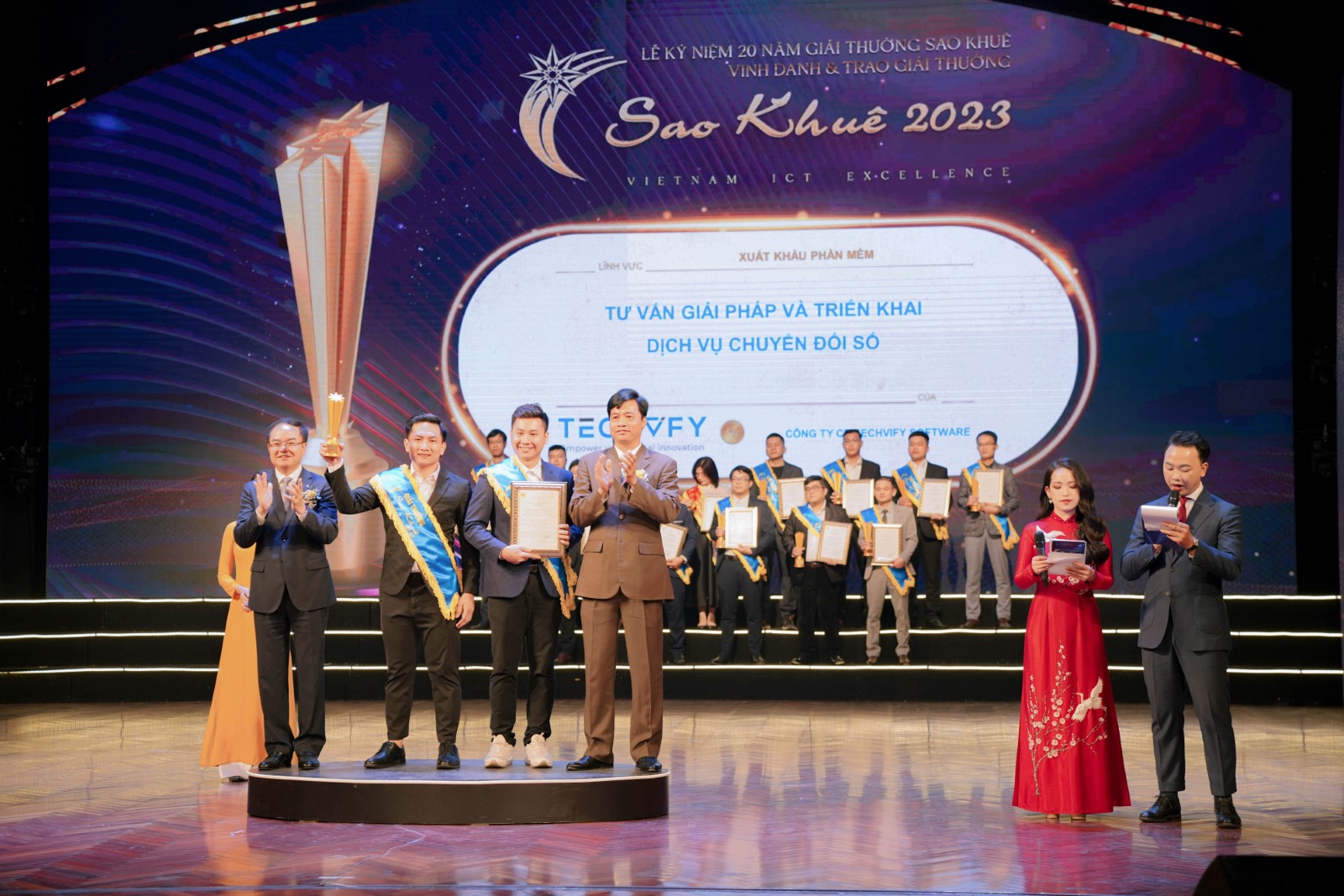 This is the first time TECHVIFY has participated in Sao Khue – an award dedicated to the IT industry in Vietnam that has been held for 20 years. Accompanying 300 other technology companies nationwide, TECHVIFY proudly won Sao Khue with "digital transformation consulting & development service."
Specifically, in this service, TECHVIFY will participate in all clients' digital transformation processes, from consulting, architecture, development, and implementation to building a specific roadmap with complete solutions. In addition, TECHVIFY will implement the project with the latest and most advanced technology, with 80% of the staff able to communicate in English and work directly with clients.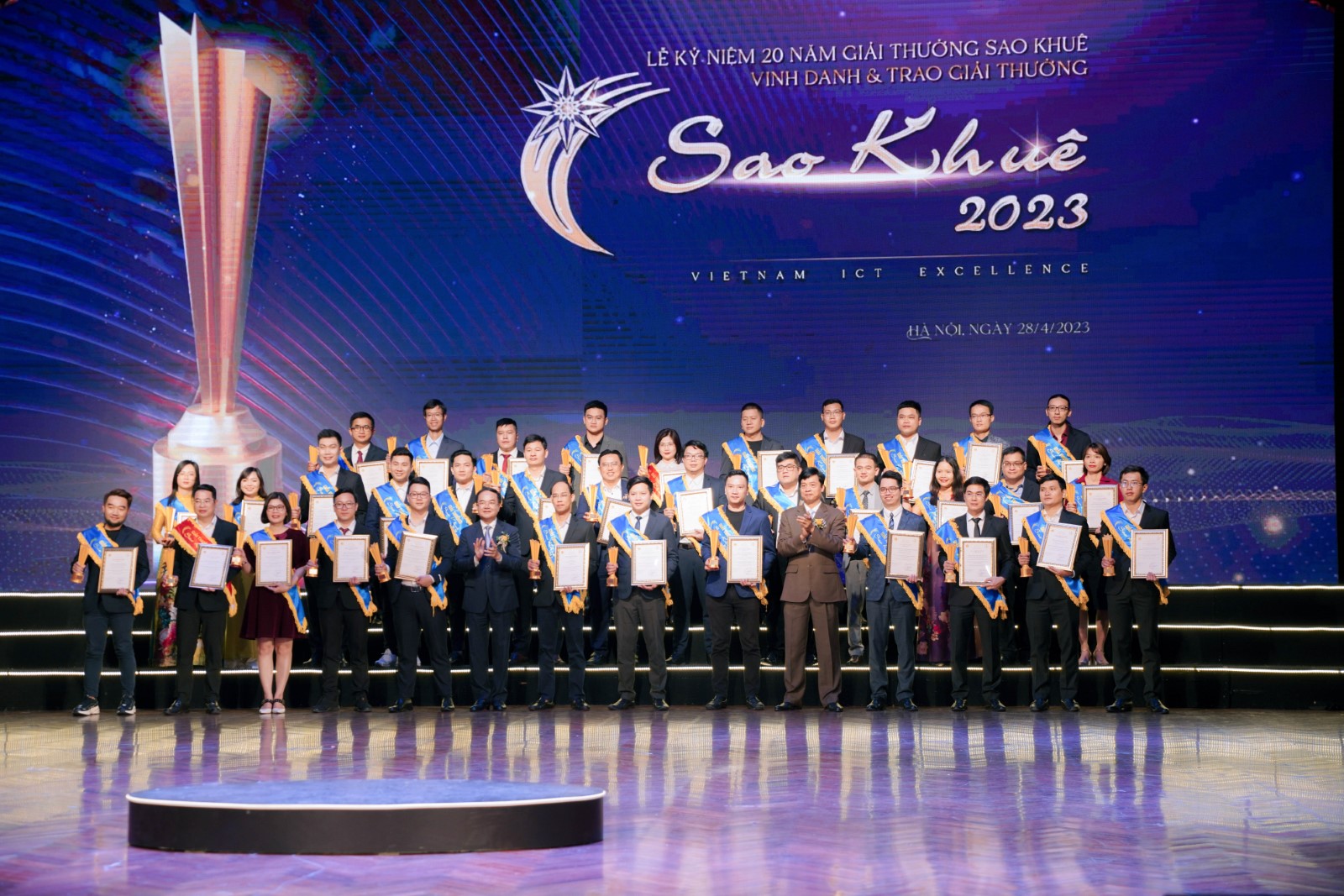 Mr. Nguyen Xuan Hieu – CEO of TECHVIFY Software JSC, shared, "Being recognized with an award from Vinasa is a great honor for us as it's the first time we have participated in this prestigious event. It reflects the respect and appreciation of the IT community for our efforts and achievements over the past four years."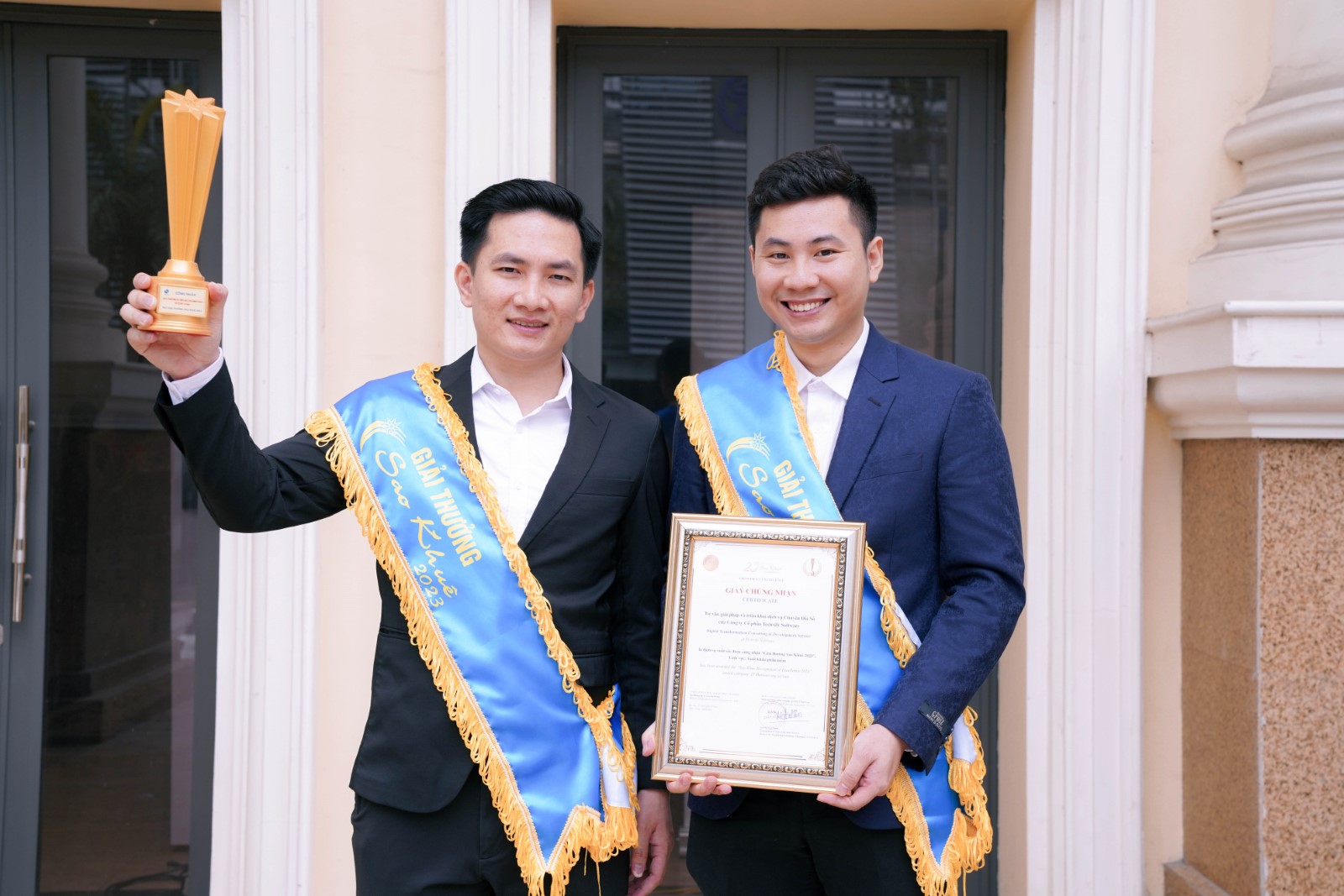 The service nominated by TECHVIFY has been prepared for over two months and performed by experts, the marketing department, staff, and management. Therefore, this is a worthy result of the careful preparation of the entire company, affirming the excellent staff training quality as well as TECHVIFY's clear position in the domestic and international information technology market.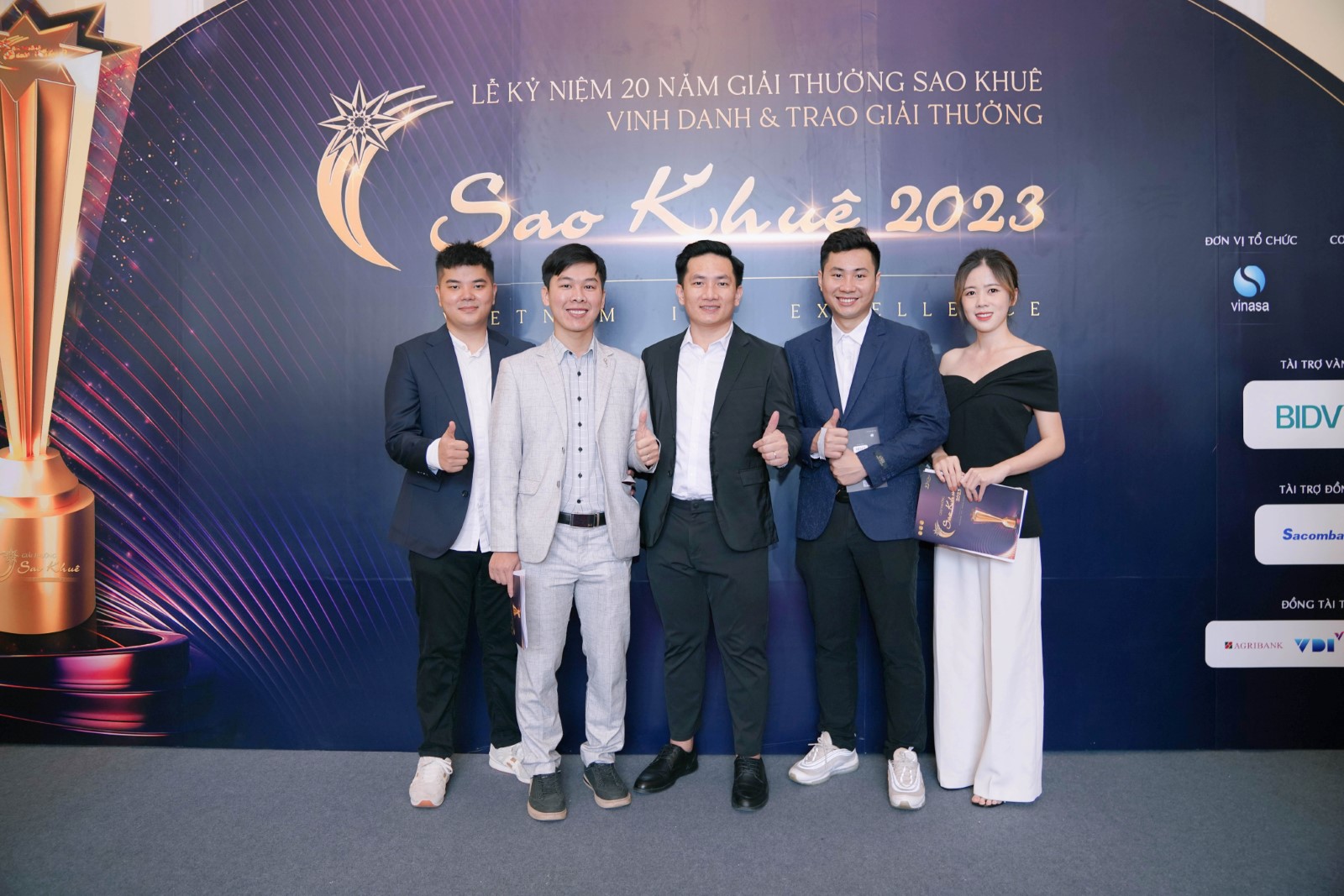 TECHVIFY management is committed to continuing to accompany partners throughout the journey ahead to bring the best values, meet all customer needs, and strive harder to win prizes at the next Sao Khue.
No tags for this post.
Related Topics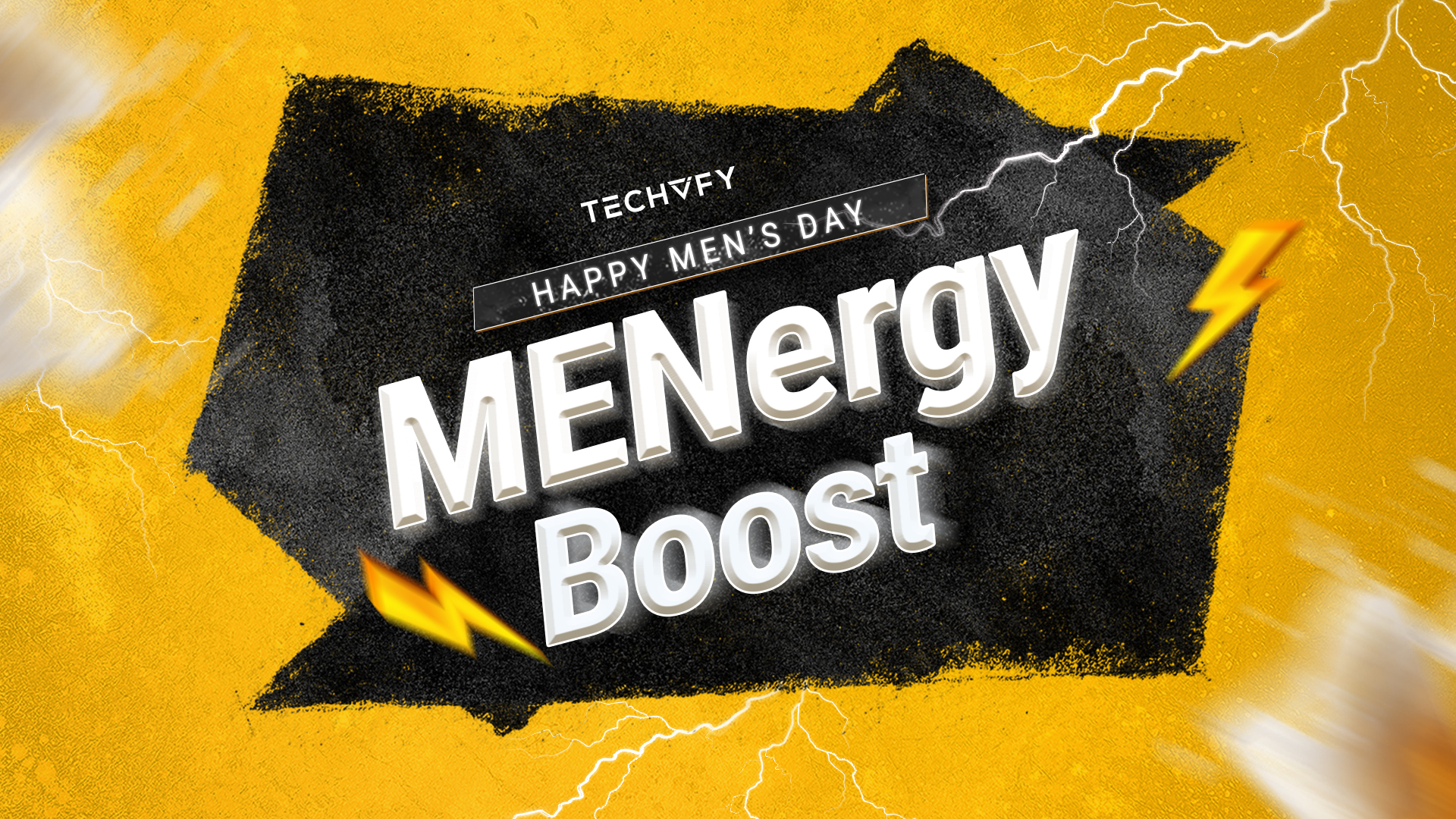 Extraordinary things only available at Men's Day 2023: MENergy Boost
Last Thursday – November 16, TECHVIFY was pleased to organize the Men's Day 2023 event with the theme "MENergy Boost". To honor the youth, enthusiasm and creativity of male employees at TECHVIFY, the event brings energy drinks for productive morning work, good luck wishes, and exciting games. It has attracted more than 100 Techvifers to attend the event. From early morning, the women colleagues prepared surprises for the men at TECHVIFY. At exactly 8:30 a.m., coffee cups and loving messages were ready in front of the reception desk, combined with bunches of yellow and white balloons decorated around the office….
17 November, 2023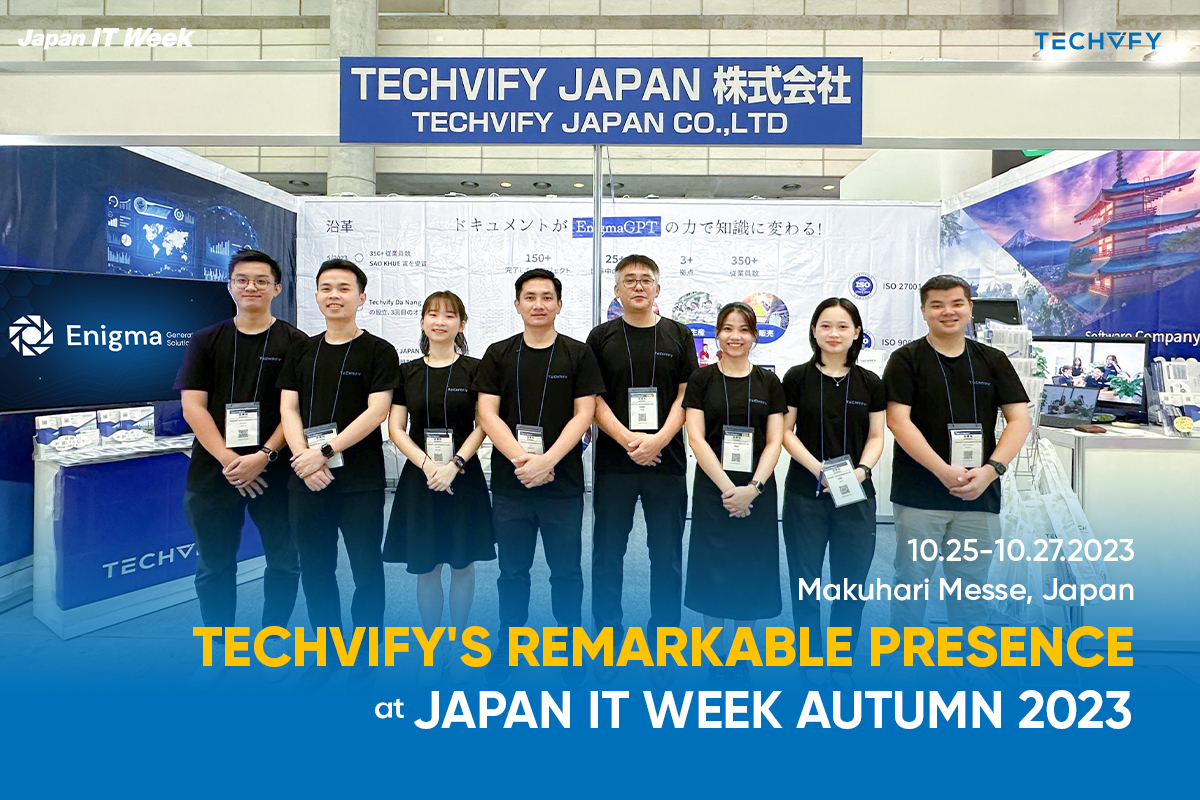 TECHVIFY's Remarkable Presence at Japan IT Week
Japan IT Week Autumn 2023 was held from October 25 to 27 to 29, 2023, at Makuhari Messe in Chiba, Japan. It attracted more than 1,000 exhibitors and 50,000 visitors from various industries and sectors, such as AI, IoT, cloud, security, big data, blockchain, and more. It was a great opportunity for TECHVIFY Japan to network with potential customers, partners, and investors, as well as to learn from the latest trends and innovations in the IT field. TECHVIFY is excited to share our experience at Japan IT Week Autumn, the largest IT trade show in Japan. Here are some remarkable…
01 November, 2023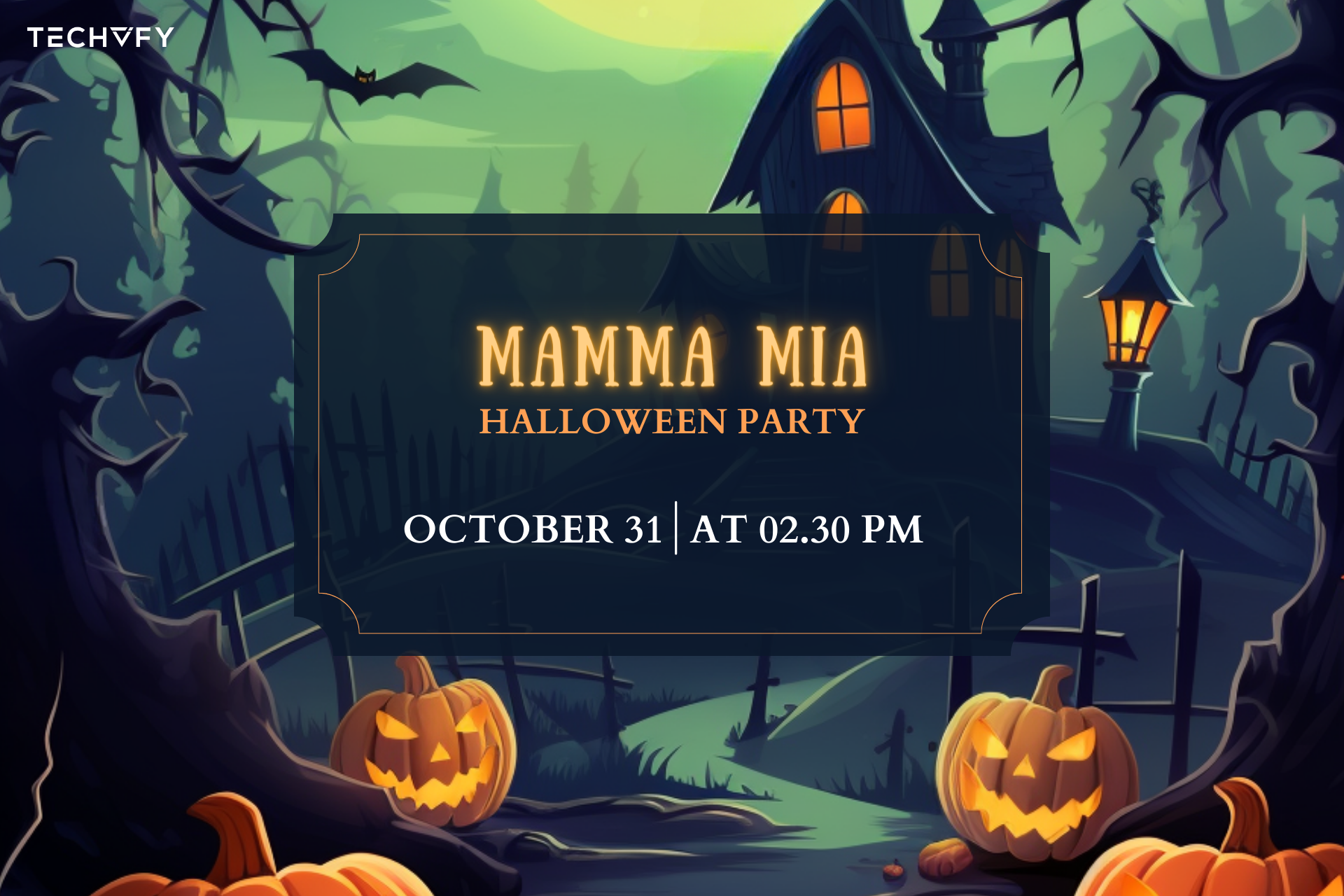 Halloween 2023: Mamma Mia and the Surprises
On October 31, TECHVIFY organized a Halloween 2023 program with the theme "Mamma Mia" to create an exciting atmosphere and surprises for its employees. In this event, "the Messengers from hell" visited each department and delivered refreshing drinks with special and meaningful messages to the employees. "Mamma Mia" is Italian and means "oh my god," expressing surprise at unexpected events or phenomena in life. The Halloween 2023 event was named after this expression to bring an element of surprise to all TECHVIFY staff. Four "devils from the Land of Spirits" named Hugh LK, Nguyen Tuan Anh, Teddy Nguyen, and YuTa…
31 October, 2023