TECHVIFY's Mid-Autumn 2023 Moonlit Rhapsody
27 September, 2023
On September 26th, we celebrated MID-AUTUM 2023 with 106 Techvifers in TECHVIFY'S Hanoi headquarters. With the "Moonlit Rhapsody" theme, the event set a warm and lively tone, filled with fun activities that brought laughter and joy to everyone at the company.
The event had three main segments: a Mid-Autumn feast, a craft competition, and the giving of union gifts. Three captivating performances from various departments opened the event. As Techvifers indulged in traditional Mid-Autumn treats like grapefruit, persimmons, green rice, and baked goods, they were entertained by standout acts.
The performance titled "No Say Ben" from Larry – ITS and Hughie – G1.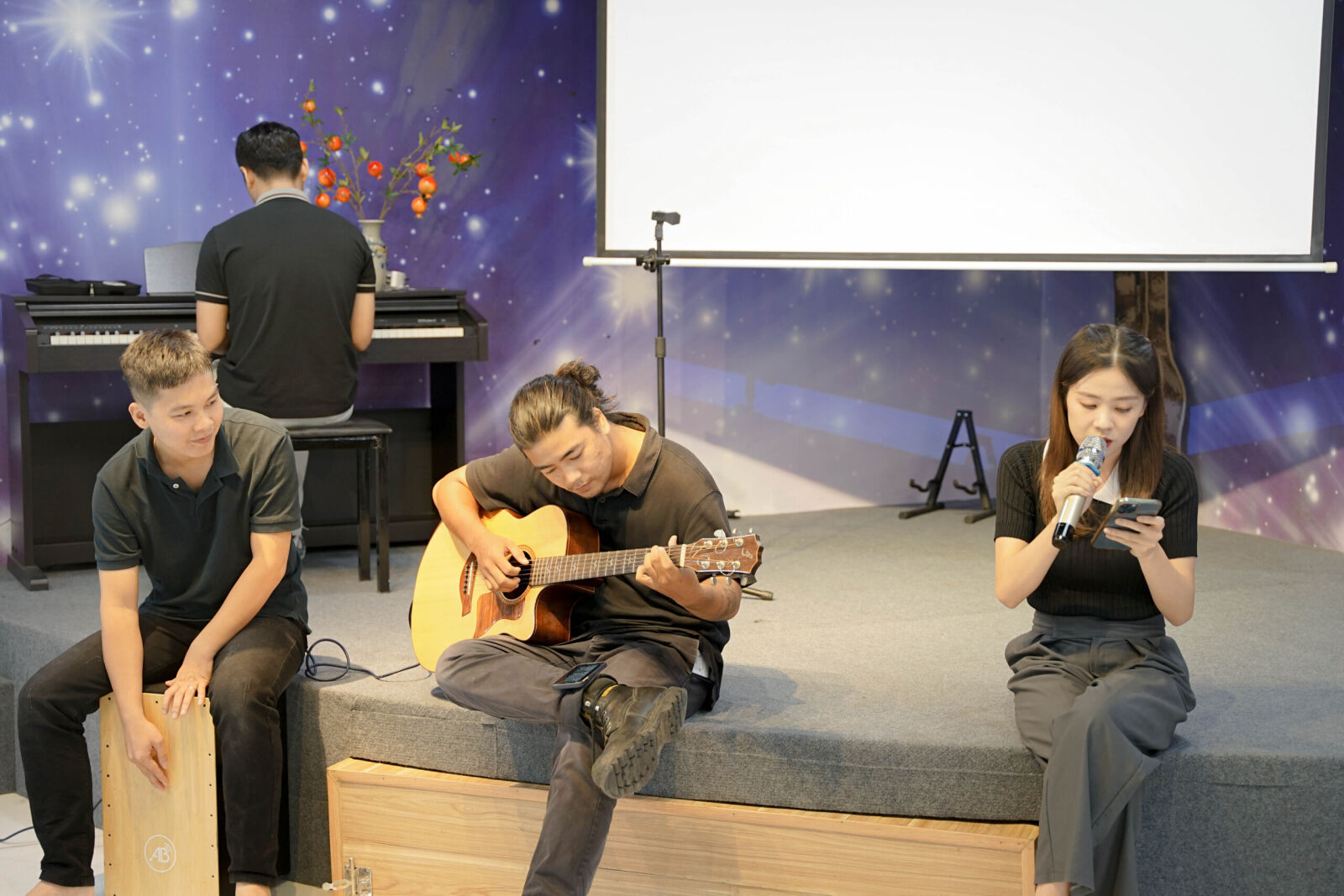 The song titled "Mua Thu Cho Em" (Autumn for You) added a touch of serenity to the atmosphere.
The performance No Say Ben" was quite humorous and entertaining, while the piece "Mùa thu cho em" brought a gentle and soothing atmosphere. Everyone sang and played instruments beautifully, creating a lively vibe for all. However, I hope that in future programs, we'll see more new faces in the performing team, bringing fresh, youthful, and dynamic energy," shared Mr.Thaniel Le, Group Lead of G1.
In addition to the performances and treats, Techvifers participated in a "Crafty Hands" competition, where they showcased their creativity. Ms.Chloe Nguyen, Head of CCM, was challenged to judge the contest.
In just 20 minutes, Techvifers crafted beautiful lanterns of various colors and shapes. The competition was intense, but the unity and camaraderie among participants made it all the more special.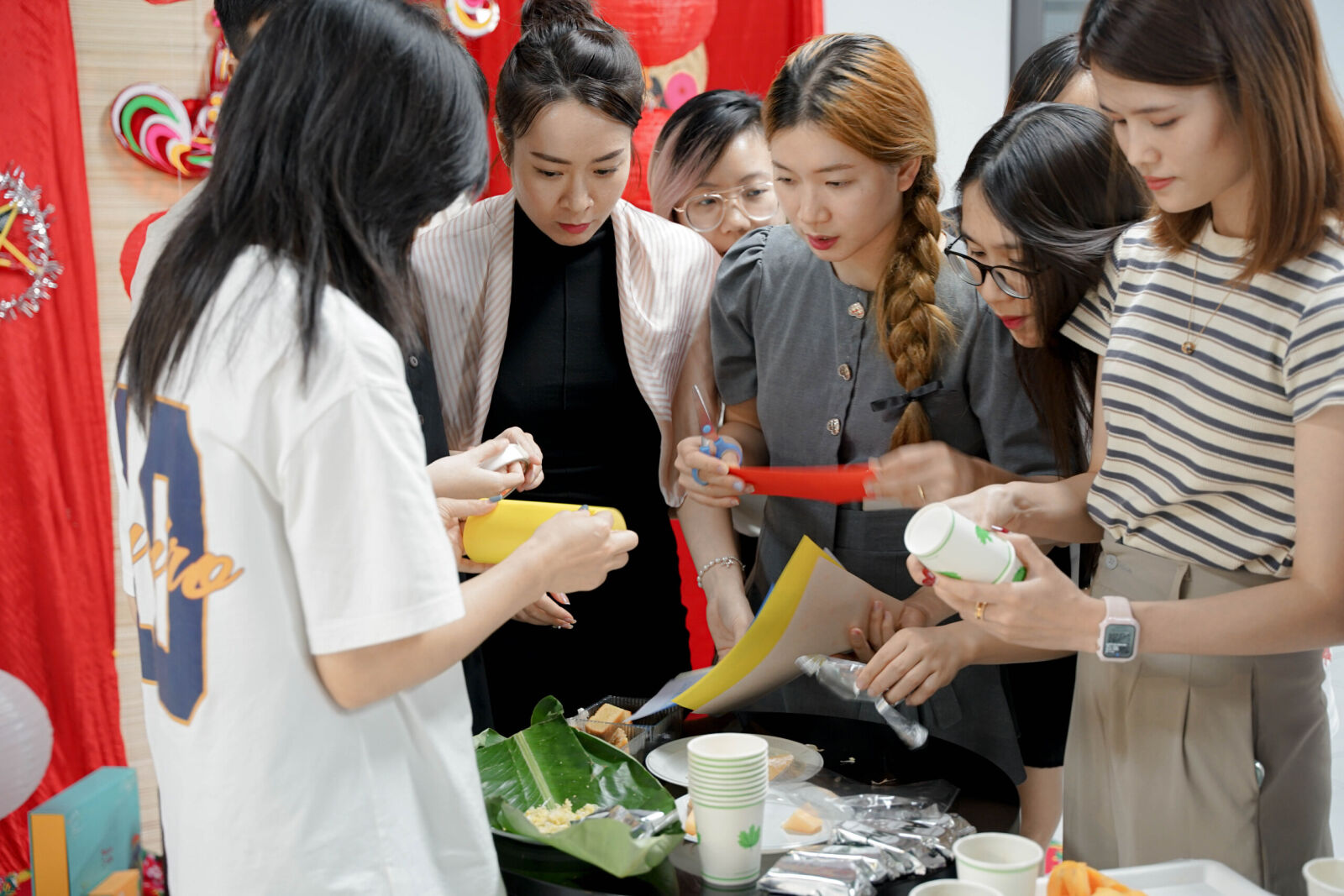 "I really enjoyed the lantern-making competition. It allowed us to relive the Mid-Autumn activities from our childhood while letting our creativity run wild. It was a great way to unwind during this stressful work period and spend quality time bonding with colleagues", shared Rachel Nguyen – ITS – representing the winning team.
To show appreciation for everyone's hard work and dedication, TECHVIFY prepared 120 gift boxes filled with delicious mooncakes. The gifts symbolized the company's gratitude and well-wishes for a meaningful and joyful Mid-Autumn Festival.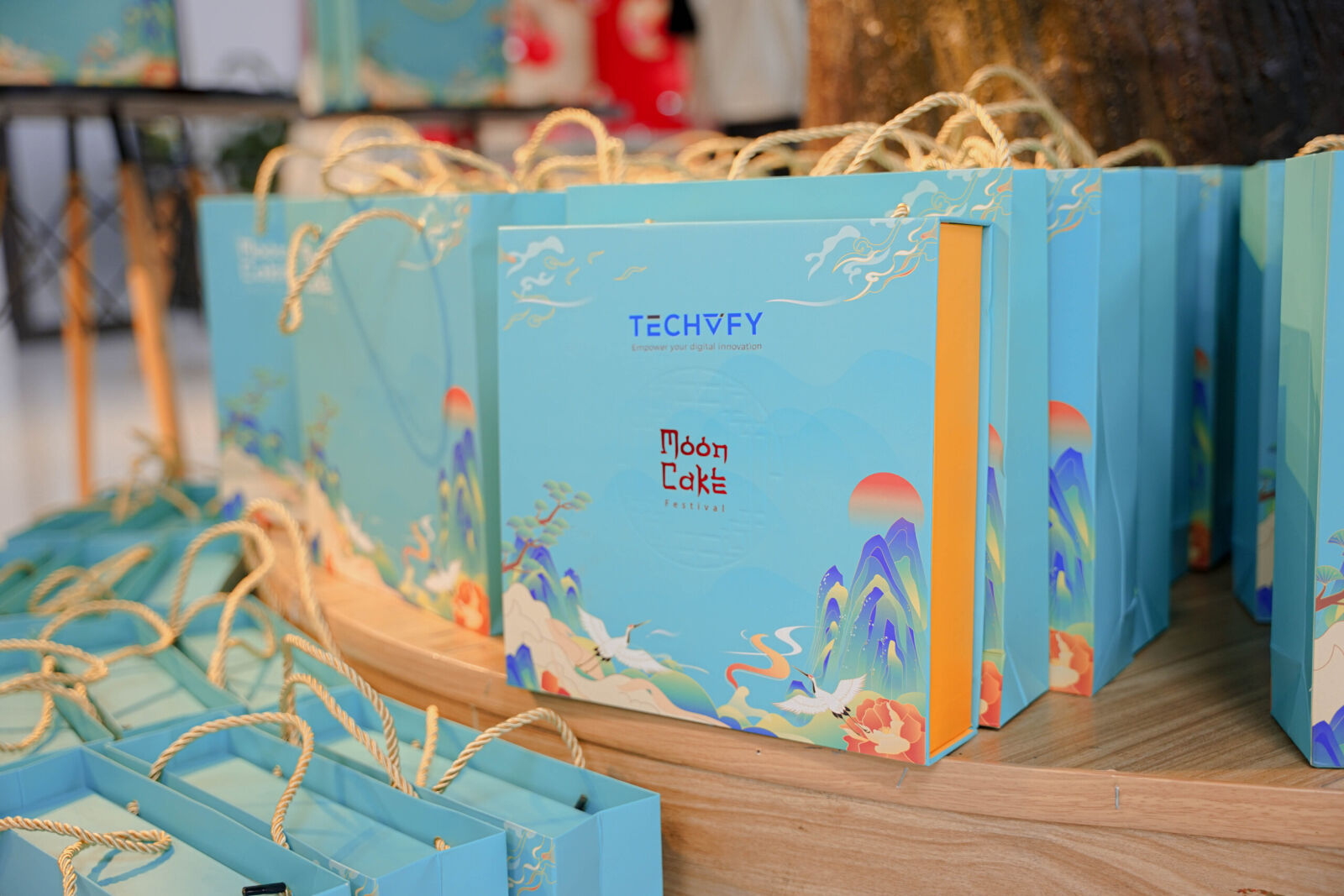 After an hour of fun and festivities, the TECHVIFY MID-AUTUMN 2023: "Moonlit Rhapsody" event ended with everyone smiling.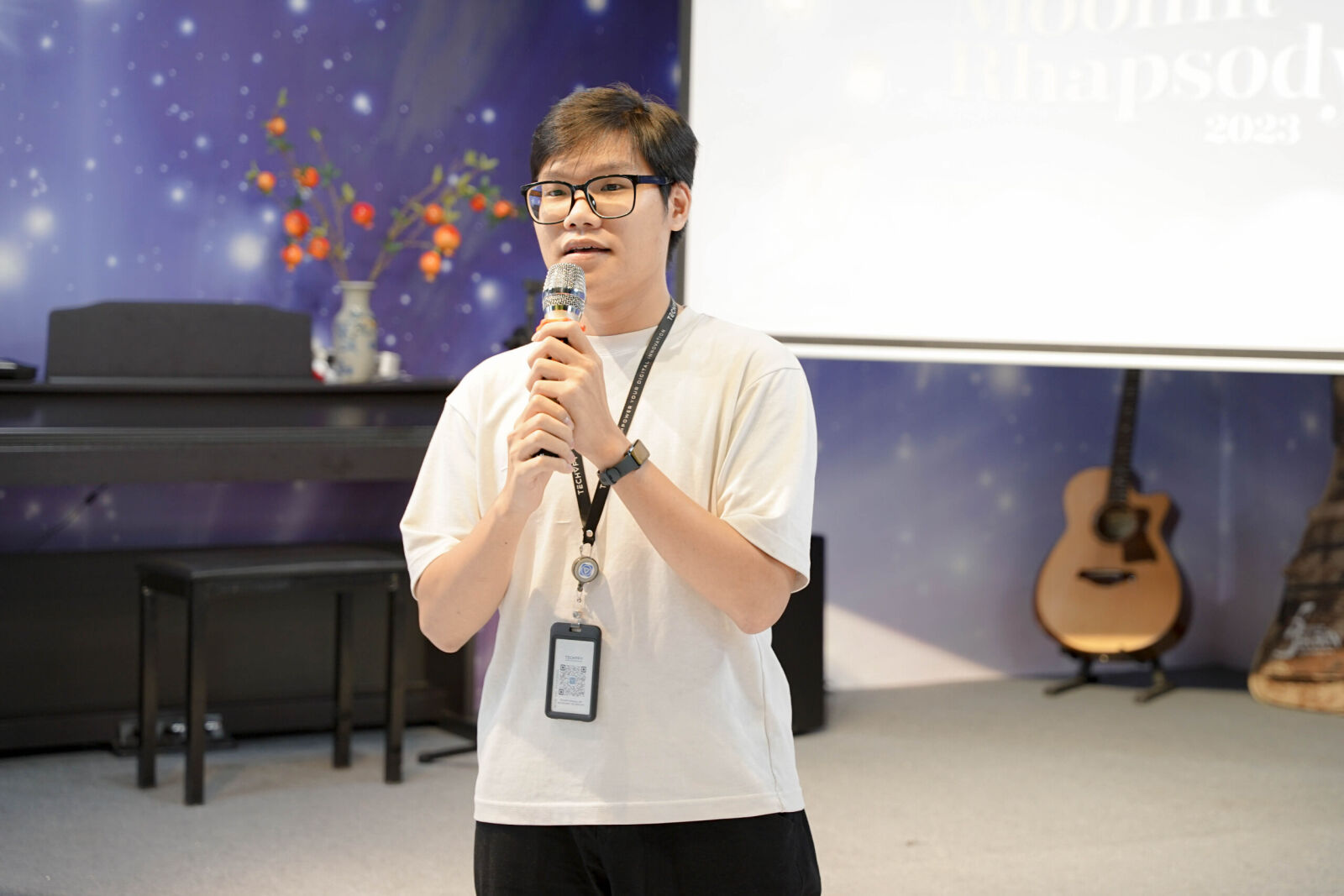 Yuta Nguyen – G2 – performing standup comedy with confidence.


Win it all with your lantern.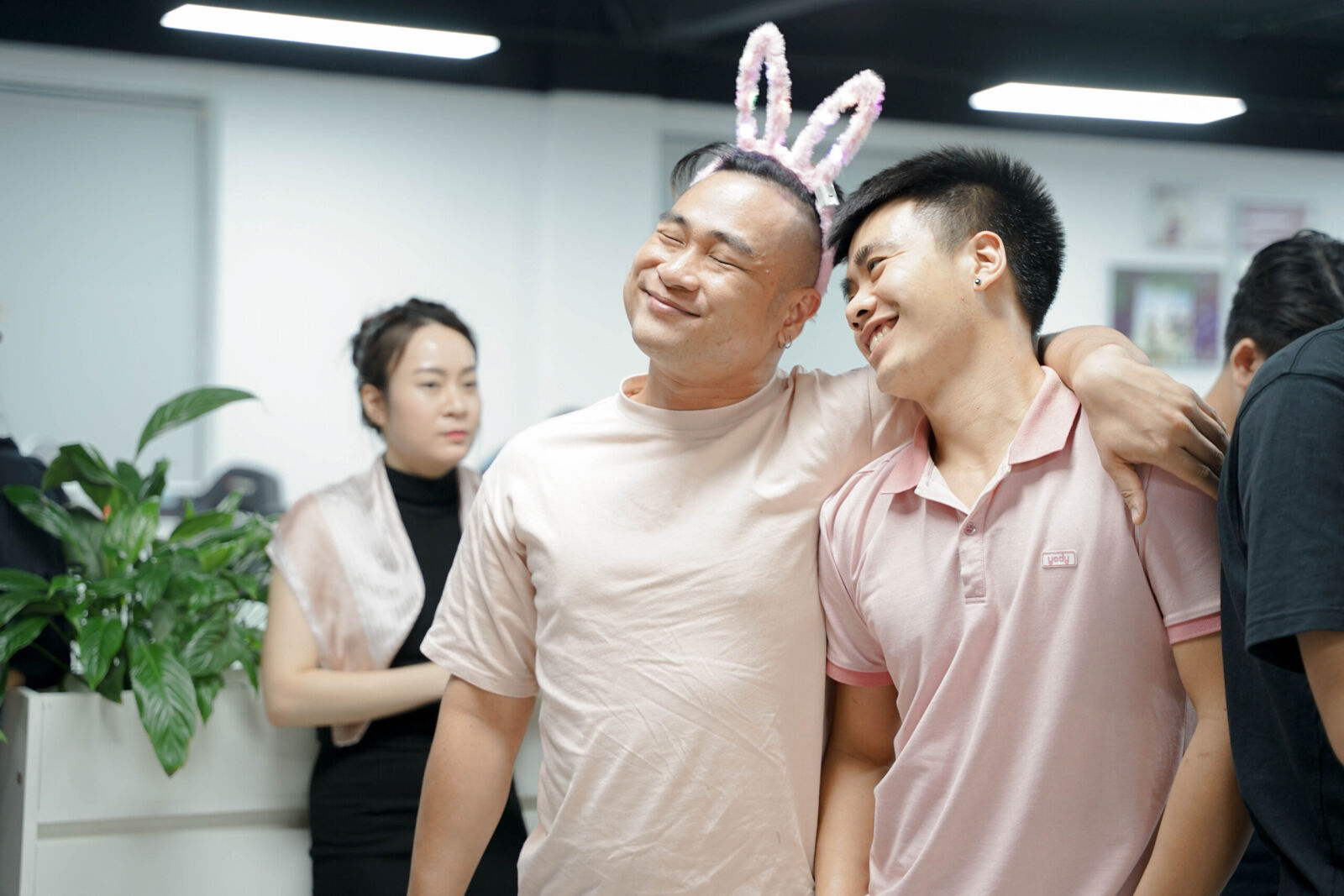 Jade Rabbit and the Mr. Lucky Techvifer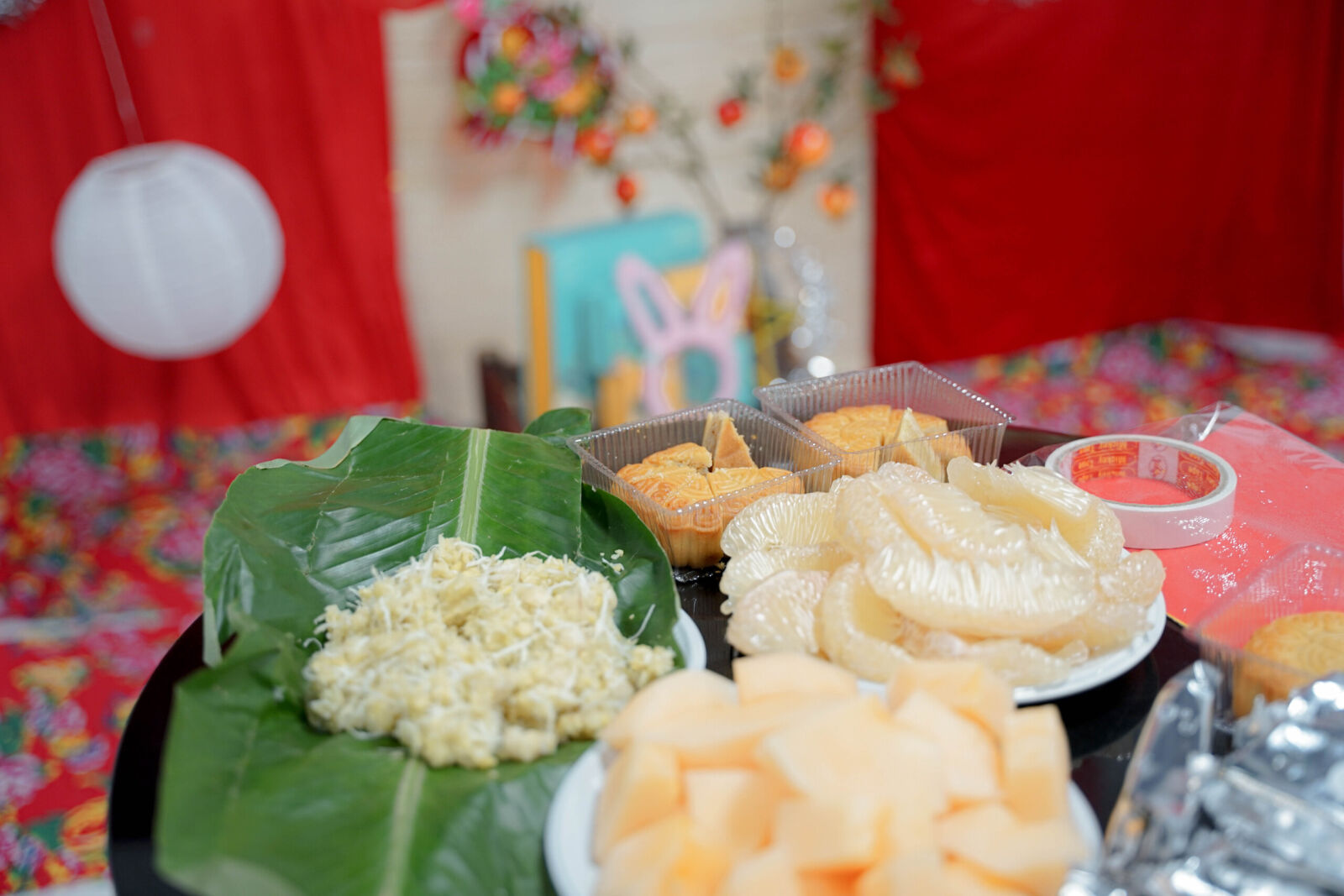 The delicious Mid-Autumn treats of 2023 at TECHVIFY.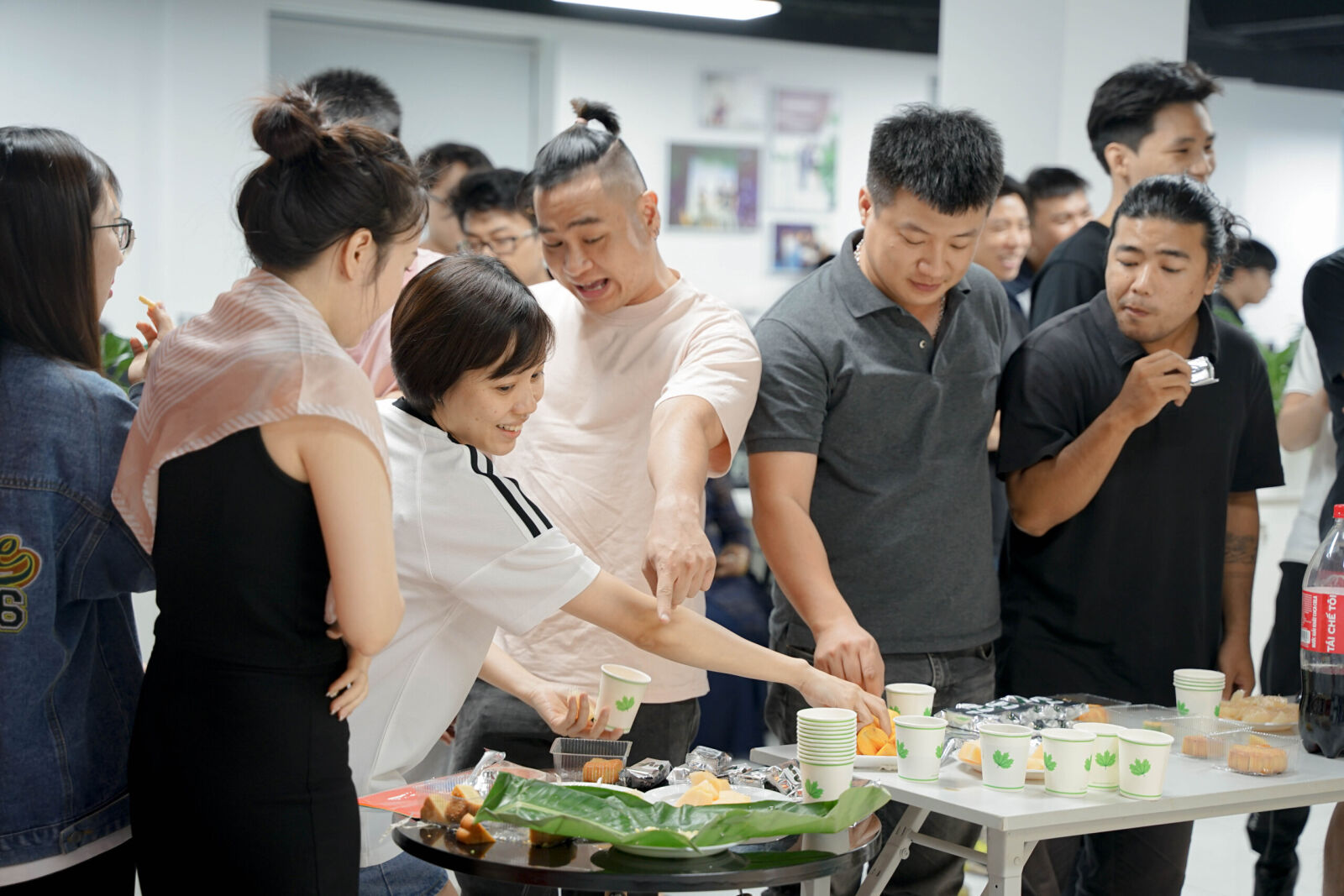 This one is yummy!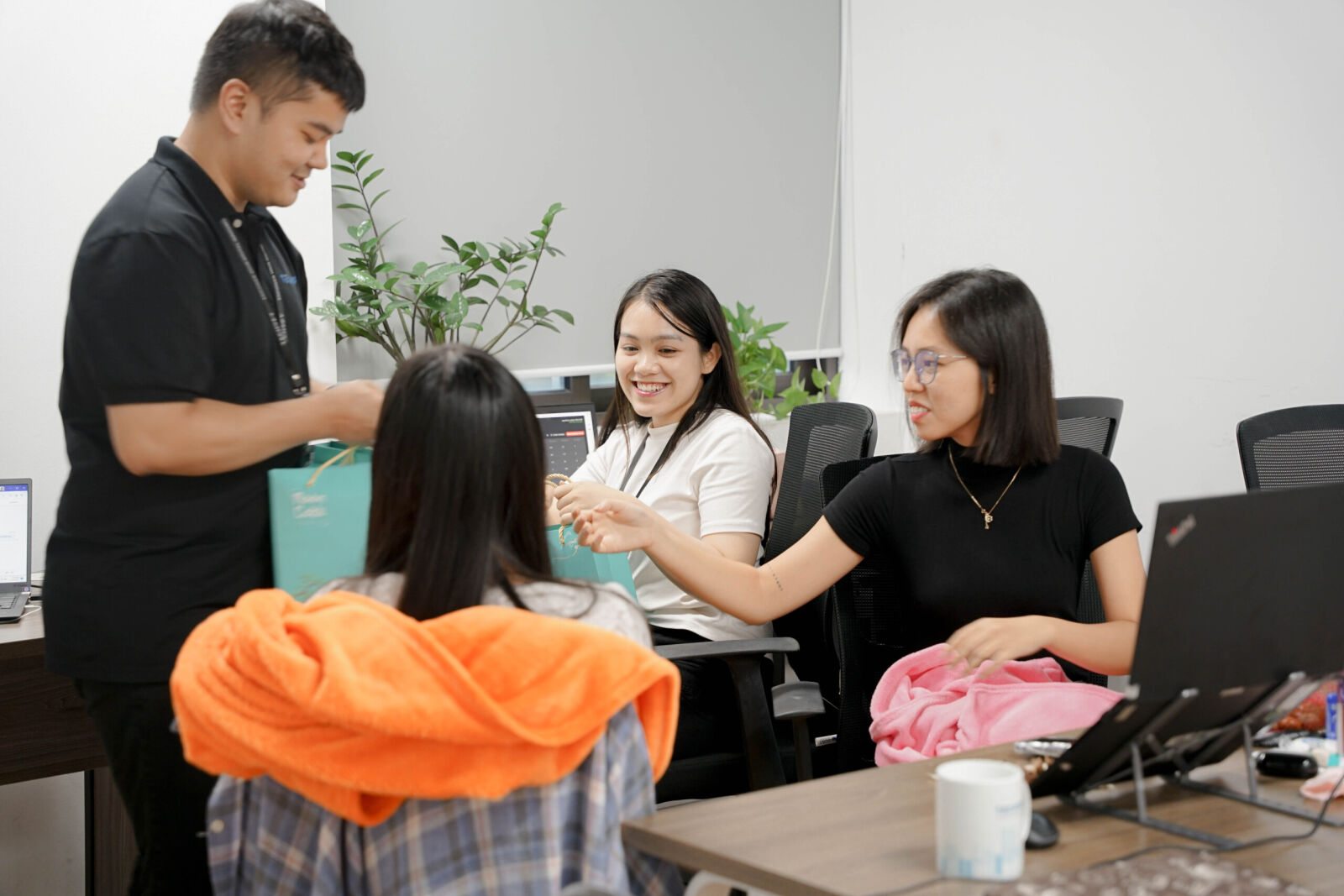 The manager personally handed out gift boxes to the TECHVIFY employees.
No tags for this post.
Related Topics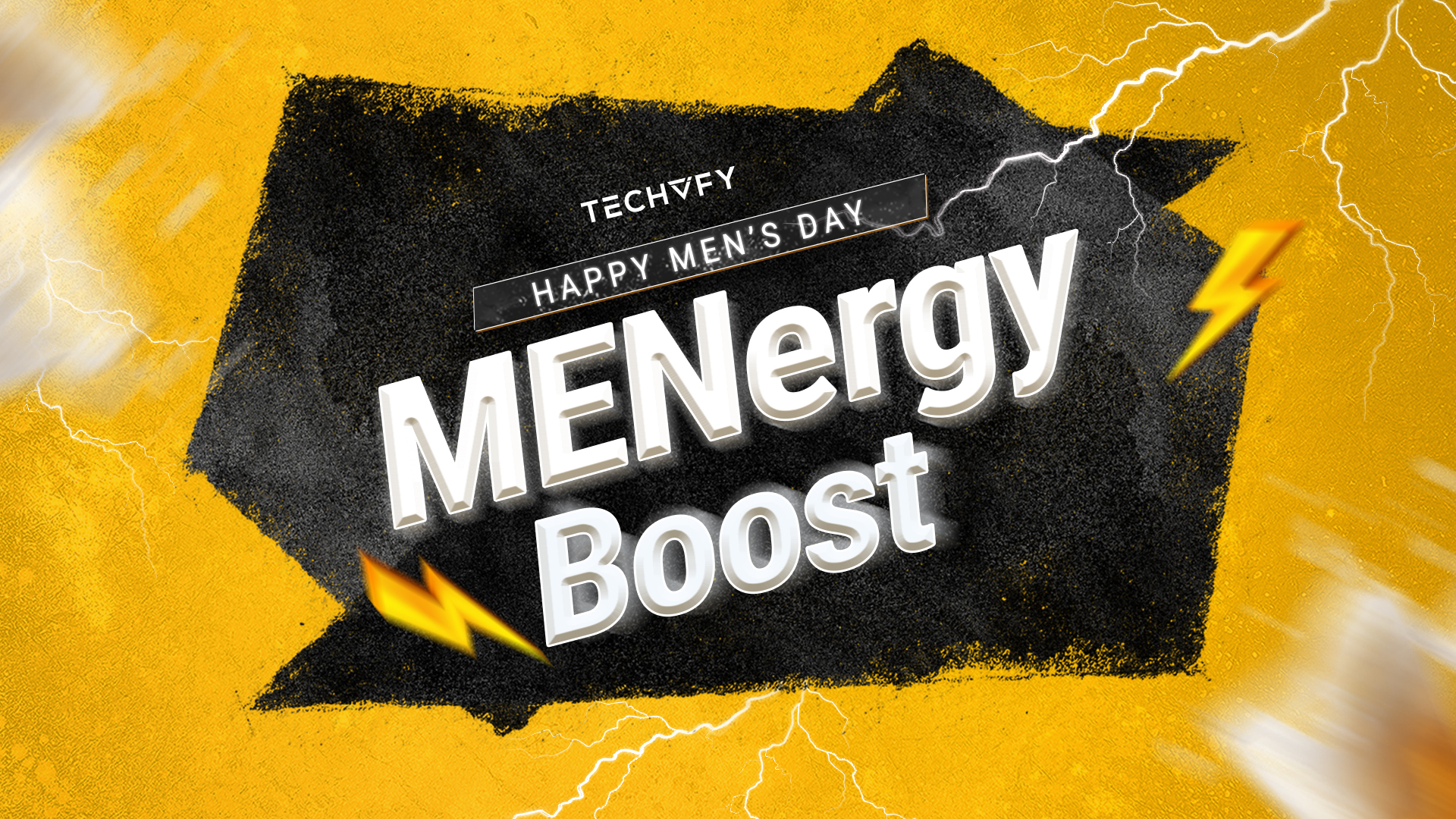 Extraordinary things only available at Men's Day 2023: MENergy Boost
Last Thursday – November 16, TECHVIFY was pleased to organize the Men's Day 2023 event with the theme "MENergy Boost". To honor the youth, enthusiasm and creativity of male employees at TECHVIFY, the event brings energy drinks for productive morning work, good luck wishes, and exciting games. It has attracted more than 100 Techvifers to attend the event. From early morning, the women colleagues prepared surprises for the men at TECHVIFY. At exactly 8:30 a.m., coffee cups and loving messages were ready in front of the reception desk, combined with bunches of yellow and white balloons decorated around the office….
17 November, 2023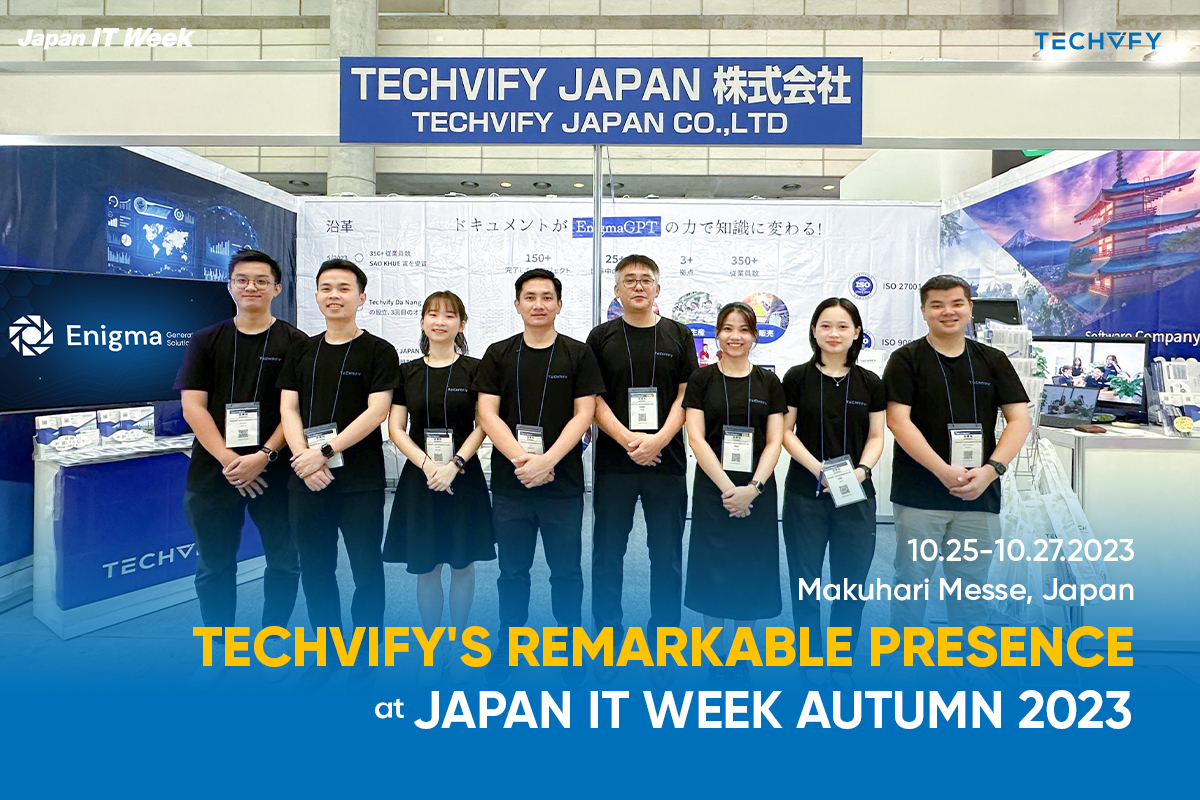 TECHVIFY's Remarkable Presence at Japan IT Week
Japan IT Week Autumn 2023 was held from October 25 to 27 to 29, 2023, at Makuhari Messe in Chiba, Japan. It attracted more than 1,000 exhibitors and 50,000 visitors from various industries and sectors, such as AI, IoT, cloud, security, big data, blockchain, and more. It was a great opportunity for TECHVIFY Japan to network with potential customers, partners, and investors, as well as to learn from the latest trends and innovations in the IT field. TECHVIFY is excited to share our experience at Japan IT Week Autumn, the largest IT trade show in Japan. Here are some remarkable…
01 November, 2023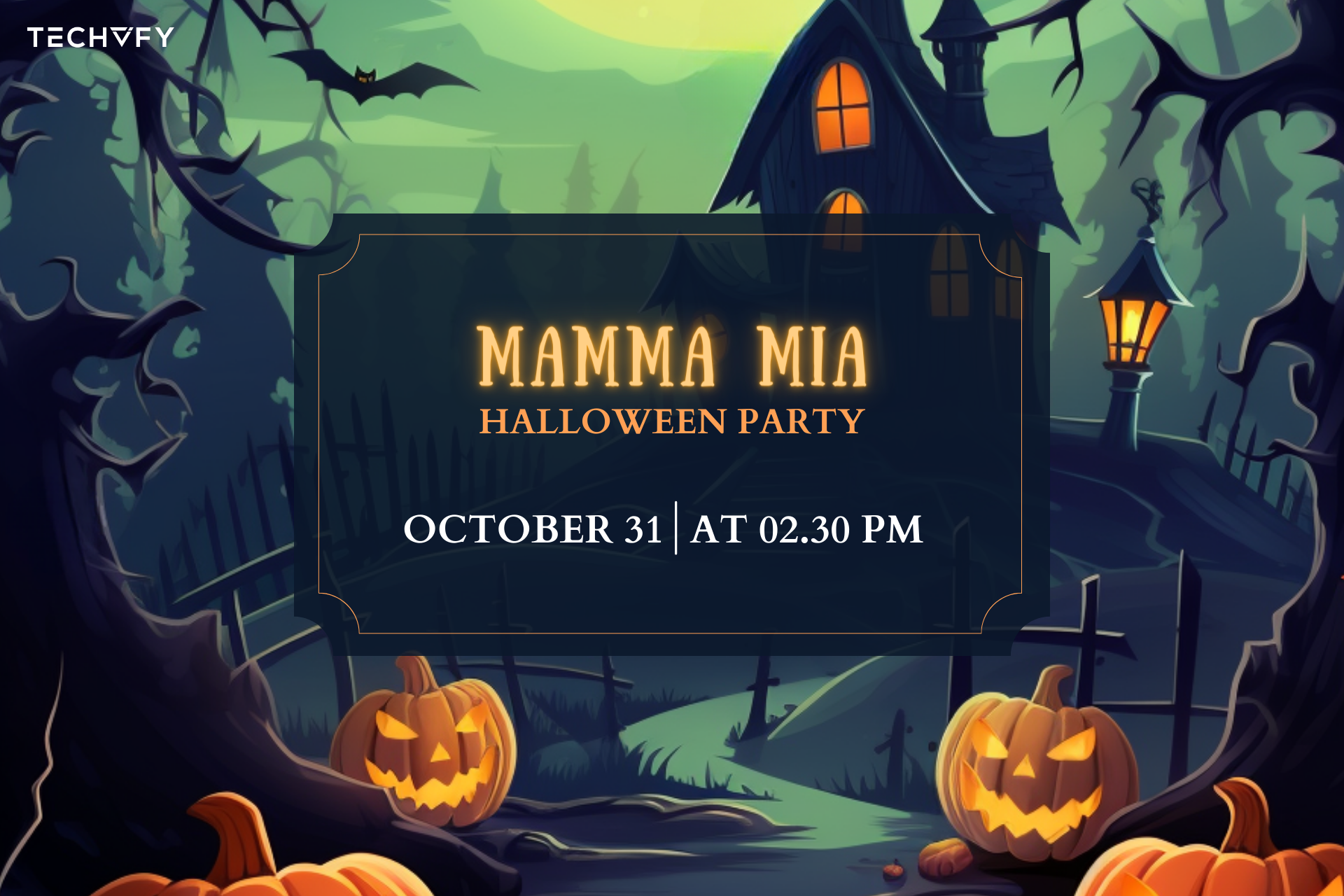 Halloween 2023: Mamma Mia and the Surprises
On October 31, TECHVIFY organized a Halloween 2023 program with the theme "Mamma Mia" to create an exciting atmosphere and surprises for its employees. In this event, "the Messengers from hell" visited each department and delivered refreshing drinks with special and meaningful messages to the employees. "Mamma Mia" is Italian and means "oh my god," expressing surprise at unexpected events or phenomena in life. The Halloween 2023 event was named after this expression to bring an element of surprise to all TECHVIFY staff. Four "devils from the Land of Spirits" named Hugh LK, Nguyen Tuan Anh, Teddy Nguyen, and YuTa…
31 October, 2023