Business Survival 101: Sharpen Your Competitive Edge
30 June, 2020
To survive and grow, every product and service offering must have a clear, distinct competitive edge over its market competitors.
In short, the competitive edge is the key to sales success and high profitability.
You must be excellent in some specific areas that customers value.
In other words, saying, "We offer the best for you in this critical area." is important in building customer trust.
Especially during this crisis while most of everyone is working remotely from home in 2020.
Design, address, and meet your customers' needs, and your business management system has proven to be the most effective competitive edge in this market today.
It involves a collection of computer programs with business applications, tools for modeling, and development tools to build applications that are designed to solve those needs.
However, the investment in software development and integration is immense.
It will require your time, effort, and, most importantly, your resource to be able to build an effective software solution.
That is why Software Outsourcing is the primary key to help your business survival during this crisis.
Then What is Software Outsourcing?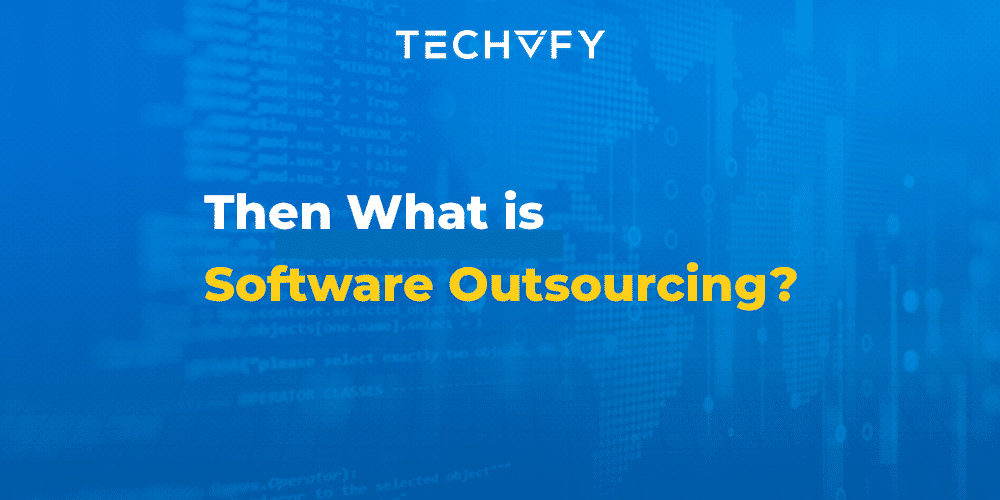 In the digital era that we are living in right now, everybody can be connected through the internet.
While many businesses are looking for a software solution provider within their region for their needs, other businesses have outsourced the work to a cheaper, more effective, and more trustworthy option, a software outsourcing provider in Vietnam.
According to the Global Services Location Index (GSLI) by A.T Kearney consulting firm, Vietnam has jumped to rank fifth in the Global Software Outsourcing industry in 2019.
So how come Vietnam has such a high-ranking in Software Outsourcing?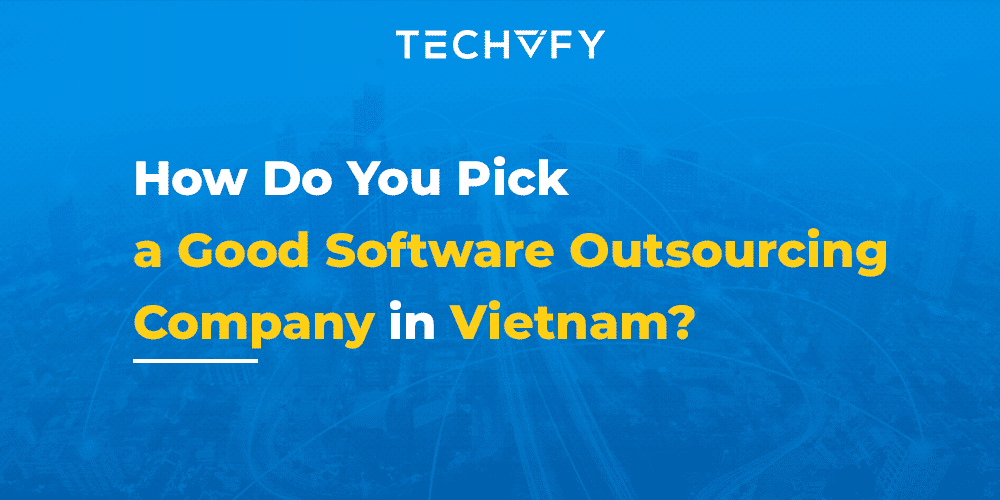 From the Economic Outlook, Vietnam's economy grew by 6.5% in 2018 and 6.6% in 2019.
This dynamic growth does not go unnoticed. Economists all have confidence in Vietnam that it is one of a handful of Asian countries that could soon rival larger competitors, such as China and India.
More than that, half the population of Vietnam is under 30 years of age, born after the Vietnam War, optimistic, intelligent, and well-educated.
The education system in Vietnam is excellent, with a focus on study in mathematics and technologies that support the IT industry.
Many Vietnamese ex-pats previously worked as programmers and engineers in the west.
Now, they've returned home as facilitators and helped overcome cultural and language barriers for using Vietnamese software developers as outsourcing partners.
Plus, hourly rates for programmers are very favorable to US and Western European companies.
The typical partner rate for outsourcing in Vietnam is $26 – $37 per hour.
Learn more: Outsourcing Software Development Services
Even though the English-language skills of the average Vietnamese are considered "Moderate," it's improving, especially among the younger population.
IT Engineers can usually read and write English; therefore, written communication is an effective collaboration tool.
With DevOps or Agile development methods, you'll often collaborate with your business partner in Vietnam.
Due to being 12 hours ahead of Eastern Time Zone, collaboration can't be stalled because of time zone issues.
A good software outsourcing company in Vietnam will have key techs available during your normal business hours – whether in the US or Europe.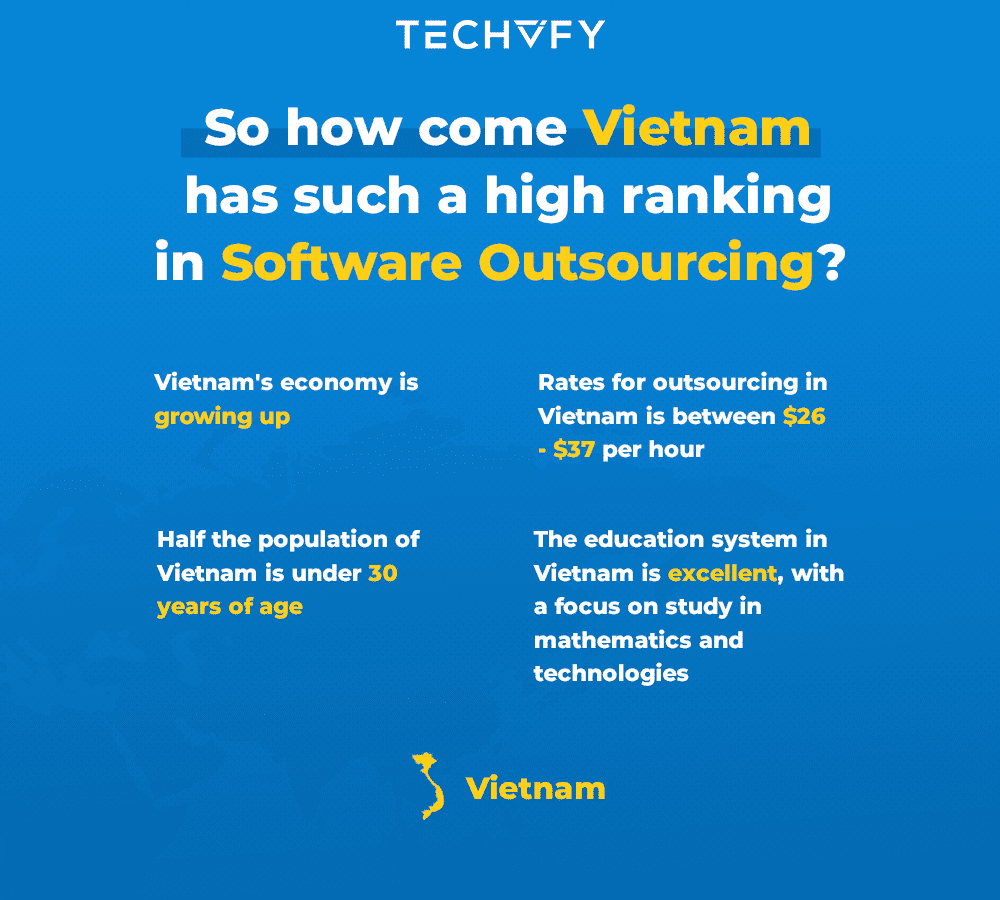 But How Do You Pick a Good Software Outsourcing Company in Vietnam?
Knowing which are the best software companies in Vietnam is important – but there's more.
To select THE RIGHT software outsourcing provider for your company, you need to understand your company as well as the prospective outsourcing partner.
"One size does not fit all"… your company's industry, culture, time zone, and – yes – technical skill gaps all should impact your search process.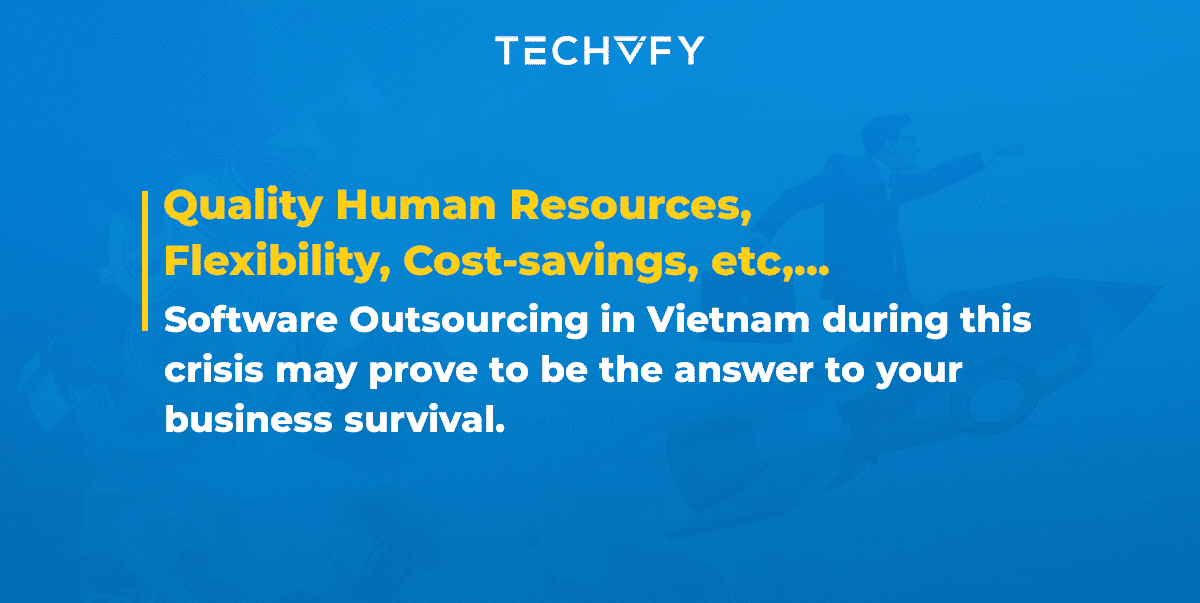 Therefore, as TECHVIFY, WE have a dedicated team of hardworking and committed skilled professionals.
By continuously striving to attain knowledge and increase their talent to provide the best quality solutions to our valued customers, we keep ourself-updated with the latest trends so our clients can take a rest and concentrate on business.
Moreover, with an array of multidisciplinary skilled employees forming the core of our capability and with more than 500000+ working hours experience in the following technologies, TECHVIFY can support offshore development and evaluation for customers in various fields such as finance, insurance, e-commerce, manufacturing, and internet services.
With the right mix of experience, expertise, value, and our ability to deliver against all the odds, our clients have trusted us to unleash their potential, stay ahead of their competitors, and always deliver top-tier quality service.
As a Creative and Young company, we believe that continuous innovation, a highly engaging workforce, and effective communication can lead us to become the top leader in software outsourcing in Vietnam.
Stay tuned for more information about our concern and interest in today's technology.
Related Topics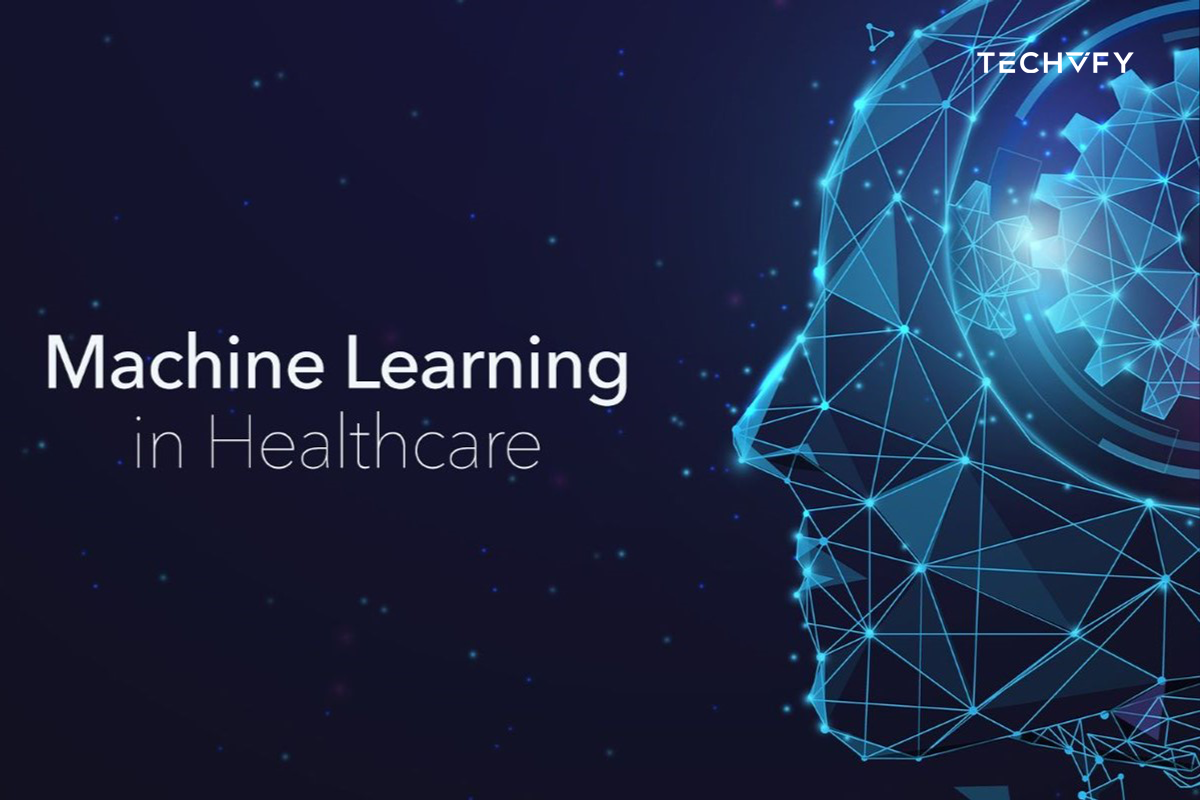 Machine Learning in Healthcare – The Future Trend You Must Know
The healthcare sector is constantly advancing, with continuous developments in technology and treatments. This rapid progress can be challenging for healthcare professionals to stay abreast of. The term "machine learning in healthcare" has recently gained significant attention. But what is machine learning in healthcare? Why is machine learning important in healthcare for managing patient data? And what are the benefits of machine learning in healthcare? I. What is machine learning in healthcare? Machine learning in healthcare depends on gathering patient data. By employing systems and tools that organize and classify this data, machine learning algorithms can uncover patterns within these…
28 November, 2023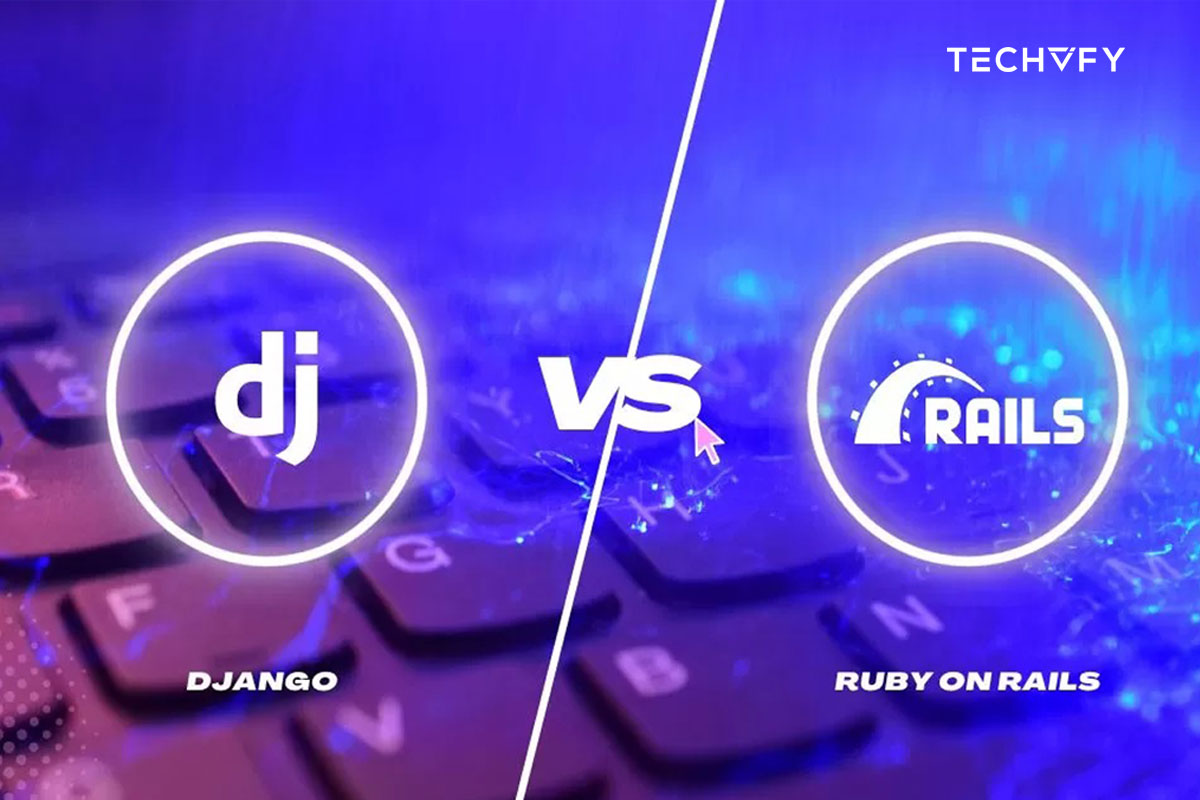 Ruby on Rails vs Django: Which Framework for Your Project?  
In the dynamic world of web development, two frameworks stand out as giants: Ruby on Rails vs Django. Both frameworks are open-source, high-level, and designed to streamline the development of web applications. While they share many similarities, they also possess distinct characteristics that cater to different developer preferences and project requirements. In this article, TECHVIFY will discuss two frameworks to help you understand the basis for making vital choice decisions. I. What are Ruby on Rails vs Django? 1. What is Ruby on Rails? Ruby on Rails (RoR) is a full-stack web application framework in the Ruby programming language. Embracing…
27 November, 2023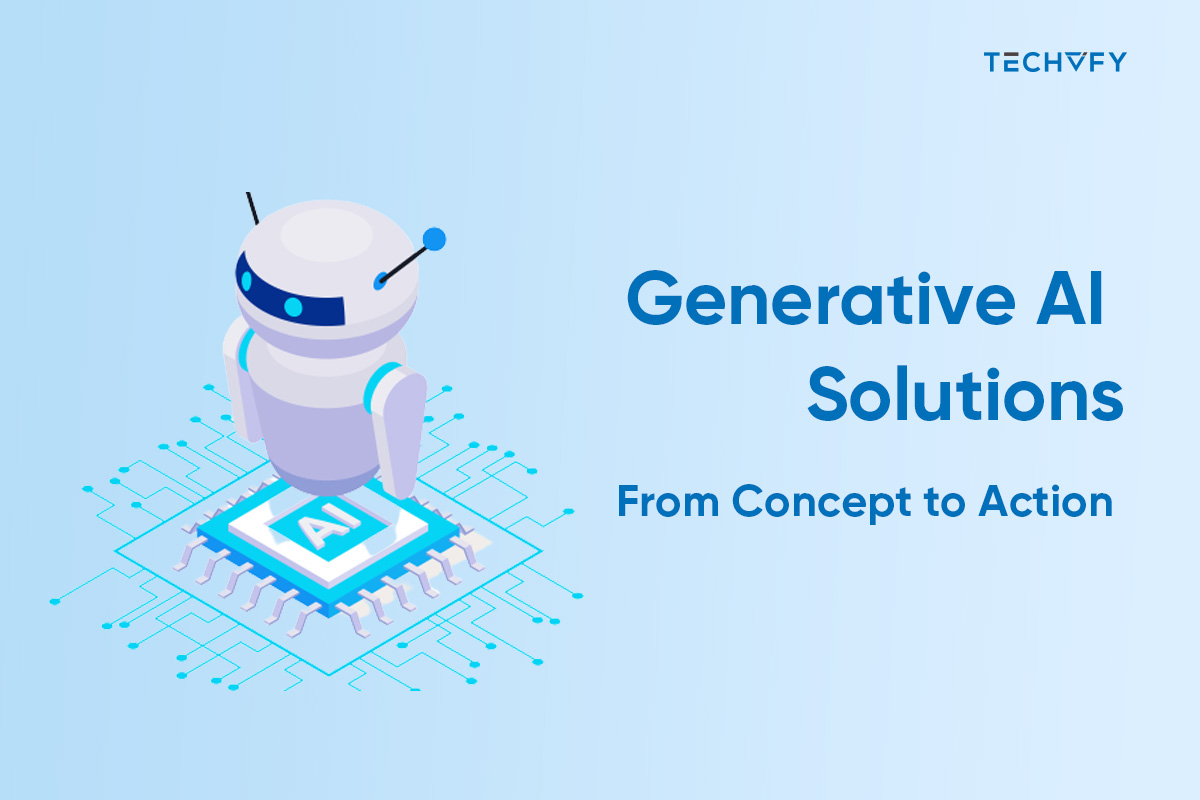 Generative AI Solutions: From Concept to Action
These days, generative AI influences many industries and brings about a fresh wave of innovation and change. It is at the center of the latest developments, from innovations in healthcare to transforming the entertainment sector. This revolutionary technology fosters creativity, efficiency, and customized experiences; it is more than a tool. Researchers, developers, and companies worldwide are utilizing its potential to create unimaginable methods. In this article, TECHVIFY will discuss the significance, advantages, practical uses, and implementation of generative AI solutions.  Importance and relevance of generative AI in various industries   Generative AI stands at the forefront of transformative technologies, impacting industries…
24 November, 2023