How Cloud Services Empower Digital Transformation
24 August, 2020
Cloud services provide an opportunity for businesses to undergo digital transformation, where they provide services, software, apps, processing, or storage through the cloud.
Cloud services have brought the revolution to computing, not least through IaaS, PaaS, and especially SaaS, which have enabled businesses to develop virtualized IT infrastructure and deliver software through the cloud, independent of a user's operating system.
The first part of this article aims to pinpoint the meaning of cloud service meaning and what is cloud services platform. Subsequently, cloud service offerings will be listed in the second part as well as which solutions TECHVIFY can deliver on-demand to companies and customers in the digital transformation era.
I. What are cloud services?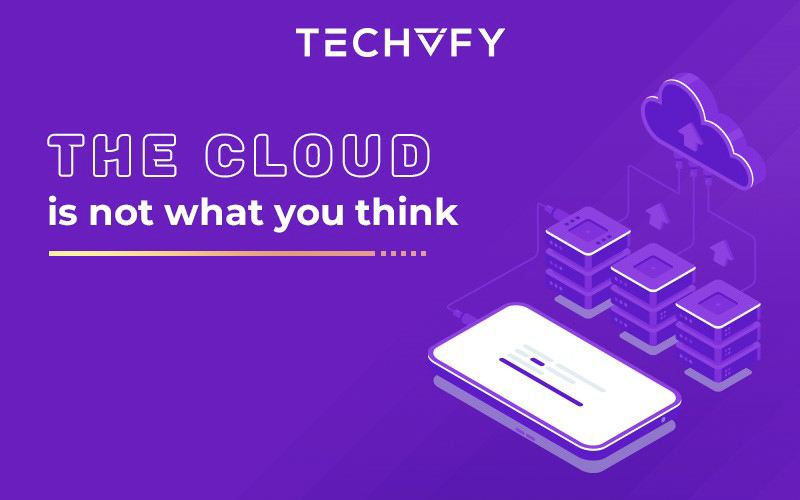 Simply put, the term "cloud services" refers to the delivery of computing services, including servers, storage, databases, networking, software, analytics, and intelligence over the Internet ("the cloud") to offer faster innovation, flexible resources, and economies of scale.
Cloud service also offers the advantage of being scalable, which means not only can you access additional resources exactly as you need them, but you are also charged solely for the services you use without the need to buy in extra hardware for additional redundancy.
For example, Netflix is one of the large enterprises hosting all their data and running the whole of their applications in the cloud. This company relies on cloud service to operate its video streaming service and other business systems. To dive into more about this topic more, the following part depicts the three main platforms of Cloud Service.
Learn more:
II. Three types of cloud services platform: SaaS, IaaS, and PaaS.
Most cloud computing services fall into three broad categories: infrastructure as a service (IaaS), platform as a service (PaaS), and software as a service (SaaS). Knowing what they are and how they differ from each other makes it more straightforward to achieve your business goals.
Software as a Service (SaaS)
The most broadly recognized cloud service platform is named as software as a service or SaaS. This wide category incorporates a variety of services, such as file storage and backup, web-based email, and project management tools.
Examples of SaaS cloud service providers consist of Dropbox, G Suite, Microsoft Office 365, Slack, and Citrix Content Collaboration. In each of these applications, users can access, share, store and secure information in "the cloud."
Infrastructure as a Service (IaaS)
The common fundamental category of cloud service. With IaaS, you rent IT infrastructures such as servers and virtual machines (VMs), storage, networks, and operating systems from a cloud provider on a pay-as-you-go basis.
Examples of IaaS are Amazon Web Services (AWS), Microsoft Azure, and Google Compute Engine.
Platform as a Service (PaaS)
The PaaS cloud service platform as a service refers to cloud computing services that supply an on-demand environment for developing, testing, delivering, and managing software applications. Many IaaS vendors, including the examples listed above, also offer PaaS capabilities.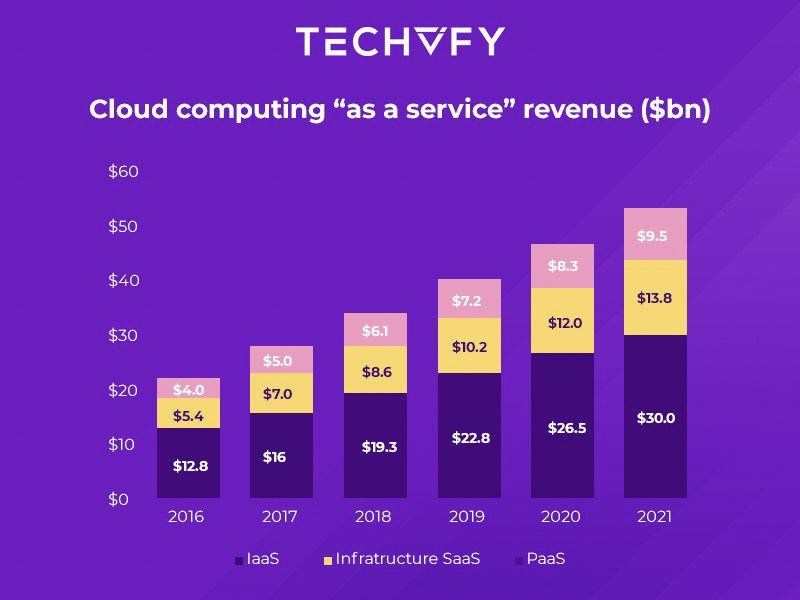 Source: 451 Research's Market Monitor: Cloud Computing
From the practical perspective, the research from Gartner and 451 Research elucidated that more than a third of all IT spending worldwide stressed their expenditure on hosting and cloud service especially building the infrastructure, and there is an upward trend until the year 2021.
At TECHVIFY, our cloud service offerings help you build, re-platform, and integrate applications on PaaS technologies, such as Amazon Web Services, Windows Azure, Google, and Force, with the following specific solutions.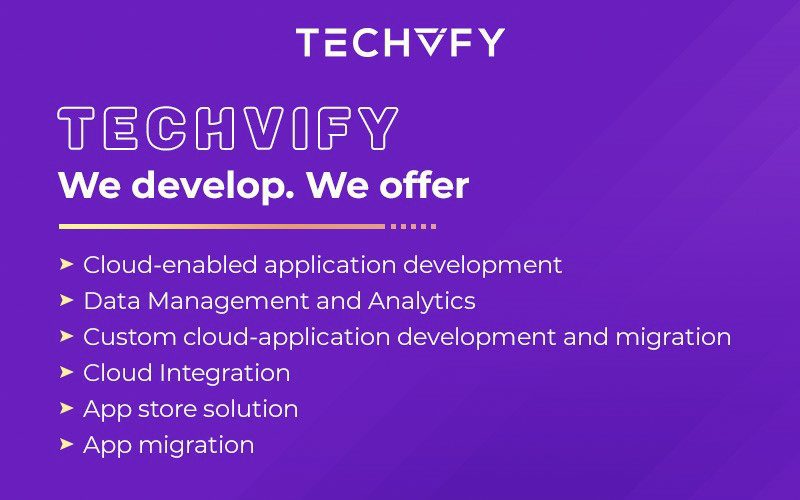 Furthermore, Cloud-based infrastructure is key to delivering flexible, on-demand access to the resources performing as the cornerstone of these new digital business offerings. TECHVIFY supports you in developing robust cloud technologies by providing a full range of consulting, development, migration, integration, and testing services. Are you ready to take advantage of the cloud service in the digital transformation with TECHVIFY?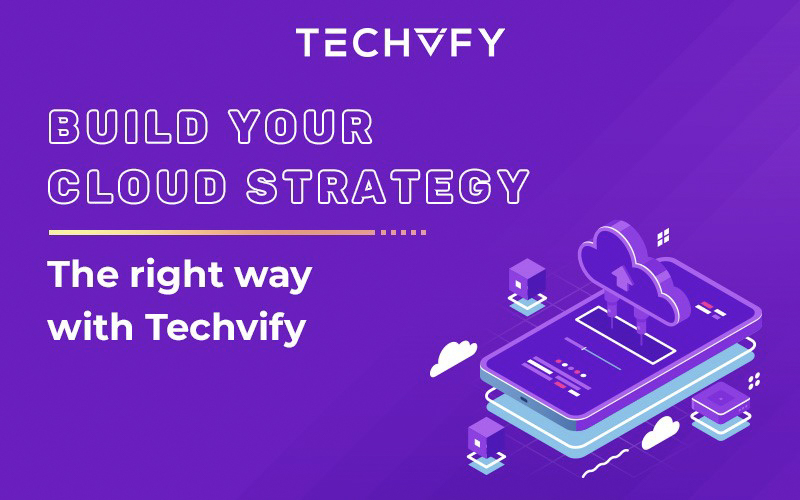 Related Topics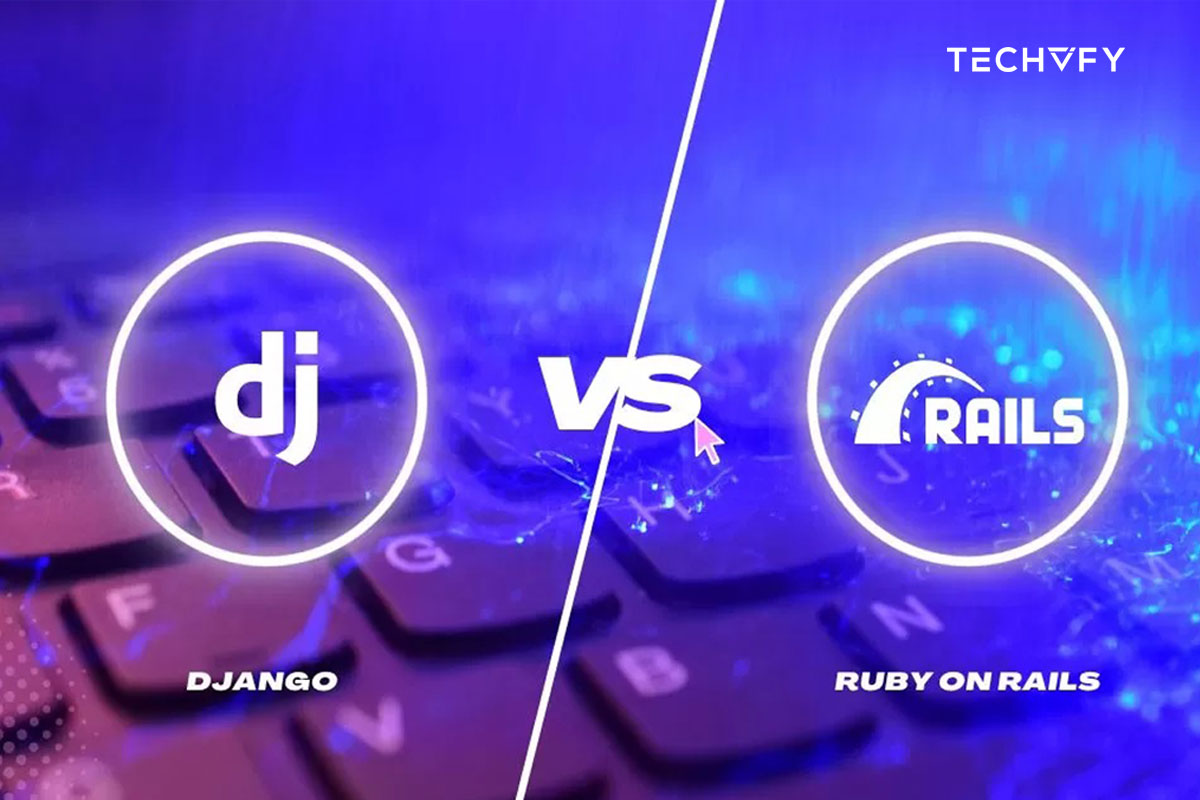 Ruby on Rails vs Django: Which Framework for Your Project?  
In the dynamic world of web development, two frameworks stand out as giants: Ruby on Rails vs Django. Both frameworks are open-source, high-level, and designed to streamline the development of web applications. While they share many similarities, they also possess distinct characteristics that cater to different developer preferences and project requirements. In this article, TECHVIFY will discuss two frameworks to help you understand the basis for making vital choice decisions. I. What are Ruby on Rails vs Django? 1. What is Ruby on Rails? Ruby on Rails (RoR) is a full-stack web application framework in the Ruby programming language. Embracing…
27 November, 2023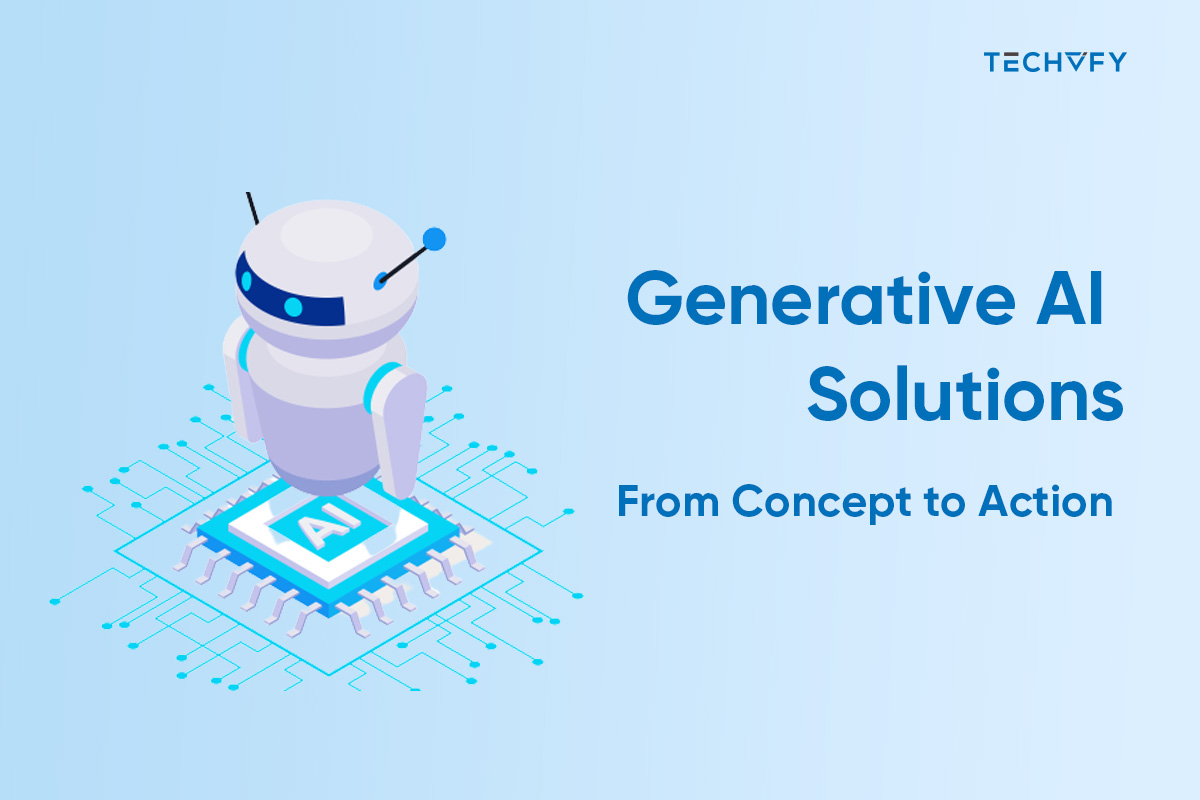 Generative AI Solutions: From Concept to Action
These days, generative AI influences many industries and brings about a fresh wave of innovation and change. It is at the center of the latest developments, from innovations in healthcare to transforming the entertainment sector. This revolutionary technology fosters creativity, efficiency, and customized experiences; it is more than a tool. Researchers, developers, and companies worldwide are utilizing its potential to create unimaginable methods. In this article, TECHVIFY will discuss the significance, advantages, practical uses, and implementation of generative AI solutions.  Importance and relevance of generative AI in various industries   Generative AI stands at the forefront of transformative technologies, impacting industries…
24 November, 2023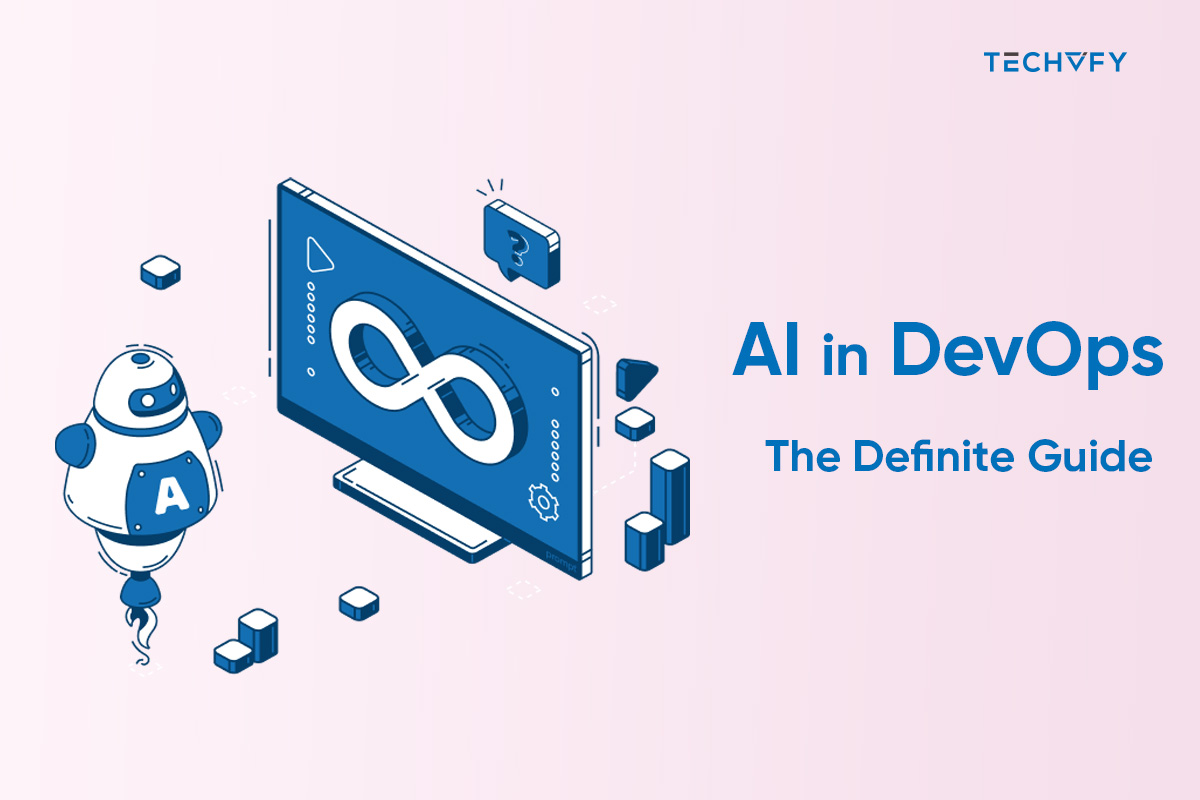 AI in DevOps – The Definite Guide
DevOps merges the realms of software creation and IT operations to deliver software swiftly and reliably. AI, a field within computer science, develops machines capable of tasks resembling human abilities, such as visual recognition and decision-making.   Using AI in DevOps involves utilizing advanced computer technologies to enhance and accelerate software functionality. This integration aids in software testing, preparation, and security.   This article delves into integrating AI into the DevOps transformation journey. We will discuss the various AI technologies employed in DevOps' benefits and examine the challenges of using AI in this field. Additionally, we'll provide a brief overview…
23 November, 2023