The View From "Insiders" With Experiences at TECHVIFY
08 August, 2022
What is a professional and ideal working environment for you?! Let's listen to the true feelings of Techvifer's very own experiences! 
Billionaire Richard Branson once said, "Clients do not come first. Employees come first. If you take care of your employees, they will take care of the clients." His statement shows that human resources have been and will always play the most critical role for the business to maintain its growth momentum and grow from within. 
At TECHVIFY, the company's leadership always focuses on the employee experience and strives to build an environment where each individual can grow and feel happy and satisfied. This contributes to a collective that can be strong enough to accompany long-term goals in the future. 
More than a working environment, TECHVIFY is also a place to train and nurture technology talents. Listen to Horse Nguyen's sharing of "toddler" experiences in the profession from the perspective of a Fresher: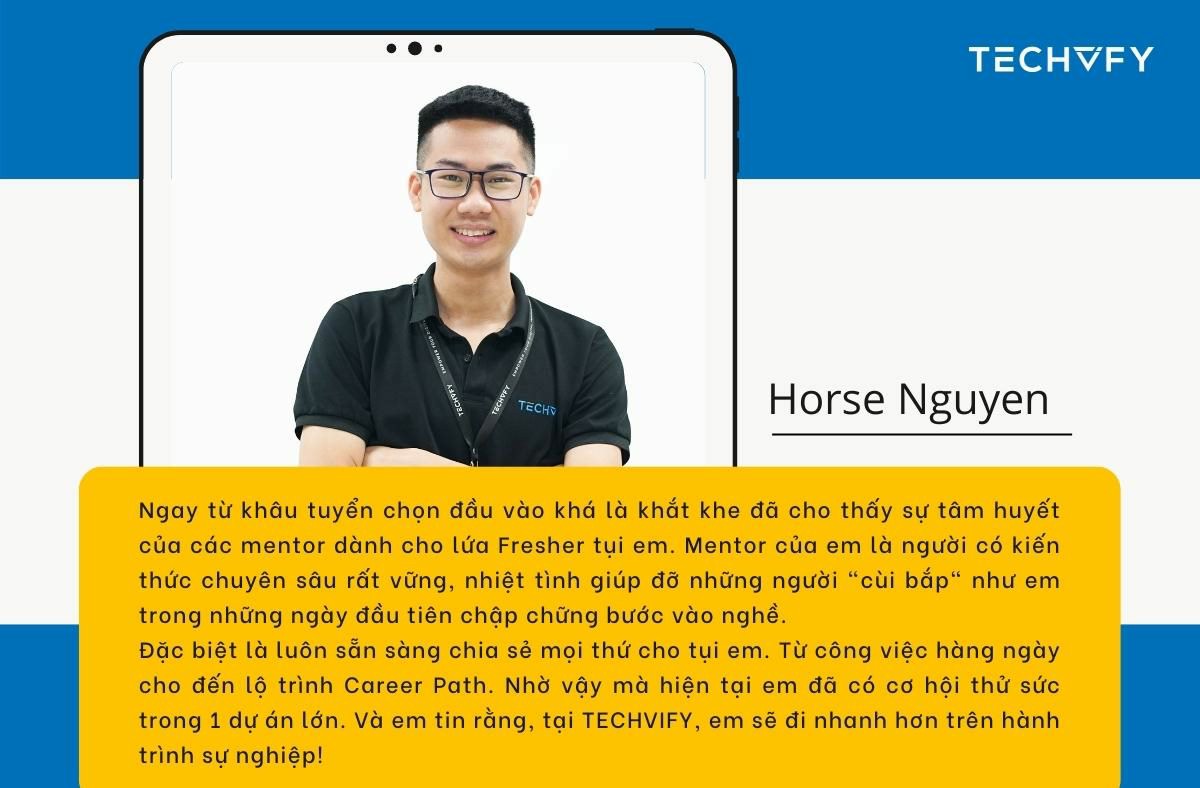 The quite rigorous selection process in the first place shows the enthusiasm of the mentors for our Fresher generation. My mentor is someone with excellent in-depth knowledge, enthusiastic to help "newbies" like me in the early days of entering the profession. He, in particular, is always eager to share everything with us, from daily tasks to future plans. Thanks to that, I now have the valuable opportunity to try my hand at a big project. And I believe that, at TECHVIFY, I will go faster on my career journey. 

Horse Nguyen
TECHVIFY is a gathering place for excellent individuals, both unique local and international personalities. Mr. Cleg Peter Ovil from Haiti – a beautiful Caribbean country, chose TECHVIFY as a stop on his career journey, and what exciting experiences did he have?!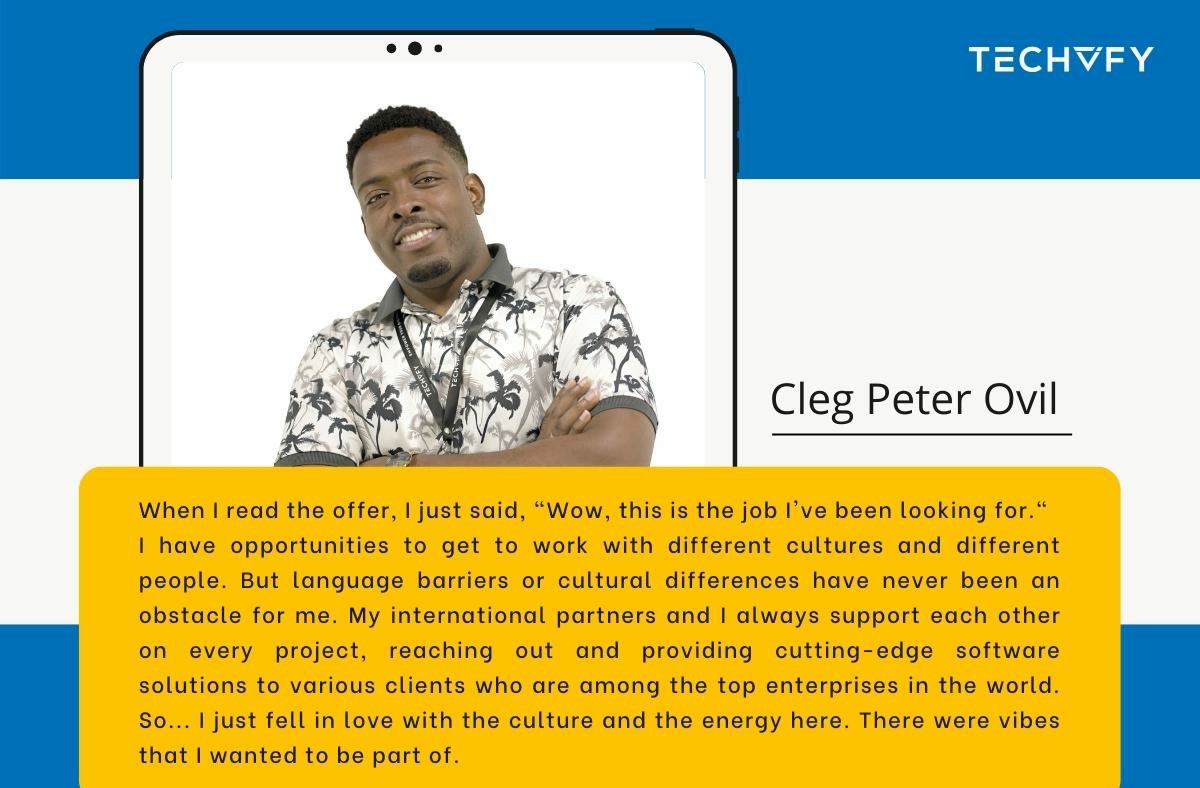 When I read the offer, I just said, "Wow, this is the job I've been looking for." I have opportunities to work with different cultures and different people. But language barriers or cultural differences have never been an obstacle for me. My international partners and I always support each other on every project, reaching out and providing cutting-edge software solutions to various clients who are among the top enterprises in the world. So… I just fell in love with the culture and the energy here. There were vibes that I wanted to be part of.

Cleg Peter Ovil
"Shop owner" Nguyen Anh Tuan is known as a pioneer who has accompanied TECHVIFY from the very beginning. Indeed, our outstanding graduate software engineer had a positive experience here: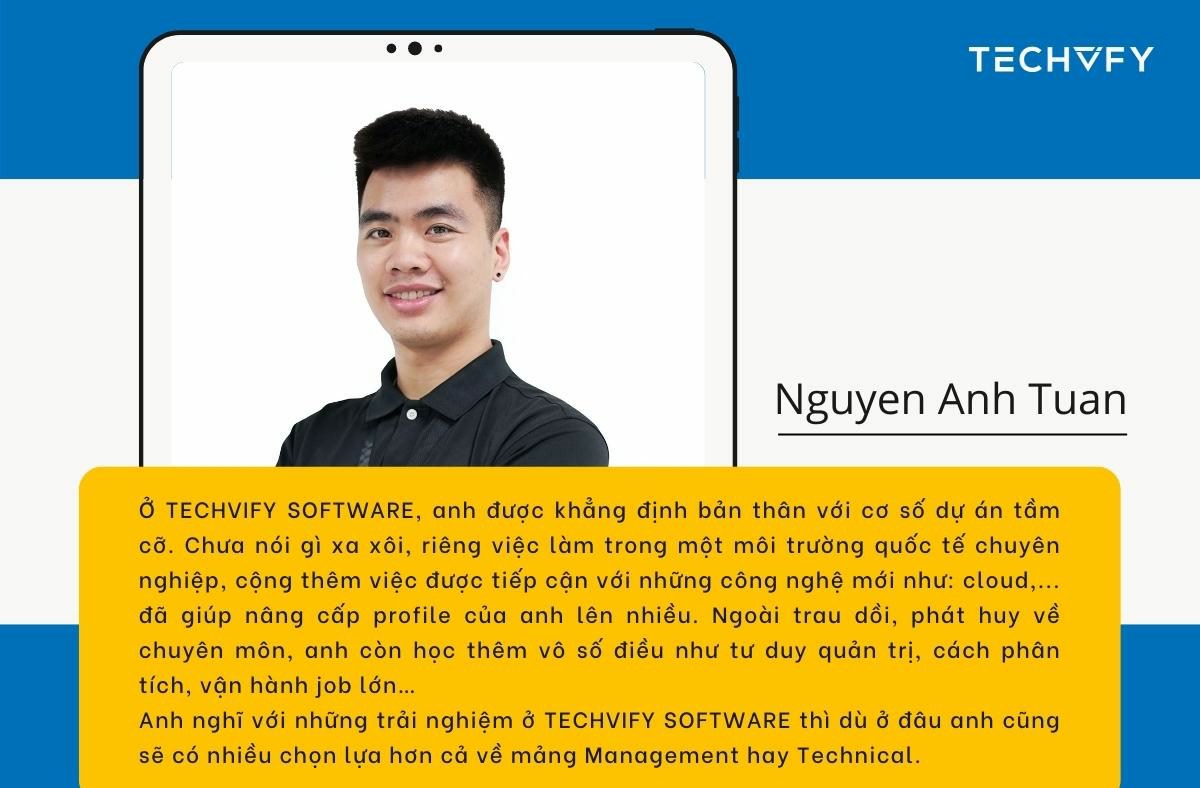 At TECHVIFY Software, I am asserting myself with many great projects. Not to mention that working far away in an international professional environment and having access to new technologies such as Blockchain, cloud, IoT… boosted my profile significantly. Apart from cultivating and promoting my expertise, I also learned a lot of things, such as management thinking and ways to analyze and operate multiple tasks. 

With my experience at TECHVIFY Software, no matter where I am, I will have more choices in both management and technical roles.
Mr. Thai Le, Group 1 Leader, and also "Tiktoker" have hundreds of thousands of views. Thedev_dad shared about the working environment as well as development orientation and human resource training orientation at TECHVIFY: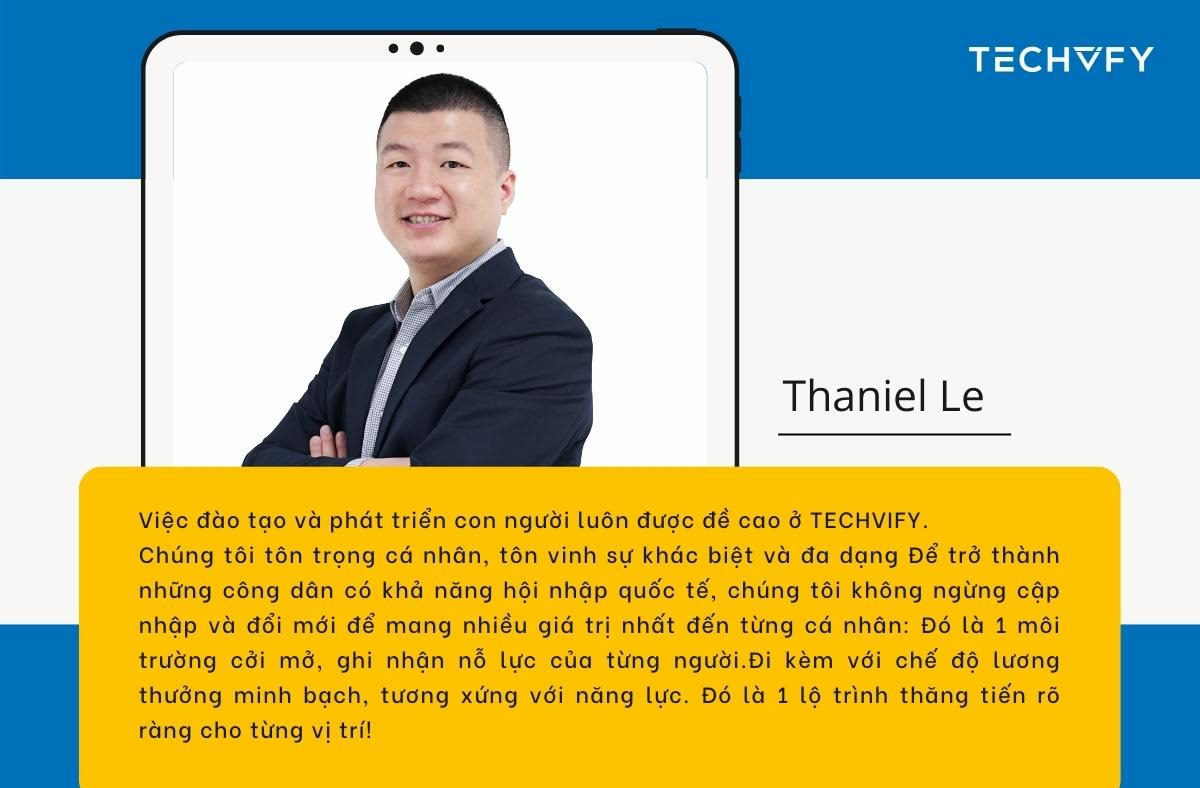 Human training and development are always highly valued at TECHVIFY. We respect the individual and celebrate differences and diversity. To become citizens capable of international integration, we are constantly updating and innovating to bring the most value to each individual: It is an open environment, recognizing each person's efforts with a transparent salary and bonus system commensurate with capacity. There is a clear progression path for each position!

Thaiel Le
What is "love at first sight"? Listen to Ms. Dao Ngoc Huyen (Business Analyst) share her thoughts on the environment and culture of TECHVIFY: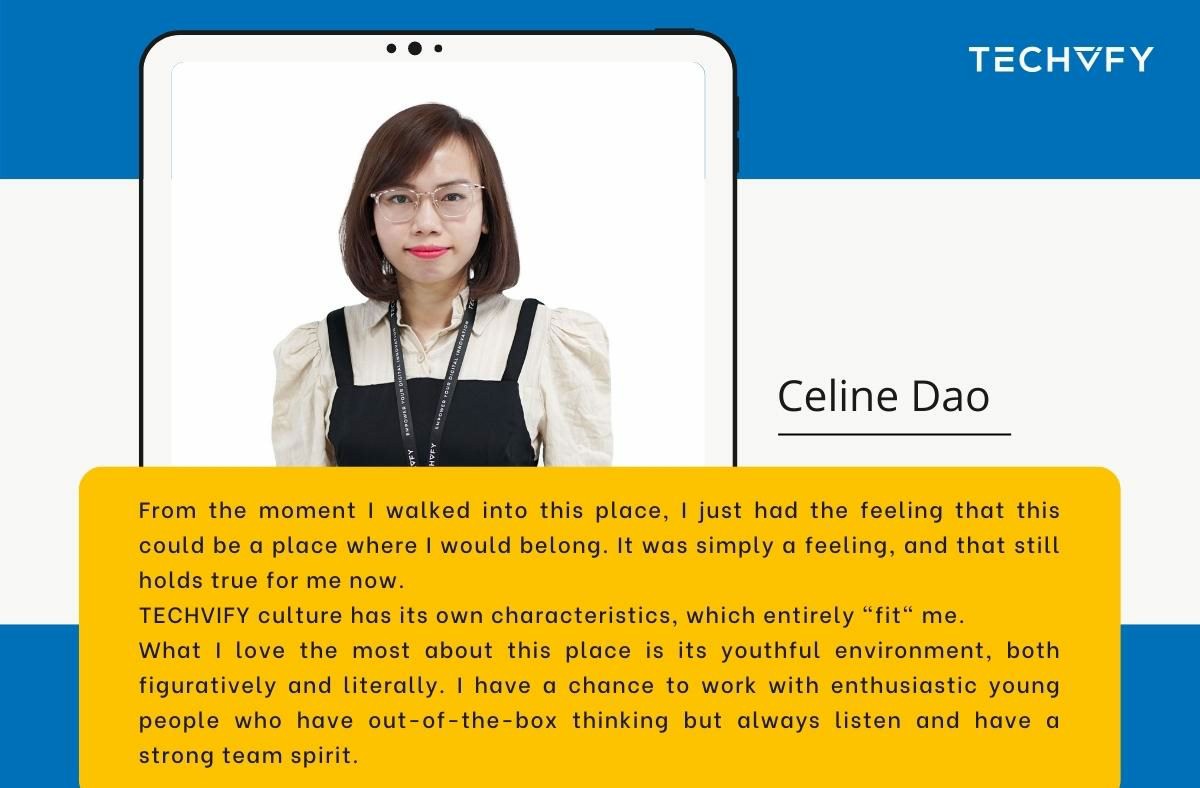 From the moment I walked into this place, I just had the feeling that this could be a place where I would belong. It was simply a feeling, and that still holds true for me now. TECHVIFY culture has its own characteristics, which entirely "fit" me. What I love the most about this place is its youthful environment, both figuratively and literally. I have a chance to work with enthusiastic young people who have out-of-the-box thinking but always listen and have a strong team spirit.

Celine Dao
Certainly, when working in an environment as expected, each of us will feel happier, have more creative inspiration, and be motivated to do the best work.
"Good kindness, no matter how small, will never go to waste" – TECHVIFY believes that good things come from the ideas that contribute to the internal construction of all members of the company, no matter how small, and also contribute to creating a solid team and bringing all employees the best experience.  
No tags for this post.
Related Topics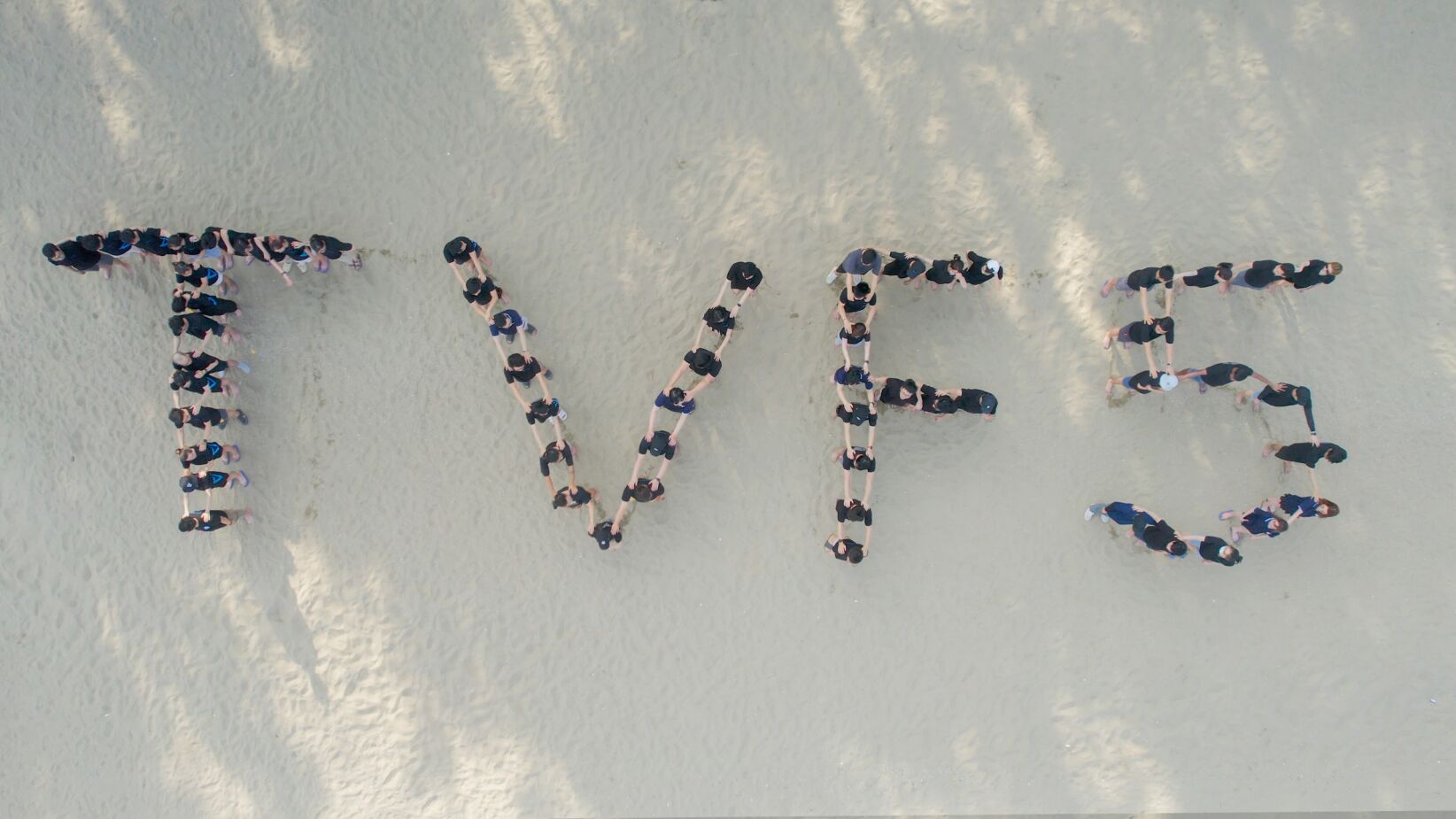 Memorable Moments At TECHVIFY Summer Trip 2023
The TECHVIFY Summer Trip is part of a series of events commemorating the company's 5th anniversary. Spanning two days, Techvifers have shared remarkable memories, engaging in enjoyable Teambuilding activities and a meaningful Gala Dinner. Vibrant Atmosphere At 8 a.m. on August 18th, two Techvifiers cars left Hanoi for Sam Son Beach in Thanh Hoa. Over 90 Techvifers joined this excursion, excited as they anticipated an enriching adventure. The onboard performances were a high point of the 3-hour trip to the distant country of Thanh Hoa. Both managers and staff contributed songs alternately, showcasing the energetic youth that Techvifers possess. Yuta…
30 August, 2023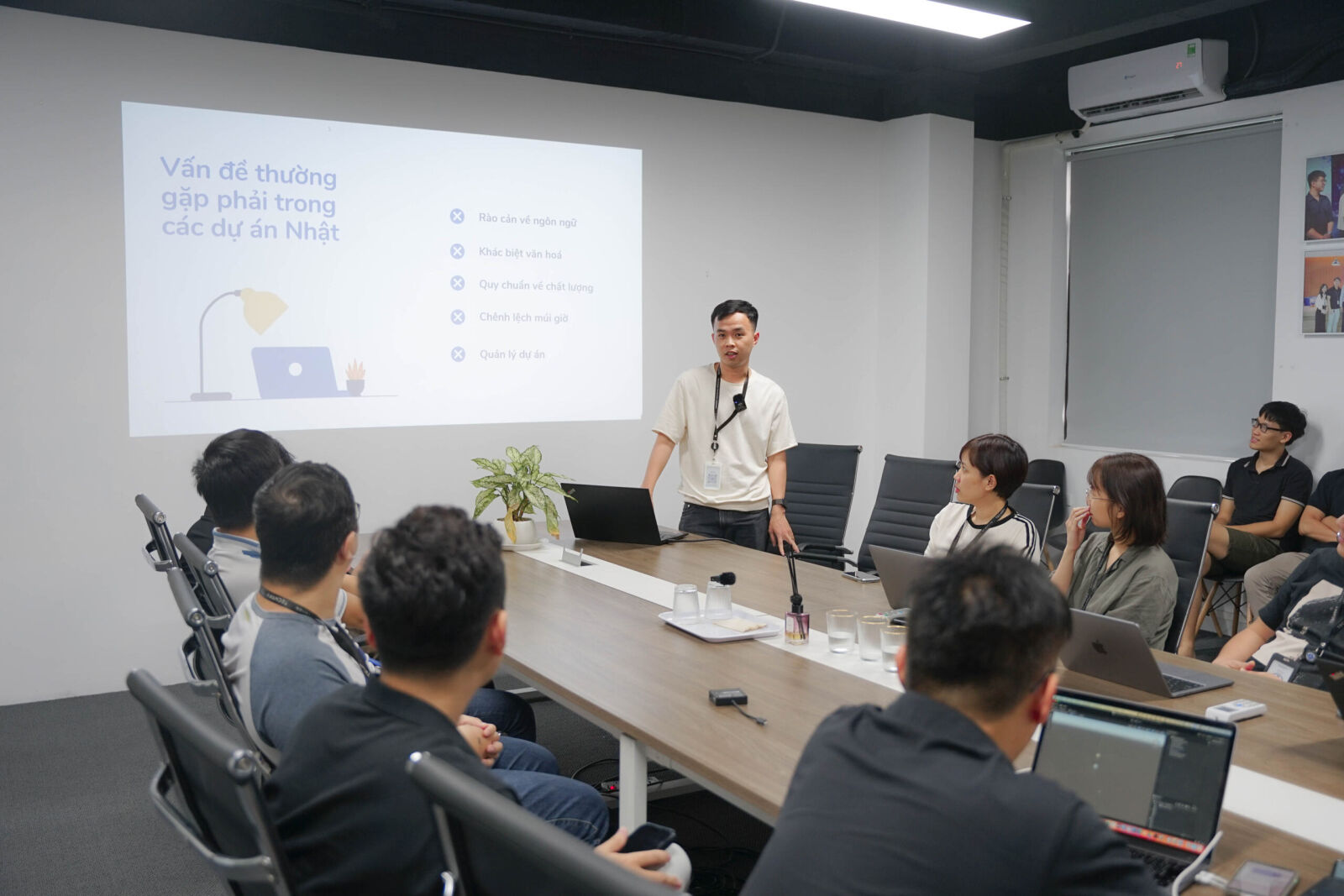 TECHVICON #23 Is only BrSE "Bridge"?
On August 15, at the Tokyo meeting room, TECHVICON #23 was held under the sharing of Speaker Phuc Pham from TECHVIFY JAPAN. With 24 Techvifers from different departments, the TECHVICON #23 event mentioned BrSE connecting work and brought a new perspective on the information connection between departments in each project. Opening in TECHVICON #23, Speaker Phuc Pham shared about common problems encountered in Japanese projects, such as language barriers, cultural differences, quality standards, time zone differences, or project management. Between two different environments like Japan and Vietnam, BrSE's job is essential. The Speaker further explained that BrSE means Bridge System…
15 August, 2023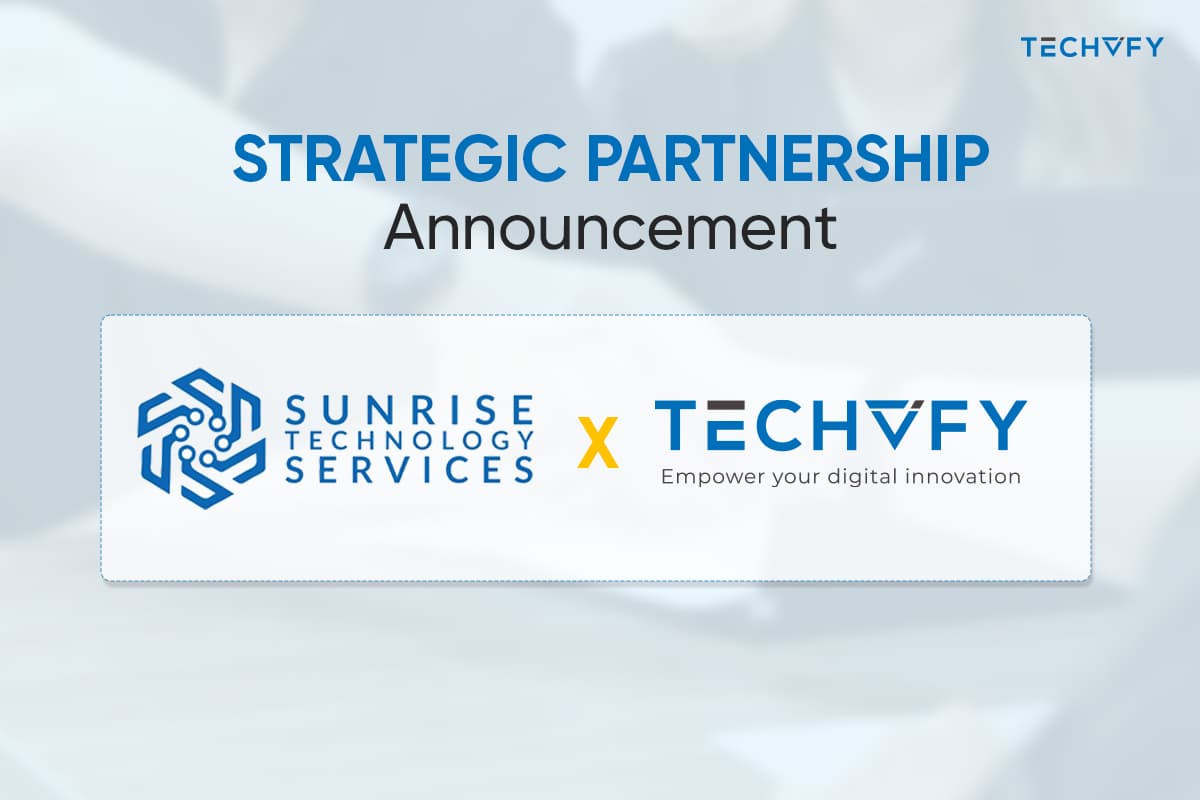 Sunrise Technology Services and TECHVIFY Software: A Powerful Partnership Driving Technological Excellence
Bringing Vietnam to the Forefront of Outsourced IT Solutions and Software Development In a landmark move, Sunrise Technology Services and TECHVIFY Software have forged a strategic partnership to propel Vietnam to the forefront of outsourced IT solutions and software development. This collaboration unites two industry leaders with a proven track record of excellence in their respective fields. The partnership is set to harness their combined expertise, creating a synergy that promises to revolutionize the technology landscape. I. Sunrise Technology Services: Pioneers in Technology Consulting and Outsourced Services Established in 2009, Sunrise Technology Services has emerged as a pioneering force in…
07 August, 2023