Offshore Software Development Rates By Country
24 August, 2022
Offshore software development provides businesses with numerous benefits, including access to a larger talent pool, which helps to reduce the cost of software development while maintaining the desired quality of the final product. Offshoring relieves you of the burden of finding qualified software developers.
However, there are currently thousands of offshore software development companies from various countries, and choosing a suitable one has never been easy. Numerous questions surround this: Which country offers the best rate for offshore software development services? Which factors do software offshoring rates depend on? How to hire offshore development vendors?
Read further about the average offshore development rates by country, the way to select the right offshore vendor, and the best provider to outsource software development.
Factors affecting costs of offshore software development rates
The offshore software development costs vary greatly depending on a variety of factors. Here are several vital elements that make the difference in the price level among countries.
Experience and skills of developers
You need to pay more to hire senior developers with years of experience and in-depth skills. The average hourly rate for engineers working in a particular field for longer will undoubtedly be high.
Programming language
Outsourcing costs vary depending on the programming language. As a result, you should first check the price level before hiring developers. Furthermore, software engineers skilled in various complementary disciplines will always command a higher wage.
Industry
In general, the demand for IT developers influences the developer's salary in a given field. Wages are higher when an industry requires a niche skill but has a limited supply.
Project Complexity
The cost of outsourcing is influenced by a project's complexity level, which is relevant to the length of implementation and the number of employees recruited. Moreover, those with more experience are typically given more challenging tasks and are in charge of complex projects, so you will have to pay more.
Location
Each nation has specific characteristics that have an impact on minimum wage costs. Additionally, in some countries, enterprises in the IT sector may be subject to more taxes, which may impact offshore software development rates over time.
Hiring engineers in Asia is significantly more affordable. Businesses can afford to hire top-tier developers for their teams because of the vast talent pool and low cost of living in these regions.
Salary Range
Regarding the rate for software development, this is also an essential factor you should consider. It would be best if you converted salaries into a single global currency to compare wages between different geographical areas. 
Offshore Software Development Rates By Country
Ukraine
Average hourly rates:
Junior – $10 to $15
Middle-level – $17 to $20
Senior – $25 to $30
Ukrainian firms provide high-quality software development at a reasonable cost. Around 11 companies that originated in Ukraine are on the 2021 Global Outsourcing 100 list.
Every year, an estimated 16,000 developers with high competence graduate in Ukraine. Furthermore, low offshore software development costs encourage decision-makers in businesses to seek Ukrainian software development providers for their project outsourcing.
India
Average hourly rates:
Junior – $15-20
Middle-level – $25-40
Senior – $50+
India is one of the world's largest software development centers. This country is considered one of the most competitive offshore IT outsourcing locations.
The Indian market is enormous, with at least 5.8 million developers (according to GitHub). You can find here both low-qualified as well as highly-skilled developers. So you might easily fall into traps while seeking trustworthy and reliable software tech talents, as there is no legislative structure to oversee quality standards in the country.
China
Average hourly rates:
Junior – $25-28
Middle-level – $35-40
Senior – $60+
Along with India, China is also a vast offshore development destination. As in-depth professionals are subject to custom software development fees and a sophisticated local economy, the cost of a software developer in China is slightly higher per hour than in other Asian countries.
The software development industry in this country is expected to grow at a nearly 7% annual rate in the following half of a decade, reaching $1.2 trillion. Besides, the Chinese government promotes technological development by offering financial incentives.
However, the language barrier is always one of the main concerns for businesses considering outsourcing to China.
Vietnam
Average hourly rates:
Junior – $18-22
Middle-level – $25-28
Senior – $30-35
Vietnam is becoming known as a low-cost software manufacturer in Asia. Software development outsourcing in Vietnam is approximately 90% less expensive than hiring US labor and cheaper by 30% to 40% than in China. Outsourcing to Vietnam is significant for businesses looking to develop the most cost-effectively.  
With over 25,000 engineers graduating from Vietnam's universities, the country has a technical labor force fluent in English.
Vietnam is generally regarded as a dynamic country with great processing potential thanks to strong, sustainable economic growth and stable politics. The Vietnamese government has many friendly and attractive policies to attract more foreign investment.
So, Vietnam, as an emerging outsourcing destination, will be ideal for companies seeking technological advancement while maintaining saving costs.
Top Software Development Companies in Vietnam

Top IT Outsourcing Companies In Vietnam
Philippines
Average hourly rates:
Junior – $16-20
Middle-level – $25-30
Senior – $36-40
The Philippines is highly ranked as an offshore software outsourcing destination due to its large pool of young specialists, welcoming environment, and English proficiency.
According to the Tholons Services Globalization Index, the Philippines ranks fifth among the top 50 digital nations, with Manila as the world's second supercity.
The Philippines also has a large pool of talented English-speaking engineers, and all Asian areas are less expensive than European countries.
The country is well-known for its good IT support and contact centers. It has the infrastructure, a supportive government, and cultural compatibility with the United States.
Poland
Average hourly rates:
Junior – $20-27
Middle-level – $35-50
Senior – $65+
Poland, with a thriving IT industry, nurtures a rich outsourcing market with many professionals who live mainly in the four largest IT centers in the country. Poland is one of the most expensive nations in Eastern Europe for software development outsourcing.
When comparing offshore development rates by country, the price for hiring developers here is slightly higher than those of neighboring Ukraine.
As a European Union member, Poland has an unquestionable advantage, especially appealing to clients from Western European companies with the same legal and geographical space. Many international corporations have chosen Poland to put their R&D offices since it has one of the region's safest and most stable economies, and the government is constantly assisting the software development industry.
Brazil
Average hourly rates:
Junior – $17-23
Middle-level – $25-35
Senior – $40+
Brazil has the most prominent technology ecosystem among Latin American countries, accounting for 40.7% of the market. Brazil has over 500,000 software developers and over 200 software development firms listed on the Clutch review page.
The country is one of the world's leading IT outsourcing hubs, ranked 15th among the top 50 IT nations.
Brazil has supported the offshore software development industry for years to cater to global demand. The government even enacted tax break legislation for tech companies. This boosted infrastructure development, giving foreign investors more opportunities to hire skilled software developers at reasonable rates.
Mexico
Average hourly rates:
Junior – $16-23
Middle-level – $23-30
Senior – $35+
Mexico is also the top hotbed of offshore software development, with over 100,000 software developers graduating from Mexico's institutions yearly.
According to assessment tests, Mexico was the only non-European country in the top 20 list of top software development destinations. Mexico is a popular choice for software development outsourcing.
Compare Freelancers & Software Development Companies
Take a look at the table below to learn the pros and cons of freelancers and outsourcing companies before deciding which model to pick.
| | | |
| --- | --- | --- |
| Criteria | Freelancers | Offshoring Companies |
| Quality of work | You will want to check their level and previous case studies since there are always risks involved in quality when choosing freelancers for your project. | Trusted firms usually have profiles on review websites, and clients are easy to check. They also have team diversity, including software developers, project managers, QAs, designers, and more, so they can implement tasks quickly. |
| Price | Compared to teams in offshore software organizations, freelancers frequently ask for far less money for their work. | The professionals' hourly rates in this are higher. |
| The scope of the project | Hiring a freelancer can be more advantageous for a small project or a specific assignment because they frequently have particular experience in one sector. | Professional software agencies provide complete life-cycle solutions. This is the perfect choice when looking for support on a complex project. |
| Quantity | It is not easy to ramp up a team of freelancers for your projects in a short period of time. | When you want to scale the team quickly, outsourcing companies have no problem. |
| Security | Please make sure to sign NDAs with freelance developers before starting any work. | Reliable offshore software partners like TECHVIFY always include an NDA in the contract. |
How to Save Your Budget?
Instead of recruiting directly, you can reduce your spending by using the outsourcing software development model. Moreover, here are extra tips to help you make the most of your money:
– Make clear the main requirements and define the necessary milestones and timeline before starting any project.
– Some software development projects incur unexpected costs that impede project progress, such as taxes and other hidden offshore software development costs that may occupy a large portion of your total budget.
– It is also critical to count on implementing the strategy of projects. Popular methodologies like the Agile approach enable you to optimize the whole process and avoid risks during execution. 
– When you are ready to start your business plan, collaborate with a reputable offshore software development firm to assist you with all the rest.
TECHVIFY – Your Trusted Offshore Software Development Partner
 We at TECHVIFY have several advantages to becoming your best partner in offshore software development.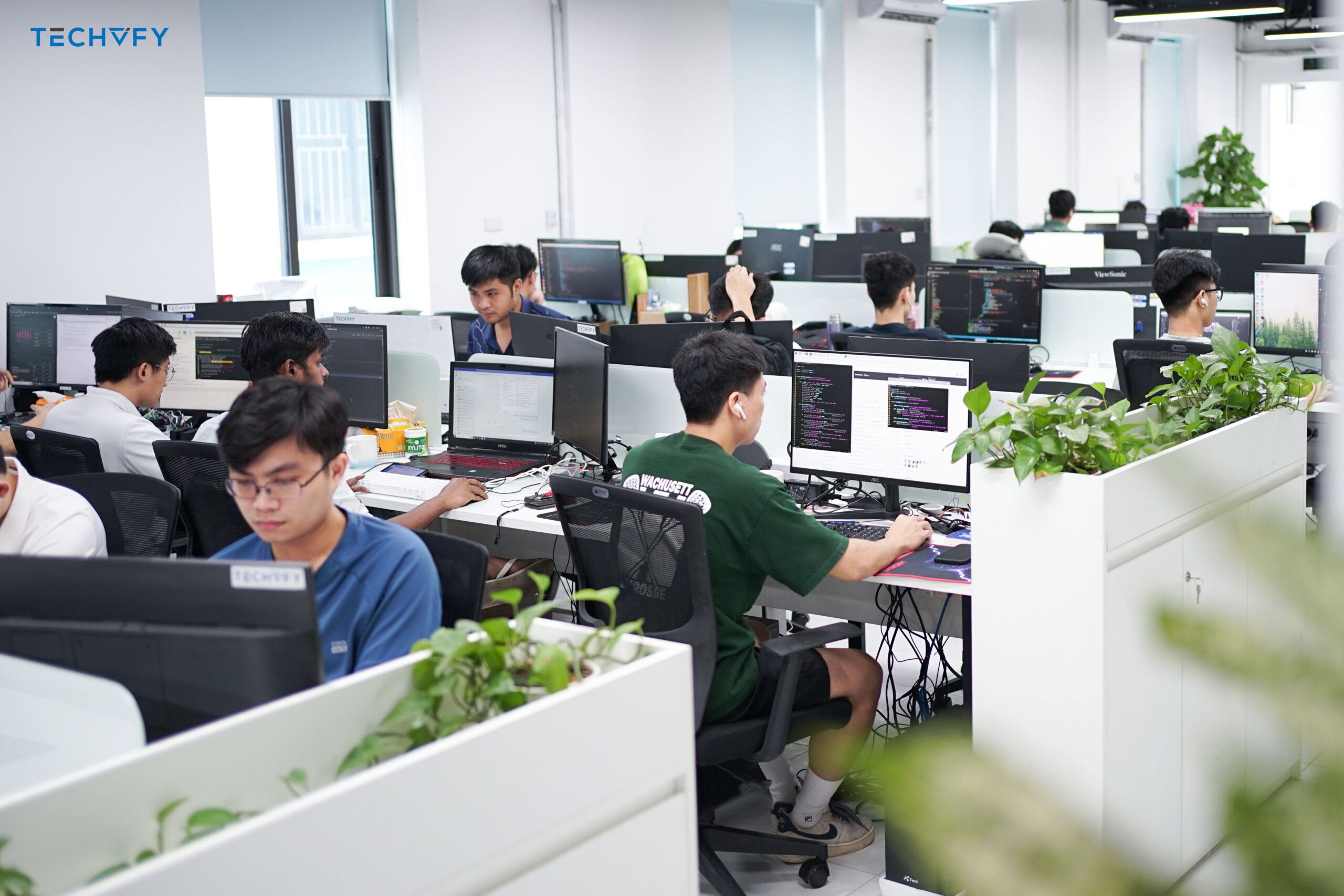 Hiring procedure
The key is our stringent hiring process, which helps to ensure that we choose the right one to implement specific solutions.
Transparency
We always ensure clarity and give our clients direct access to the team. That is why communication becomes easy, and they can track the progress of the work with no barriers.
Experience
TECHVIFY has worked with clients from diverse sectors, including logistics, healthcare, education, e-commerce, and more. That is why there are no difficulties for us when approaching new projects, no matter what industry your business is in.
Time zones
Our team can work flexibly round the clock and align the time zones based on your region.
Low cost
We provide many software development solutions at attractive rates for all clients.
High-quality
Based in Vietnam and operating for over five years, our team comprises highly educated professionals with leading software engineering and fluent in English, which could help your project reach a new peak.
TECHVIFY believes that more than looking for engineers, offshore software development also requires reliable technical developers who can collaborate with your expandable team.
Do not hesitate to make a call with us today if you want to hire quality software engineers. We are here to listen to all your requirements and recommend the best solution to assist you in reaching your business goals.
Summary
Hiring a software development team that fits your business might be challenging. Especially when your business is in developed areas like Western Europe or the United States, looking for an ideal talent pool at competitive prices is not easy.  

It would be better if you found potential outsourcing software development nations and offshore development rates by country before taking any hiring action.  

As mentioned above, TECHVIFY is one of the rising stars in the software outsourcing industry due to its top quality and attractive costs. Our team assists clients worldwide in forming expandable groups to create robust and striking software products. 
Related Topics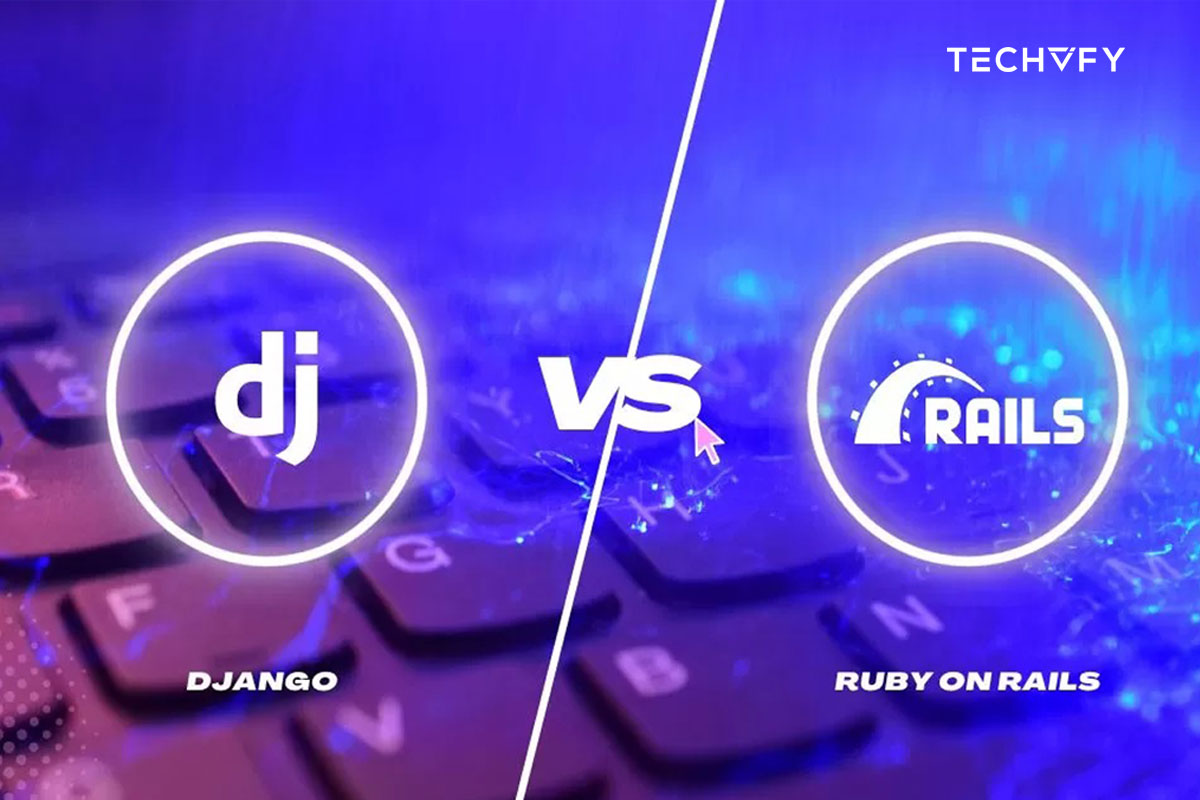 Ruby on Rails vs Django: Which Framework for Your Project?  
In the dynamic world of web development, two frameworks stand out as giants: Ruby on Rails vs Django. Both frameworks are open-source, high-level, and designed to streamline the development of web applications. While they share many similarities, they also possess distinct characteristics that cater to different developer preferences and project requirements. In this article, TECHVIFY will discuss two frameworks to help you understand the basis for making vital choice decisions. I. What are Ruby on Rails vs Django? 1. What is Ruby on Rails? Ruby on Rails (RoR) is a full-stack web application framework in the Ruby programming language. Embracing…
27 November, 2023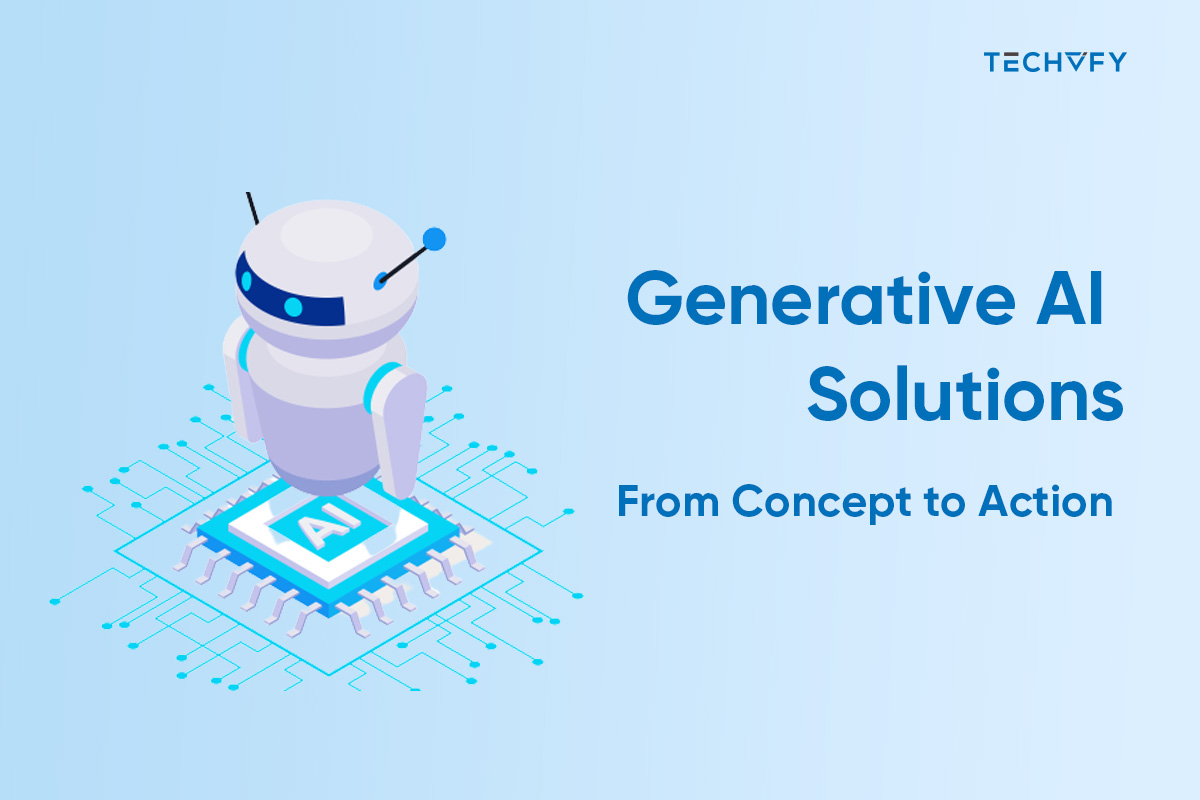 Generative AI Solutions: From Concept to Action
These days, generative AI influences many industries and brings about a fresh wave of innovation and change. It is at the center of the latest developments, from innovations in healthcare to transforming the entertainment sector. This revolutionary technology fosters creativity, efficiency, and customized experiences; it is more than a tool. Researchers, developers, and companies worldwide are utilizing its potential to create unimaginable methods. In this article, TECHVIFY will discuss the significance, advantages, practical uses, and implementation of generative AI solutions.  Importance and relevance of generative AI in various industries   Generative AI stands at the forefront of transformative technologies, impacting industries…
24 November, 2023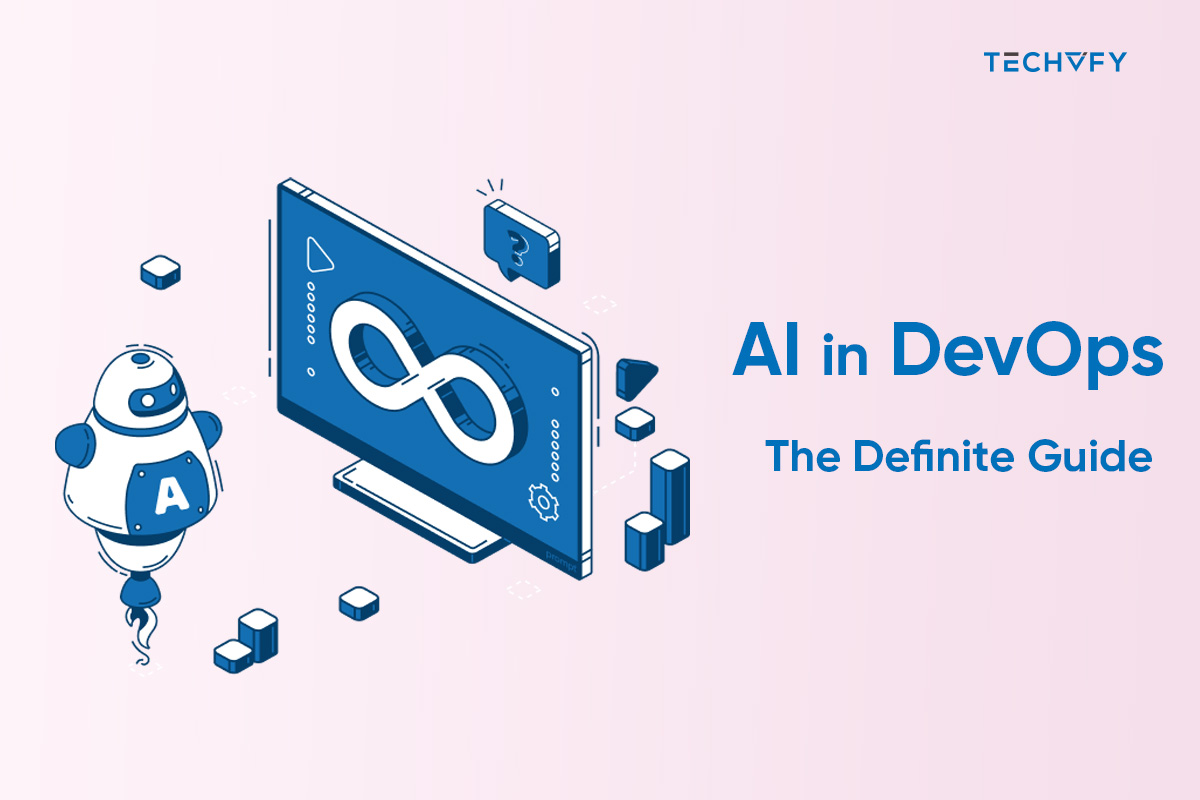 AI in DevOps – The Definite Guide
DevOps merges the realms of software creation and IT operations to deliver software swiftly and reliably. AI, a field within computer science, develops machines capable of tasks resembling human abilities, such as visual recognition and decision-making.   Using AI in DevOps involves utilizing advanced computer technologies to enhance and accelerate software functionality. This integration aids in software testing, preparation, and security.   This article delves into integrating AI into the DevOps transformation journey. We will discuss the various AI technologies employed in DevOps' benefits and examine the challenges of using AI in this field. Additionally, we'll provide a brief overview…
23 November, 2023